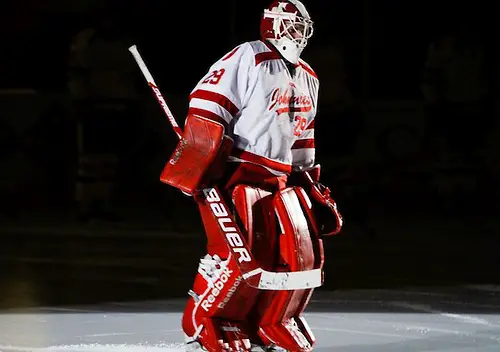 Saxton Soley is destined to go down as one of the top goaltenders in St. John's history.
He ranks third all-time in wins with 42 and can't say enough about how much the opportunity has meant to him to play college hockey for the Johnnies.
"It's meant the world to me to play here," Soley said. "I was given an opportunity to play my first year and made the most of it. It's been an amazing ride."
The ride isn't over yet.
Soley, in his senior season, is trying to help the Johnnies reach the MIAC postseason. The season didn't start well. St. John's was winless in its first six games, but is now 6-9-2 overall and 4-4-0 in the conference.
"It's taken time to get the right players in the right roles," Soley said. "We've gotten things figured out and we are starting to play a lot better."
For Soley, this season has been an adjustment period. In his first three years, he was accustomed to playing with a veteran defensive unit.
"We have a freshmen 'D' core, so that has taken time to adjust to," Soley said. "But I'm playing well and I've learned to be more of a leader. It's great to see the progress of our defensemen."
Soley has been the starting goaltender his entire career.
He set the record for wins in a season for a freshman, winning 15 games, and was named the co-MIAC Player of the Year in 2013.
Soley won 14 games as a sophomore and picked up nine wins a year ago.
He said that first season helped set the tone for his success going forward.
"I didn't get a chance to test the waters; I was thrown right into it," Soley said. "It was an eye-opener for me getting used to the competition. It's remarkable how far I've come."
He admits he was surprised by how well he did that first year.
"Absolutely, I was surprised," Soley said. "I did not think I was as doing as well as I did and didn't give myself enough credit. I was just kind of playing in the moment and not worrying about reading the press clippings or looking at the stats."
Soley is 4-9-2 this season and owns a 2.57 GAA with a .915 save percentage.
"The big improvement for me this year has been my mentality," Soley said. "With a younger 'D' core, I've had to be more calm and collected. I've done my best to help them along and have gotten used to the way they play as a unit."
In terms of challenges in the conference, Soley said he always has to be on top of his game.
"It's a very competitive league," Soley said. "Every game is close. You always have to be at your best to be a successful goaltender in this conference."
Soley is hoping to be at his best the rest of the way as the Johnnies take aim at earning a playoff spot. St. John's is fourth in the league at the moment.
"It's going to be a challenge but we feel confident," Soley said. "We have to stay focused each game and be ready to play."
Payne powers Bethel to win
It hasn't been an easy year for Bethel, but the Royals' fortunes changed a bit last week as it played nationally-ranked Wisconsin-River Falls to a 2-2 tie Thursday before ending a victory drought Saturday with a 6-2 win over Wisconsin-Superior. The Royals had lost four consecutive games after a 2-1 win over St. Thomas back on Nov. 21.
Travis Payne played a pivotal role in the success. He scored six goals last week on eight shots, including coming through with a hat trick against Superior. He scored both goals in the game against the Falcons.
Until last week, Payne only scored four goals this season. Thanks to his brilliant performance, he now ranks fourth in the conference in goals scored and his 15 points put him in a tie for 11th in that category.
The Royals are 2-10-2 overall and last week's effort could very well provide a boost of confidence for the team going forward.
Bethel plays two MIAC games against St. John's this week in a home-and-home series and closes out the month with a game at River Falls and a two-game series against Hamline. Bethel is 1-5 in the conference.
Blue Devils on a roll
Wisconsin-Stout enters the week on a hot streak, having won its last three games. The Blue Devils are unbeaten in their last six games overall and have scored five or more goals four times during the impressive stretch.
The Blue Devils have already surpassed their win total of a year ago as they sit at 9-4-3 overall. They won only eight games last season and are seeking their first winning campaign since finishing 16-11-0 during the 2010-11 season.
Stout has produced 54 goals on 78 assists and Jake Useldinger leads the way with eight goals and eight assists. Justin Moody, Tyler Cayemberg and Joe Anderson have tallied six goals apiece. Eight other players have come up with at least two goals on the season.
Sabres continue to shine
Marian is riding the high of a four-game win streak. The Sabres picked up their latest wins over the weekend in a sweep of Concordia (Wis.).
Devin Stuermer helped Marian cap the sweep with a 4-1 win over Concordia Saturday, coming through with his fourth multi-goal game of the year. Stuermer scored twice in the victory, pushing
his season total to nine goals. He has tallied eight assists as well.
The Sabres are 9-5-3 overall and 7-4-1 in the NCHA. They have lost only twice in their last 11 games.
In addition to the play of Stuermer, Derek Thorogood and Hunter Stewart have risen to the occasion as well. Thorogood has scored five goals and has dished out 15 assists. Stewart has come through with two goals and 17 assists on the year.
Marian has racked up 54 goals in all on 87 assists while holding opponents to 34 goals.
Western Power
Nearly half of the top 15 in this week's USCHO.com Division III Men's Poll are from the West region, including the top three in the country.
St. Norbert is still the No. 1 team in the land and Adrian is ranked second. Wisconsin-Stevens Point checks in at No. 3 after being fourth a week ago. Wisconsin-Eau Claire is No. 10 this week. Wisconsin-River Falls, the Milwaukee School of Engineering and St. Scholastica fill out the final three spots in the poll.