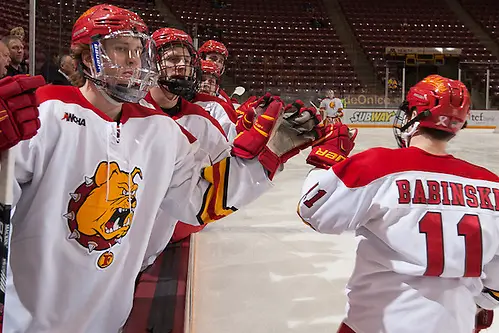 Ferris State didn't start 2016 the way coach Bob Daniels would have preferred.
Playing No. 7 Harvard in the Mariucci Classic on Jan. 1 in Minneapolis, the Bulldogs let the Crimson jump out to a 3-1 first-period lead. Daniels said it could have been worse.
"At one point in the first period they were outshooting us 17-3," Daniels said. "We were only down 3-1 after the first period but it could have been 6-1."
Harvard ended up winning 7-3, but Daniels said his team learned a valuable lesson that afternoon.
"They saw that if you're not ready to play at any given time, things can go wrong in a hurry," the Ferris State coach said. "That had been a problem for us [in the first half of the season]. From one period to the next, you never know quite what was going to come out of the locker room."
The Bulldogs hadn't exactly been playing poorly before the holiday break — they were a .500 team — but since the Harvard game something seems to have clicked.
Ferris State is unbeaten in its last five games, including two consecutive three-point WCHA series. And now the Bulldogs (at 11-9-6 overall and 9-7-4 in the league) are all of a sudden tied with Michigan Tech for third place in the conference standings.
That's not exactly what most pundits would have expected from the Bulldogs after the departure of All-American goaltender CJ Motte.
But Ferris seems to have found an excellent replacement in freshman Darren Smith, who is the reigning WCHA rookie of the week and has a 2.11 GAA to go along with a .928 save percentage in 16 games played. He has started all five games of this unbeaten streak after splitting time early with senior Charles Williams.
"We really enjoy good goaltending," Daniels said. "And Darren has looked really comfortable in the net. We're fortunate that as a freshman, he has been able to step up and play like a veteran."
The Bulldogs have also been able to score — junior forward Gerald Mayhew is tied for the WCHA's scoring lead with 22 points (seven goals and a league-high 15 assists) while Corey Mackin's 17 points (8-9–17) leads all league rookies.
Still, for a team that Daniels has described as "consistently inconsistent," he'd like to see a little more. The Bulldogs are off this weekend before a trip to Fairbanks to play Alaska in the first week of February.
"I'm cautiously optimistic," Daniels said. "I've seen some signs that we have a chance of being a pretty good team. But even in a modest five-game win streak that we're on here, it can change on a dime. We can't get too comfortable."
Big matchup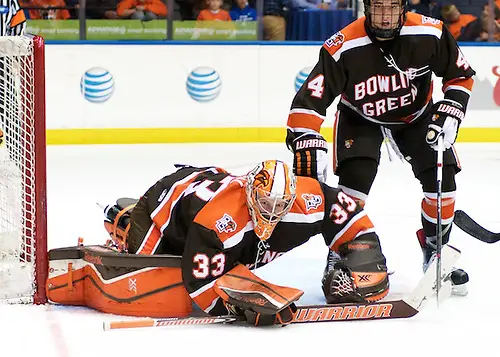 In a series that could have a big say in who wins the MacNaughton Cup, No. 18 Bowling Green will host No. 17 Michigan Tech this weekend.
The series features the WCHA's highest-scoring team, the Huskies (2.92 goals scored per game) against the league's stingiest defense, the Falcons (1.85 goals allowed per game).
"[Michigan Tech] is good at every position and they are deep at every position," Falcons coach Chris Bergeron said in a series preview on the team's website. "And they are confident. Confidence is a difficult thing to teach. You have to earn that, and they've earned it.
"To make the step from contender to champion, we have to win. I hope guys are coming to Bowling Green to play in games like this and to be in races like this."
The Falcons are 6-0-4 at home against league opponents, while the Huskies are a solid 6-2-1 on the road in league play and 9-3-3 overall away from Houghton. The two teams split a series in Houghton on Nov. 13-14.
Bowling Green is coming off a home sweep of Alaska-Anchorage in which it put up 12 goals (two 6-2 victories), the most in a weekend series by the Falcons since getting a dozen against Alaska on Jan. 7-8, 2005.
Michigan Tech, meanwhile, was idle last week after taking three of four points at home against first-place Minnesota State on Jan. 15-16.
Battle of Minnesota
Minnesota State and Bemidji State will step out of conference play this weekend to participate in the all-Minnesota North Star College Cup in St. Paul.
The Beavers are the defending tournament champion and will face No. 20 Minnesota on Saturday at the Xcel Energy Center in a game that follows the Mavericks taking on No. 3 St. Cloud State.
The two winners and two losers will meet on Sunday.
The third-year tournament involves all five of Minnesota's Division I teams, with one team rotating out each year (Minnesota being the exception). Minnesota-Duluth is out this time. Bemidji State is 2-0 in the event after sitting out the tournament's first season in 2014, while Minnesota State is 1-3.
"Since we're all in different conferences right now, it kind of re-energizes those in-state rivalries," Bemidji State coach Tom Serratore said.
He compared it to a regional tournament atmosphere.
"By us winning that championship last year, it was like winning a regional," he said. "Just look at the teams that are in it. You're playing against good teams at a tremendous venue. … It's exciting to play against your in-state rivals."
Hobey candidates
Fan voting has begun for the Hobey Baker Award, and nine players from six WCHA teams are included among the 66 nominated players.
The group includes:
• Alabama-Huntsville forward Max McHugh
• Alaska forward Tyler Morley
• Bowling Green goaltender Chris Nell
• Ferris State forwards Kyle Schempp and Gerald Mayhew
• Michigan Tech forward Alex Petan and goalie Jamie Phillips
• Northern Michigan forward Dominik Shine and goalie Atte Tolvanen
Ice chips
• Alabama-Huntsville had the week off after taking just one point from Ferris State in Big Rapids and now returns to action at Alaska-Anchorage. The Chargers are in last place in the WCHA with just nine points and are looking up at UAA and Alaska, who are tied for eighth at 14 points. A pair of wins for Huntsville couple pull it right back into the conversation for the playoffs.
• Alaska-Anchorage is back at home after going 1-3 on a Midwest road swing. The Seawolves, who host UAH, are looking to snap a six-game winless streak at Sullivan Arena, where they are 3-7-2 this season.
• Alaska got a much-needed week off after its own two-week road trip to the Lower 48 but will get right back on the road this weekend as it goes to Wisconsin for a nonconference series. After that, the Nanooks will play six of their final eight regular season games in Fairbanks.
• It may be just a .500 team, but Bemidji State keeps pucks out of the net as well as anybody in the country. The Beavers' defensive unit is No. 10 nationally, allowing just 55 goals in 25 games (2.20 GAA) and their penalty kill is an efficient 90.2 percent (92-for-102). Part of that is due to the play of Michael Bitzer, who is 4-1-2 in his last seven games after going 2-9-2 to open the season. In the previous seven games, he has stopped 163 of 171 shots (.953) with a 1.11 GAA in more than 430 minutes.
• Lake Superior State was swept by Minnesota State, 8-0 and 5-1, last weekend. The Mavericks held sophomore newcomer and leading scorer J.T. Henke off the scoreboard for the second straight weekend. Henke has six goals and eight assists for 14 points in 25 games played this season and has not recorded a point in his last five games. Henke's last goal came on Dec. 5 against Alaska.
• Minnesota State goaltender Cole Huggins scored two wins, including a shutout on Friday, in his first games since Nov. 13 when the Mavericks swept Lake State 8-0 and 5-1. The junior got the nod when freshman Jason Pawloski, who had started 13 straight games, went out with an injury in practice before the series.
• Michigan Tech is one of the best road teams in the WCHA. The Huskies, who are at Bowling Green this weekend, are 9-3-3 away from Houghton (and just 4-4-1 at home). They lead the WCHA in numerous categories when playing on the road or in neutral-site games, including goals per game (3.13), goal margin (plus-14), power-play efficiency (21.2 percentage), shots on goal per game (31.20) and shot on goal margin (plus-72). They are 5-0-1 over their last six conference road games and haven't lost a conference game away from home since Oct. 23 (4-1 at Northern Michigan).
• Northern Michigan was off last weekend and returns to action this week with a nonconference series against Minnesota-Duluth in Marquette. The two teams were conference opponents from 1984 to 1996 and have met 72 times in their history. UMD has a slim 35-33-1 lead in the series, including a sweep on Feb. 6-7, 2015, in Duluth.
• This week's WCHA players of the week are: Minnesota State sophomore forward C.J. Franklin (co-offensive), Bowling Green sophomore forward Brandon Hawkins (co-offensive), Minnesota State junior goaltender Cole Huggins (defensive) and Ferris State freshman goalie Darren Smith (rookie).