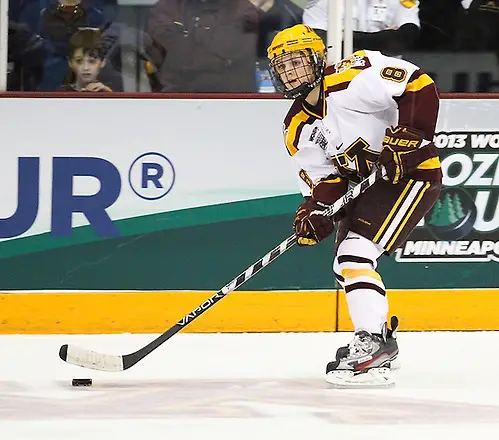 After first being reported by the Grand Forks Herald back on Jan. 12, two-time All-American and 2013 Patty Kazmaier Memorial Award winner Amanda Kessel has officially returned to the Minnesota women's team for the remainder of the 2015-16 season.
Kessel last played for the Gophers during the 2012-13 season, during which Minnesota recorded a perfect 41-0-0 mark and won its fifth national title. She took a redshirt year in 2013-14 to represent the United States at the 2014 Winter Olympic Games and then missed the 2014-15 season while recovering from a concussion.
The 2015-16 season marks her final year of eligibility.
"We're excited to have Amanda returning to the lineup," Minnesota coach Brad Frost said in a statement. "Her recovery and overall health have always been most important, and we weren't sure if she would have the opportunity to play college hockey again. Knowing that Amanda and the team of doctors working with her have determined she is healthy and ready to resume playing is certainly great news. She has always been a part of our program, and we're happy she has a chance to finish out her college career on the ice along with completing her coursework and getting her degree this spring."
"I'm so happy to be playing hockey again," Kessel added. "I'm not suffering from any concussion symptoms, and I've been evaluated by a number of physicians who have cleared me to play. I feel great, and I'm looking forward to being back on the ice with my teammates on game day.
"Sometimes difficult things happen in life, and they only make you stronger. It was extremely challenging, but I did everything I could to get healthy. I'm grateful for everyone who helped and supported me throughout the difficult times. I wouldn't be in this position without them. I cannot wait to be back out there doing what I love to do while representing the University of Minnesota."