In the shock of the century, Boston College and Boston University will face off against each other next Monday in the Beanpot championship game.
With the rotating schedule of semifinal opponents, a BC-BU title matchup is impossible every third year because the two archrivals face each other in the opening round. But the track record of these two schools in this tournament is jaw-dropping. BU will be appearing in its 28th championship game in the last 33 years. BC will be appearing in its ninth in the last 11, and will be shooting for its seventh title in the last 10.
Not since 1993 has a team other than BU or BC won the 'Pot.
1993!
The two teams played their league home-and-home series three weekends ago, with BC taking three of four points. But in the closing minutes BU gave up the game-winner one night and the game-tying goal the next. So it was a weekend of what-might-have-been for the Terriers.
The Eagles have, without question, enjoyed the better season so far, posting an 18-4-4 overall record and a first-place standing in Hockey East with a 10-1-4 mark, compared to BU's 15-7-4 and 8-4-3.
That said, BU coach David Quinn waxed optimistic about his team following the Terriers' 3-1 win over Northeastern.
"These guys are getting older [and] they're starting to understand what it takes to have success," he said. "We've played in some big games. The games at Quinnipiac and Yale were real tough. The game at Madison Square Garden against Cornell in front of 19,000 people, it kind of forces you to grow up in a hurry.
"These kids work hard and do a great job. We thought it was going to be a matter of time, and they certainly have grown up in the last few months."
The Terriers are the defending Beanpot champions. Last year, they broke BC's streak of five straight 'Pots (not to mention their own uncharacteristic back-to-back and three-years-of-four last-place finishes).
The edge on paper goes to Boston College, but this one should have fans holding their breath to the final buzzer.
Maine shooting up the standings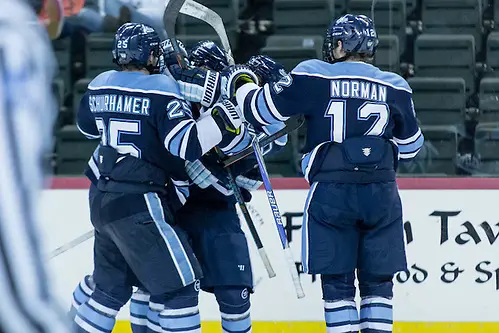 It was just a few weeks ago that the once-proud Maine Black Bears resided in the Hockey East cellar. The fact wasn't that shocking since Maine was picked in the preseason to finish 10th in the league.
Still, for those who recall the program's past stature as a perennial national contender and Hockey East powerhouse, seeing Maine at the bottom of the standings had a decidedly unnatural look to it.
Well, you can forget about that now. The Black Bears, who had been 0-for-the-season on the road, traveled to Massachusetts and swept both games. Equipped with those four points, they've shot up in the standings to a tie for ninth place and, even more significantly, just two points out of sixth and a home-ice berth for the opening round of the playoffs.
"Obviously, getting four points was enormous for our players and our program," Maine coach Red Gendron says. "We moved up in the standings, but it's pretty tight. There's not a lot separating No. 12 from No. 6.
"So it was great that we did what we did, but we can forget about that now. On to the next step."
Perhaps most promising, other than the four points, was that Maine, which still ranks as the league's weakest team in offense and on the power play, scored five goals both nights.
"More than anything else, it's good for the confidence of the players," Gendron says. "We've generated lots of opportunities. If you look at things like shots on goal, we're pretty even [with our opponents] throughout the season.
"If you took that further, you'd say Maine should be a .500 hockey team based on hockey analytics. We all know that hockey analytics isn't a panacea. There are plenty of things that weigh into the outcome of the games. But the bottom line is that our players have the opportunity to get some confidence.
"The weekend before, in one of the two games against BU, we scored a couple power-play goals. So in the last four games we've scored four power-play goals, so that's a positive.
"And then we added a short-handed goal by Blaine Byron, which is his fifth short-handed goal in the last two years.
"Being effective on special teams is a big positive."
While none of the Maine freshmen has put up big numbers as of yet, Gendron remains optimistic in that regard.
"We like the young players that we have an awful lot, whether they've had good numbers or not," he says. "In this second half-year, I'm starting to see great improvement.
"We started the season 0-8-3. Since that time we've been 7-7-3. That's not great; I'm not excited about that. But the point is we've gotten better as a hockey team since a very, very difficult start. That's just the truth of it."
The challenge will be to keep that positive momentum going with the next four games coming against Providence and Notre Dame.
"It's really very simple," Gendron says. "We've played well enough to win a lot more games than we've won. But we're not the type of team that can afford to be deficient in one area of our game, or to have three or four players not play at or near their optimum performance levels.
"The margin for error is relatively slim for our hockey team. It's something we know, accept and embrace. That's basically our approach. We have to play our game, and play all phases of it very well, offensively, defensively and on special teams. And the individual players all have to do what they do well."
There has been steady erosion in Maine's attendance numbers at Alfond over the past few years, but the Black Bears still average close to 4,000 fans per game and undoubtedly have a loyal and fanatical core group.
"I think the fan support has been very good considering we're not winning all that much," Gendron says. "There is a core of Maine fans that come no matter what, and our students, when they're on campus, they come.
"The bottom line is the foundational fan support at Maine is extremely strong. As we evolve as a program and win more consistently, I guarantee that it's going to be tough to get a ticket at the Alfond again."
Supporting a new D-I program
While fans would arguably prefer to be watching their team play standard rivals or nationally ranked nonconference opponents, Hockey East's three games this past weekend against new Division I program Arizona State were a very good thing for the sport.
The results were not close — Massachusetts-Lowell won 4-1 and 8-1, and Merrimack thumped the Sun Devils 10-0 — but for now, that's not the point.
"It's very important that college hockey embraces new teams," Lowell coach Norm Bazin says. "[Arizona State] is taking time to experience a lot of different leagues. [ASU coach Greg Powers] is giving his kids experience in a lot of different leagues, and he is giving them valuable life experience.
"They are going to become a force very quickly. … They are a first-year program, but they work really hard and it showed through their intensity and aggressive style of play the entire weekend."
Merrimack coach Mark Dennehy added his own words of praise, first noting that the Sun Devils had to play three nights in a row, and on the road no less, to face his team, which had been off on Saturday.
"I'd like to thank Coach Powers and Arizona State for playing three in a row," he said. "I wouldn't wish that on anybody. I'd also like to welcome Arizona State to Division I hockey. It's great for college hockey."
A statistical oddity
As noted by Scott Weighart in his recap of Boston University's Friday night 4-0 win over Merrimack, goaltender Sean Maguire was credited with neither the shutout nor even the win despite making 27 saves.
Just 77 seconds into the game, Maguire's left skate blade popped out, and he had to be replaced by Connor LaCouvee until he got his equipment back in order. Just before Maguire reentered the game, Robbie Baillargeon scored the first goal of the night, and it stood up as the game winner.
That meant LaCouvee picked up the win for making one save in less than six minutes of action.
According to Quinn, however, it was a bit of deferred justice for LaCouvee.
"We were actually joking about that," Quinn said after the game. "I realized it when we were walking around shaking hands.
"Connor got dealt a bad hand a couple of times last year. We put him in at New Hampshire when we were down 3-0, and they scored right away to make it 4-0. Then we scored three goals to make it 4-3, and he got a loss. That happened a couple of times last year."
What makes Maguire's bad luck even more notable is the nature of the equipment problem that did him in.
"I've never seen that," BU goalie coach Mike Geragosian said. "I've never seen a goalie lose a blade in the middle of game and not have a whistle either. Today, the blades are interchangeable on the new skates, so you can lose a blade now."
Quotes of note
Northeastern coach Jim Madigan on his Huskies failing to advance in the Beanpot:
"I'm disappointed for our seniors who have never had an opportunity to win this tournament. It's a great tournament. To not be able to walk away with a championship is a disappointment after getting to three Beanpot finals. It would've been nice to get to a fourth this year. But as I said to our kids, we're going to have to use this as a platform moving forward."
For Boston College, backup goaltender Ian Milosz's injury forced the desperation move of dressing team manager Chuck Van Kula to fill in for Monday night's Beanpot semifinal game.
"It's either [Van Kula] or me," BC coach Jerry York said.
Denna
I mentioned in this space two weeks ago about the Bruins fundraiser for Denna Laing, who suffered a terrible spinal cord injury in the first-ever Women's Winter Classic held at Gillette Stadium. The auction for those game-worn jerseys, however, might have been beyond your financial reach.
There's now a way to help in whatever way you can. Please go to dennalaing.org for information.
Go Denna!
Contributing: Scott Weighart, Michael Flanagan and Mathew Galvao