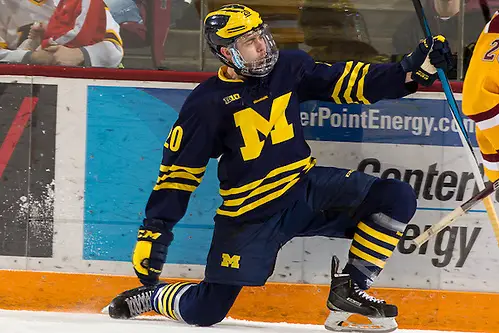 There are few people more revealing in college hockey than Michigan coach Red Berenson — except when it comes to the future of Red Berenson.
The Wolverines honored their senior class last Saturday night in Yost Ice Arena after the final game of the regular season, and after Michigan's decisive two-game sweep of Penn State, few were willing to leave the stands. The crowd cheered for each of Michigan's three seniors — forwards Boo Nieves and Justin Selman, and goalie Steve Racine — in a predictable cadence. "Thank you, seniors!" Clap, clap, clap clap clap.
Big Ten tournament
See the tournament bracket and get links to schedules and stories at Big Ten Playoff Central.
There was another reason that the fans were reluctant to leave. Berenson is in the final year of his contract at Michigan, and the school has left his return up to him. Given that Berenson is 76 years old and at the end of his 32nd season behind the Michigan bench, no one knew if they were witnessing the legendary coach's last game in Ann Arbor. When they were done thanking the seniors, the student section chanted, "Thank you, Re-ed," in that same cadence.
Given, too, that the Wolverines will return to the NCAA tournament for the first time in four years — making this the first successful Michigan hockey season since 2011-12, by how they measure success in Ann Arbor at least — there is a lot of chatter about the possibility of ending the Berenson era in Ann Arbor. Coaches like to go out on high notes. A lot of chatter. Chatter from everyone but Berenson himself.
In the press room after Saturday's 6-1 win over Penn State, Berenson was genuinely touched by the enthusiasm of the Maize and Blue faithful.
"You know what I liked tonight about senior night? I liked the fact that our fans stayed," said Berenson. "It's like our fans are all parents of our players, like they care about the players, they care about the seniors, they care about the team. I think it's a great tribute to our fans, how respectful they are and how aware they are of what's going on."
When he finished, I reminded him that the fans had also chanted their thanks for him. In typical deadpan Berenson fashion, the coach shot back, "They're thanking me. They don't know and neither do I," and the press room erupted with laughter.
Yes, I was fishing. A little. I didn't get the bite I wanted. Bitten? Yes. And then rewarded with the kind of story only Red Berenson can tell.
Another reporter mentioned Dickie Moore — Richard Winston (aka "Dickie") Moore, an old-time scrapper whose professional hockey career spanned 20 years (1948-68). When Berenson was a rookie with the Montreal Canadiens in 1961-62, Moore was in his 11th season of NHL hockey, and by the time the two played together, the years had taken a toll on Moore's body — but not his spirit. Berenson had been inspiring the Wolverines with tales of Moore's determination, and after Saturday's game, he was in the mood to inspire the press corps, too.
"Dickie Moore was one of my teammates in Montreal," said Berenson. "I was a rookie and he was a veteran. He could hardly skate — like his legs and his knees were bad, and talk about a broken-down player, but when the playoffs started, he became a man amongst men. He was no bigger than anybody, but could he ever play hockey when it was crunch time. He made plays. He was fearless. I don't know what it was. Ask anyone who played in that era, but Dickie Moore was the guy."
Moore retired from hockey after the 1964-65 season, which he spent with the Toronto Maple Leafs. Three years later, however, Berenson said that Scotty Bowman coaxed Moore out of retirement and enticed him to play again with Berenson for St. Louis because the Blues needed him for the playoffs.
"And," said Berenson, "Dickie Moore literally leads our team to the playoffs again right to the Stanley Cup final as a more broken-down player."
The Blues lost that Stanley Cup in 1968 to Berenson's and Moore's old team, Montreal. That wasn't the point, though. Said Berenson: "One thing I told our team that Dickie used to say, 'You can't buy the fun.' It's true. You can't buy the fun, the camaraderie, the winning, and the group, and the game — you can't buy things like that. That's why it's special.
"We're having a little Dickie Moore fun right now.
Without a doubt.
After their first three-loss stretch of the season — a good game against Minnesota and two games against Ohio State in which they looked terrible — the Wolverines had all but lost their chance to snag part of the Big Ten regular season championship, but they hadn't given up.
Michigan rebounded with those 7-1 and 6-1 home wins over Penn State to end the regular season last weekend. The Wolverines had climbed back to a tie for sixth place in the PairWise Rankings, ensuring a first trip to the NCAA tournament for every player on the team.
It was a big weekend, said Berenson — even if they couldn't catch first-place Minnesota. "We've been in different situations in different years," he said. "Sometimes it's hard to manufacture momentum if you really haven't earned it. I think this team has earned it."
The team and its coach have also earned B1G accolades. This week, Berenson was named the Big Ten coach of the year. Freshman forward Kyle Connor (30-31–61) was named both player of the year and freshman of the year.
"He's such a dangerous player with the puck," said Berenson. "You don't know for sure what he's going to do, what he's going to pull off next, but one thing is sure: If he gets a scoring chance, it's going in the net."
Three other Wolverines players — senior forward Tyler Motte (29-21–50), junior forward JT Compher (13-39–52) and sophomore defenseman Zach Werenski (9-19–28) — were named to the all-Big Ten first team. Connor, Compher and Motte play on Michigan's first line together, and Berenson knows what many people seem to be ignoring, that the trio is potent and Connor benefits from the talents of two experienced players.
"It's been exciting," said Berenson. "He's playing with two great players and he's definitely taking advantage of it, so good for him."
After Berenson had regaled us with stories during a news conference that may or may not have been his last at Yost, the three-member senior class came out to face the press, and inevitably, they were asked if they were motivated to succeed on behalf of Berenson.
"Very," said Boo Nieves. "We haven't played in one NCAA game yet, and we struggled even in the CCHA [tournament] our freshman year and then in the Big Ten tournament. He's definitely a guy you work hard for. Whatever happens, you want to make sure you end it on the right note for him."
The Wolverines are the No. 2 seed in the Big Ten tournament and will play the winner of Thursday's Wisconsin-Penn State quarterfinal at 4 p.m. CDT Friday at the Xcel Energy Center in St. Paul, Minn.
Hanging banners isn't easy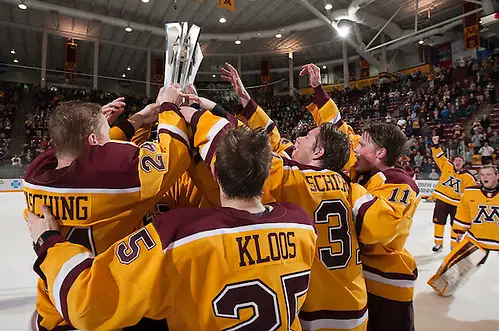 The Wolverines may seem to have all the momentum going forward into the Big Ten tournament and they're the only B1G team guaranteed to make the NCAA tourney, but Minnesota secured the 2015-16 regular season championship. It's their third consecutive Big Ten season title and their fifth consecutive conference title, as Minnesota won the last two years the Gophers played in the WCHA.
And the regular season title is something to celebrate, said coach Don Lucia. "It's not a weekend tournament. It's not a two-week tournament," he said. "It's over the course of a long season."
That long season included many stumbles for the Gophers, including back-to-back losses to Michigan State and Wisconsin, the two bottom teams in the league, just as the regular season was coming to a close. That knocked the Gophers from the bubble for an at-large bid to the NCAA tournament. They need the autobid that comes with the playoff championship to return to the NCAAs.
"Nothing comes easy for us," Lucia said after Saturday's 4-1 win over Wisconsin, which gave the Gophers the points they needed to remain ahead of Michigan and take the season crown. "That's just the way it is. It was senior night, it was their night. Like last year, it came down to the final game of the year. It's a credit to this group. It's hard to do. It's hard to win the regular season title."
After losing so much talent before the 2015-16 season began, Lucia and his coaches knew that there would be a learning curve this season.
"We've worn out our cattle prod this year, poking them and pushing them, but also we're trying to be patient because we understand there's a lot of new guys and you look at the void from last year's group, and there's a big void," he said. "The guys who have stepped in, stepped forward, I think that they've become better.
"It's not easy hanging banners. I'm most happy for our players. They're the ones who have to fight through it. It's not easy here when you're not winning every game. We understand that and we all take a little bit of heat. That goes with the territory. For our guys, we just keep believing and keep pushing and finding a way. That's kind of what we've done all year long, trying to find a way. This time of year, it's not necessarily about the most talented team. It's about playing the right way, with grit and determination … and that's where we have to be. We can't just out-skill people right now. That's OK. We're still where we have to be."
The No. 1 Gophers will play the winner of Thursday's Michigan State-Ohio State quarterfinal at 7:30 p.m. CDT Friday.
We'll pick the tournament Thursday morning
Drew Claussen and I will make our predictions for the tournament and add more talk of the four remaining teams in the field in the Big Ten Blog Thursday morning. I'll be hanging out with some old friends in Grand Rapids, Mich., while covering the WCHA Final Five this weekend.
A unique all-freshman team
This year's B1G all-freshman team includes players from every team in the league. The forwards include Kyle Connor (Michigan), Mason Jobst (Ohio State) and Luke Kunin (Wisconsin); defensemen Zach Osburn (Michigan State) and Vince Pedrie (Penn State); and goaltender Eric Schierhorn (Minnesota), who was also named goaltender of the year.
Three stars of the week
There are weekly honors, too. All forwards and no strangers here.
First star — Michigan freshman forward Kyle Connor: Connor brought his regular season goal-scoring total to 30 with the four he scored in Michigan's home sweep of Penn State. Connor had two goals in each win, and with 31 assists, he leads the nation in points. Connor also became the first freshman to notch 30 goals in his first season since Minnesota's Thomas Vanek did so (2002-03) and the first Wolverines rookie to hit the 30-goal mark since Denny Felsner (1988-89). This is his seventh weekly Big Ten award.
Second star — Minnesota sophomore forward Leon Bristedt: Bristedt registered three goals and an assist in Minnesota's home split with Wisconsin. Bristedt had a goal in Friday's 4-3 loss and a three-point outing in Saturday's 4-1 win, the game that secured the Golden Gophers' regular season Big Ten title. Bristedt finished the regular season with 19 goals and 16 assists in 34 games; he had five goals and 14 assists in 35 games last season. This is his third weekly Big Ten award, all of which were earned this season.
Third star — Michigan senior forward Justin Selman: Selman led all Big Ten players with five points (2-3–5) in Michigan's sweep of Penn State, including two goals and an assist in Friday's 7-1 win. Selman has 12 goals and 17 assists for a career-high 29 points in 34 games this season. In the 74 games he played in his first three seasons at Michigan, Selman recorded a total of 16 goals and 20 assists. This is his fourth weekly Big Ten award, his third of this season.
My ballot
1. North Dakota
2. Quinnipiac
3. Providence
4. Denver
5. St. Cloud State
6. Boston College
7. Michigan
8. UMass-Lowell
9. Harvard
10. Michigan Tech
11. Boston University
12. Notre Dame
13. Yale
14. Minnesota-Duluth
15. Northeastern
16. St. Lawrence
17. Dartmouth
18. Minnesota
19. Robert Morris
20. Minnesota State
And thanks
USCHO publishes its last weekly conference columns of the season this week, and by happenstance the last Big Ten column of the year is mine. That means that I have a few people to thank.
I love my USCHO family, and I owe every one of them a big thank you — especially executive editor Todd Milewski and my two partners in writing this season, Drew Claussen and Jim Connelly.
Thanks to all of the hard-working hockey SIDs in the Big Ten, all the people who handle information for the teams. They are a remarkable, hardworking bunch. Thanks, too, to Adam Augustine, associate director of communications for the Big Ten, a great guy and a real pro.
And thanks to my extended college hockey family, including so many CCHA alums that I saw throughout the season and all of USCHO's readers and devotees. Thanks for the emails, the texts, the tweets, and the hugs, handshakes and laughs at the rinks.
Happy hockey, everyone.