The first round of the 2016 NCAA Midwest Regional features a game between the team with the longest active streak of tournament appearances and the team with the best second-half record in the country.
The other first-round game matches old conference foes who haven't played in three years.
Here's the schedule for the Midwest Regional at U.S. Bank Arena in Cincinnati, followed by a look at the four teams:
• North Dakota vs. Northeastern, 2 p.m. EDT Friday, ESPNU
• Michigan vs. Notre Dame, 5:30 p.m. EDT Friday, ESPNU
• Regional championship game: 6 p.m. EDT Saturday, ESPN2
North Dakota Fighting Hawks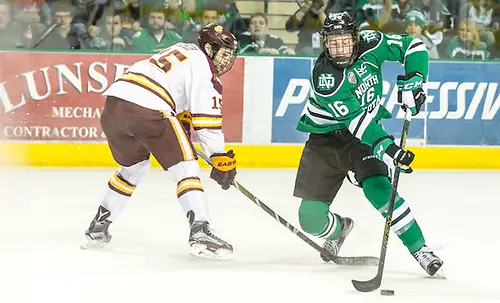 Team page | Statistics | Roster | Schedule/results | History
Coach: Brad Berry, first season at North Dakota and overall
Record: 30-6-4 (19-4-1-1 NCHC, first)
NCAA Midwest Regional
See complete coverage at Regional Central.
How they got in:
At-large bid
Regional seed: First
Last NCAA tournament appearance: 2015
Best NCAA finish: Champions, 2000, 1997, 1987, 1982, 1980, 1963, 1959
Why they'll get to the Frozen Four: UND hit a couple of roadblocks last weekend at the NCHC Frozen Faceoff, but an eight-game winning streak before that showed what the Fighting Hawks are capable of late in the season.
Why they won't get to the Frozen Four: Considering Northeastern, UND's regional semifinal opponent, is 20-1-2 in its past 23 games, the Hawks could have a tough time getting to the regional final, let alone the Frozen Four.
North Dakota hasn't won a national championship in over 15 years, but that hasn't kept the Fighting Hawks from being able to reload well year after year.
UND long ago virtually wrapped up a 14th consecutive NCAA tournament spot, but the Hawks only picked up an at-large bid after winning a second straight NCHC regular season championship.
The Hawks entered last weekend's NCHC Frozen Faceoff in Minneapolis on an eight-game winning streak that included two breezed first-round playoff victories over Colorado College by a combined 12-2 score.
At the NCHC Frozen Faceoff, however, UND ran into much more trouble. A 4-2 semifinal loss to Minnesota-Duluth gave way to the Hawks' 1-1 tie in last Saturday's NCHC third-place game against Denver.
Little came easy for the three teams involved in those two games.
"We base our games on the evaluation process," first-year UND coach Brad Berry said, "and watching our games back, I thought we played good games both against Duluth and Denver, and it shows how good our league is in that those games both could've gone either way.
"The big things for us was that we defended well, but on the offensive side we missed a lot of scoring chances and hit a few posts but had a lot of Grade A opportunities that we didn't capitalize on. It's important for us to work on the details and finish those plays that make the difference in a game.
"We came into Minneapolis with the right mentality but came up short, but I think we've found the reasons why," Berry continued. "We're going to prepare accordingly this week to make sure we have a chance to move on."
A better finish last weekend in Minneapolis likely would've sent North Dakota back to the Twin Cities this week for the West Regional in St. Paul. Instead, NCHC playoff champion St. Cloud State picked up the top seed in that regional and will begin the NCAA tournament close to home.
Instead, the Hawks are the No. 1 seed in a tough Midwest Regional in Cincinnati. Either Michigan or Notre Dame would lie in wait at the regional final if North Dakota can first get past a Northeastern team that has won 20 of its last 23 games despite starting the season 1-11-2.
"It is what it is, and that's the way the selection part of it goes," Berry said. "At this time of the year, though, you've got 16 very good teams in the tournament, so as far as the regional and your opponents there, you have what you have and you just have to prepare for it."
— Matthew Semisch
Michigan Wolverines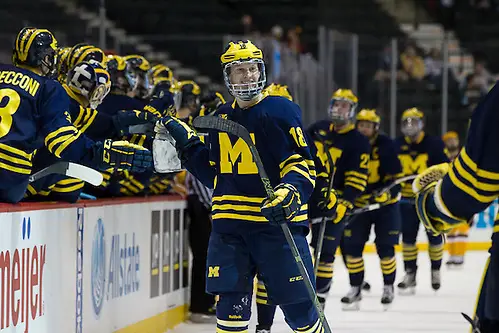 Team page | Statistics | Roster | Schedule/results | History
Coach: Red Berenson, 32nd season at Michigan and overall
Record: 24-7-5 (14-5-3-2 Big ten, second)
How they got in: Big Ten tournament champion
Regional seed: Second
Last NCAA tournament appearance: 2012
Best NCAA finish: Champions, 1998, 1996, 1964, 1956, 1955, 1953, 1952, 1951, 1948
Why they'll get to the Frozen Four: Michigan's offense is simply good enough to outscore any opponent.
Why they won't get to the Frozen Four: As good as its offense is, its defense is equally bad. The Wolverines consistently give up three or more goals per game.
Michigan being one of the teams in the NCAA tournament field used to be right next to death and taxes on the list of things that could be counted on.
This year's team, however, will be making Michigan's first tournament appearance since 2012.
The Wolverines are the lone representative from the six-team Big Ten. Last season, Michigan needed to win the Big Ten tournament to keep its season alive. The Wolverines ended up falling to Minnesota in Detroit but returned the favor this year in St. Paul by defeating the Gophers and denying them a NCAA tournament spot.
Michigan is led by a stellar first line that is made up of Kyle Connor, JT Compher and Tyler Motte. Connor and Motte lead the team in goal-scoring with 35 and 31, respectively. Compher leads the nation with 46 assists, including seven at the Big Ten tournament.
Connor paced Michigan's offense in St. Paul, scoring four goals during the Wolverines' semifinal game against Penn State and tying the championship game in the third period.
"Last night, about three of those goals, the goalie had no chance," coach Red Berenson said of Connor's performance over the weekend. "He roofed it, he put it right where he wanted to, perfect shot. Where a lot of players will shoot it and it goes right in the goalie's belly, so Kyle has that knack of placing a shot, getting them away quick and getting open.
"He's a pure goal scorer," Berenson added.
Senior Steve Racine took a stranglehold on the starting goaltender position before the holiday break. He has a 19-5-3 record with a 2.89 GAA.
Although Michigan had a solid conference tournament, Berenson said there was work to be done and things to shore up before the NCAA tournament. Mainly, the team's defense that allowed an average of three goals per game this season.
"I think we can always get better, and depending on the competitions and the kind of game it is, we can get better," Berenson said. "I mean, I've said all year that we're trying to get our goals against down and I've said all year we want to be better in the penalty killing.
"I've told our players, you're never going to please me completely," he added. "I'm always going to be after you to do something better, so then it comes down to individual things."
— Drew Claussen
Notre Dame Fighting Irish
Team page | Statistics | Roster | Schedule/results | History
Coach: Jeff Jackson, 11th season at Notre Dame, 17th overall
Record: 19-10-7 (15-5-2 Hockey East, third)
How they got in: At-large bid
Regional seed: Third
Last NCAA tournament appearance: 2014
Best NCAA finish: Runner-up, 2008
Why they'll get to the Frozen Four: When at their peak this year, the Irish were one of the best teams in the country.
Why they won't get to the Frozen Four: The Irish have lost five of their last six games.
If Notre Dame plays the way it did from late November through the middle of February, during which time it went 13-1-3 and often looked like men among boys, the Irish could make some serious noise in this tournament.
Unfortunately, it's March now and the Irish have lost five of their last six. Admittedly, all six of those games came against teams that are also playing in the tournament, but that's still a tough way to enter the NCAAs.
"It's a new season," Notre Dame coach Jeff Jackson said. "We're one game and out now. If we don't have our sights straight then it will be a short tournament, but I'm looking at it as a fresh start."
Notre Dame may also be fighting a bit of rust since it got swept out of the Hockey East quarterfinals. That said, Providence was in the same situation last year and took home a national championship. Jackson talked to Providence coach Nate Leaman and said his team will be ready.
"Last week we did a lot more competitive stuff, game-type situations, battling to keep our edge physically and mentally," Jackson said. "That's always the big issue when you have a week off. So we just did a lot of high-tempo work and a lot of battling."
In Michigan, Notre Dame will be facing an old CCHA rival, a future Big Ten rival after the school announced its changing conferences in 2017, and an institutional rival in other sports.
"They're a great program, a lot like Boston College for us, the type of team that we want to become, one that plays a high-tempo, transitional game," Jackson said. "We've had great games in the past, but it's been three years since we played them last. I'm sure they look a lot different, and we look different as well.
"It's going to be a big challenge. They're flying high, a great offensive team. We're going to have to play at a high level."
As they take on what is clearly the top offensive team in the country (4.89 goals per game), the Irish will be focusing on three keys.
"We have to manage the puck real well," Jackson said. "We can't make the ice short for them by turning the puck over.
"We have to play with discipline because we don't want to put them on the power play a lot.
"And, frankly, we want to try to possess the puck a bit so we're not playing defense. That means you have to come out of your zone with possession, you have to be fast through the neutral zone and try to possess the puck in the O-zone."
— David H. Hendrickson
Northeastern Huskies
Team page | Statistics | Roster | Schedule/results | History
Coach: Jim Madigan, fifth season at Northeastern and overall
Record: 22-13-5 (10-8-4 Hockey East, sixth)
How they got in: Hockey East tournament champion
Regional seed: Fourth
Last NCAA tournament appearance: 2009
Best NCAA finish: Third place, 1982
Why they'll get to the Frozen Four: The Huskies are 20-1-2 since Dec. 7.
Why they won't get to the Frozen Four: North Dakota may be one of the few teams in the country that can beat them.
If you went into hiding back in early December, then be advised that this is not a misprint. The same Northeastern Huskies that were deader than Dracula, with a 1-11-2 record, climbed out of the coffin and stomped it to bits, finishing 20-1-2.
"Some poor team is going to be a No. 1 seed tomorrow and find out they have to play Northeastern," Hockey East commissioner Joe Bertagna said on Saturday night after Northeastern won its second Hockey East title. "That's not going to be a very good reward for having a great year and finishing in the top four."
No kidding.
One does wonder, however, if Northeastern might subconsciously feel satisfied with what it has already accomplished — the school's first Hockey East title in 27 years — and not have the burning hunger it needs to keep moving on.
"I talked to the team about that on Monday," Huskies coach Jim Madigan said. "You worry about that in terms of complacency because of how our season was and how much we had to put into getting us back to being competitive and winning it all. Does the euphoria end there?
"But there's too much pride in that locker room. They want to satisfy their goals. Getting into the tournament was one. Winning it was another. That was reinforced in today's practice. We worked hard.
"The fire is in their eyes. I can see it."
Arguably, Northeastern would be a favorite against many higher seeds because of that overwhelming 20-1-2 momentum.
But not North Dakota.
Madigan recognizes that his team's foe is an imposing one in almost every way.
"They're a team that has a lot of history and tradition," he said. "They've been to the tournament 14 times in a row.
"It's a team that has a lot of balance. There's high-end skill to their team, but they also bring a grit and physicality. They're very heavy on pucks.
"They can beat you a lot of ways: with great goaltending … with very good defensive play … and then they have the ability to score a lot of goals.
"We've got to be ready when that puck drops to play a smart, disciplined game and a 60-minute game."
For the those who feel that North Dakota fans will dominate and give their team a home-ice advantage in Cincinnati, Madigan points to the Huskies' road sweep of Notre Dame in the Hockey East quarterfinals.
"That's a pretty imposing place, but we handled that environment really well," he said. "We've got a group that is seasoned, so I'm not really concerned. There's too much at stake. We'll be ready when the puck drops."
— David H. Hendrickson