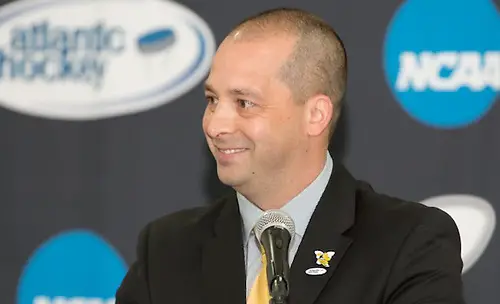 Eric Lang still remembers sitting in class in 1998. A senior at American International that year, he was wrapping up his career with the Yellow Jackets in the ECAC East. For the past four years, he had dressed his life in black and gold, playing for head coach Gary Wright, a career spanning 80 games.
Nearly 20 years later, the journey comes full circle. The new head coach of AIC hockey, a former player recruited out of the Bronx, New York, is back after a career that took him from Manhattanville back to his alma mater then to West Point before coming home to Springfield, Mass.
"This is an absolute dream come true to come home," said Lang. "I remember being here as a student, and I remember sitting in class [as a graduate student] drawing up power plays. Now I get to fast forward and come home. I know the popular thought is that not a lot of people would say AIC is their dream job, but, for me, it really is."
Lang represents the first coaching change at AIC since 1984. Replacing Wright, he's tasked with keeping his predecessor's legacy of academic excellence alive while moving the program to the next step in terms of wins and losses. It's a task he welcomes, even though he knows the challenges facing him.
"Gary Wright is one of the most influential people to have ever been in my life," said Lang. "Before I took this job, I wanted his blessing, and his endorsement and support is something that I value greatly. I still keep in contact with him, and I can honestly say he is one of the best guys in all of college sports, not just hockey. Character development and bringing in great kids is one thing that he did for this school for years, and that's the single most important thing that we have to continue to focus on."
At the same time, Lang knows that there's a giant elephant in the room. Since the Yellow Jackets helped charter the Metro Atlantic Athletic Conference and later Atlantic Hockey (starting with the 1998-99 season), they've won only 136 games. They've won 10 games in a season only twice in the past 10 years, and they haven't finished .500 or better since going 14-12 in 1994, a span of 22 years.
"There's not a lot of subjectivity in sports," said Lang. "You either win on Friday or you don't, and we know that we need to win. We're not looking to be college hockey's sparring partner, and that's something that was made very clear by the school. AIC as an institution is committed to being a hockey school, and it needs to start by winning more games."
To push the program ahead, Lang said he's looking to institute a blueprint built on competitive recruiting opposite a vision he's installing with the current players. He told the current players in their first meeting that the goal has to be to compete for championships, something that can be done by augmenting the current core on the recruiting trail.
It's something he's put together over his coaching career, one that started out in women's Division III at Manhattanville. As the head coach of the Valiants for three seasons, he led the team to an ECAC East championship in 2012. Following the title, he transitioned to the men's program for one year, in which the team finished second in the conference.
He left Manhattanville for an assistant's position on Brian Riley's staff at Army West Point. After back-to-back seasons in which the Black Knights finished in the bottom two of Atlantic Hockey, they climbed to 10th in 2015 before finishing sixth this season, defeating AIC and Holy Cross en route to a trip to Rochester. In the league semifinals, they came within an overtime loss to first-place Robert Morris from playing for a championship.
"I've been able to work for both Brian Riley and Gary Wright, who are the absolute best men in college hockey," Lang said. "Everything that they did and do was and is done with the utmost of professionalism. At West Point, it was pretty intimidating at the beginning, especially with the colonels and generals on campus and what that school gets to do, but eventually you learned that you were there for something more than a program.
"Army provided me with the blueprint to build this program," he continued. "If you go back two years ago, we were where AIC is now as a last-place team. All it took was two very good recruiting classes, and we came within an overtime loss of making it to the tournament's final game. So I just lived it and got to execute it — and now I have a chance to get it going here in the right direction. There are 60 Division I teams, so the parity in college hockey can be the great equalizer."
For Lang, talking about the blueprint and executing it will be two different things. He knows that it starts with the current core of players, a team he met with and shared a vision with during his first team meeting.
"I told our current guys [at AIC] that the vision has to be Rochester," he said, alluding to the conference championship weekend. "At the same time, there are 10 other teams with the same goal. But if we can raise the level of expectations, we can talk about those expectations and work toward them together."
That current core needs to combine with strong recruiting. "The lifeline is recruiting," he said, "and it's something I've done at the toughest places with West Point. AIC has obstacles, but everyone in college hockey has obstacles in their own way. It's all about knowing the entire player pool, which is incredibly deep, identifying the players, and executing [on the trail]."
There is, of course, the question of whether Eric Lang can turn the program from words to reality. That's a question that starts at the institutional level, something that, according to the new coach, is easily answered.
"AIC is a school committed to being a hockey school at the Division I level," Lang said. "This is a special place, and everyone here is looking to make a statement that we're ready to go."