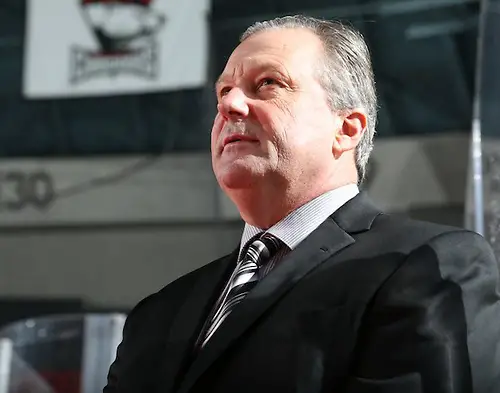 CANTON, N.Y. — Mark Morris is back — back in college hockey and back in the North Country.
St. Lawrence athletic director Bob Durocher on Tuesday named the 58-year-old the 14th coach in men's hockey history and the third to bear the Charles W. Appleton II head coach title.
"This is something I had hoped would happen," said Morris, who hasn't been in the college hockey world since being dismissed from Clarkson in 2002. "I never envisioned it would happen so quickly, but to follow in the footsteps of my mentor and one of his protégés and to build on that is a great opportunity. To come home and sleep in my own bed and be around people I've known my whole life is pretty neat."
After his practice incident with a player at Clarkson early in the 2002-03 season, Morris was fired and has held a number of coaching positions through the AHL, NHL and OHL.
The Clarkson incident was part, if not all, of what made his appointment so controversial among some fans of St. Lawrence and the greater college hockey world, and Morris was keenly aware of this.
"No question. No question," Morris said when asked whether the incident still cast a dark cloud over his return to NCAA hockey. "There's two ways to look at it. You can either feel sorry for yourself and mope or you can move on and turn the page and quit looking in the rear-view mirror and that is what I chose to do. I've never lost my passion for college hockey and I never wanted to leave. My next best option was to try and work my way back."
Morris returned to St. Lawrence — he was a Saints assistant from 1985 to 1988 and was on the bench with Joe Marsh and Don Vaughan during the run to the 1988 national championship game — after Greg Carvel left to take the head coaching job at Massachusetts.
"I never envisioned Greg moving on," Morris said after his introductory news conference at St. Lawrence on Tuesday. "In fact, a couple weeks prior to that move, one of the management staff told me that he heard my name mentioned for UMass, and I said, 'Listen, the only place I'd consider going back to in college hockey is St. Lawrence University.'"
Luckily for Morris, who had been working as the head coach of the AHL's Charlotte Checkers, that's exactly who called.
Morris' style isn't totally dissimilar to Carvel's, which will help the transition period for players. But the culture and recent success will be equally important in helping Morris return to the bench at Appleton Arena.
"It's comforting for me to know that there's some really good pieces in place. Obviously, these kids are excited, and I think that we can build on the things that they did well," said Morris, referring to Saints workhorses like Gavin Bayreuther, Eric Sweetman, Nolan Gluchowski, Kyle Hayton and others who will anchor what likely will be one of the better defenses in ECAC Hockey.
There will be plenty of time to watch, coach and play hockey at Appleton, but Morris said in the coming days he's just going to enjoy being a part of the North Country hockey scene again.
"It's home," he said. "When you've been living out of a suitcase and been on the road for 14 years and you get a chance to go home to a place that you're fond of and people care about you … it's a home run."