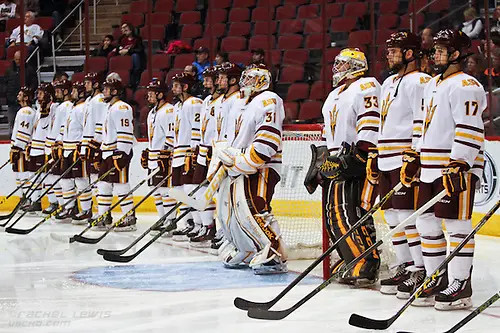 According to the Grand Forks Herald, Arizona State has officially applied to be a member of the NCHC.
The paper reported Tuesday that Arizona State athletic director Ray Anderson wrote a letter to NCHC commissioner Josh Fenton hyping the Sun Devils and also saying that the school will pay the NCHC's $20,000 application fee by mid-September.
Anderson also explained plans to pay the rest of the $500,000 entry fee.
The letter also stated that ASU plans to have a new facility in place by the start of the 2018-19 season. The team currently plays out of the Oceanside Ice Arena in Tempe, a rink that holds less than 800 fans for hockey (747, according to the official website).
The Herald piece said NCHC presidents are expected to decide on potential expansion before the end of the year.
Earlier this summer, it was revealed that WCHA school Minnesota State has also formally applied for membership in the NCHC.