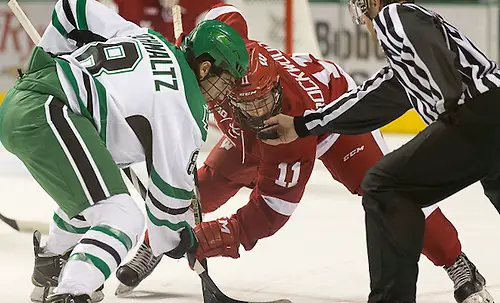 Adam Rockwood has joined Northern Michigan as a junior transfer from Wisconsin.
He will be eligible to compete for the Wildcats beginning in the fall of 2017. Rockwood is currently on campus and will practice with Northern Michigan in 2016-17.
"It's great to pick up a guy of Adam's talent," NMU coach Walt Kyle said in a news release. "It's great for us and a good opportunity for him. We're excited to work with him and anxious to get him into our lineup next year."
In two seasons as a Badger, Rockwood recorded 30 points (five goals, 25 assists) in 60 games.
Rockwood is Northern Michigan's first transfer since defenseman Barrett Kaib, who joined the Wildcats in 2013-14 after spending the 2011-12 campaign with Providence. He is the second transfer from Wisconsin this decade. In 2011, forward Matt Thurber transferred to Northern Michigan after spending two seasons in Madison. Thurber went on to record 62 points (17g-45a) in 67 career games and led the team in both assists (26) and points (32) as a senior in 2012-13.