What goes in to being a top forward in college hockey?
The game's best forwards can stand out in a number of ways. They can be an elite shooter. The can play the game high speed and excel in the transition game. They can be a facilitator of offense, making the players around them better. They can be a strong leader that takes a team on their back and scores goals when it is needed the most. They can be power forwards capable of scoring dirty goals and knocking opposing defensemen off the puck.
There are all sorts of talents that make for a great forward and a top offensive player.
However, it is the players that fit into the majority of those categories, like this year's top returning forward Brock Boeser of North Dakota, who are the most dangerous, and the most capable of taking their games successfully up to the National Hockey League.
The 10 Best Returning Forwards in College Hockey: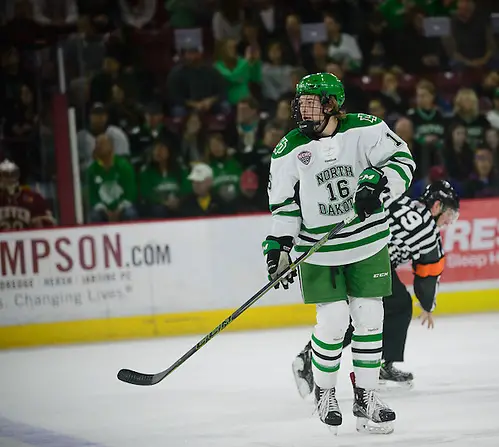 1. Brock Boeser, So., North Dakota (2015-16: 27 goals-33 assists—60 points)
The top returning forward in college hockey is really not much of a debate.
All Boeser did during his stellar first college hockey season was lead last year's national championship-winning North Dakota squad offensively, racking up 27 goals and 60 points. Each was a benchmark for this year's returning players, and there is little to doubt that, as a sophomore, Boeser will be in the discussion for the Hobey Baker Award.
"Brock is a phenomenal player and the best pure scorer at the college level that I've seen in a long time," Denver coach Jim Montgomery said. "Every shot he takes, he's not only trying to put it through the net, but out of the building. He's a smart hockey player that makes the players around him better and I'm sure he will be one of top players in college hockey this year."
It took just four games for Boeser to record his first college-level hat trick. The Burnsville, Minn., native was even better in the NCAA tournament, turning in a three-point performance against Northeastern in North Dakota's opening game and then picking up two assists in the national semifinal against Denver. Boeser saved his performance for last, contributing a goal and three assists as the Fighting Hawks blew away top-ranked Quinnipiac in the title-clinching game.
"Being a freshman last year, (Brock) did very unfreshman-like things with his scoring ability and his overall game," Nebraska-Omaha coach Dean Blais said. "He was noticeable almost every time on the ice, but he will be more of a targeted player this year because of some of the players that North Dakota lost."
Expectations will be high for Boeser and North Dakota in 2016-17, just like they are every year in Grand Forks. But expect this super sophomore to deliver on all of his impressive promise, and lead the Fighting Hawks on a spirited title defense.
"(Brock) is rock solid on and off ice, very focused and loves to play," CBS Sports Network/ESPN/NHL Network college hockey analyst Dave Starman said. "He developed into a multifaceted threat as the year went on and started to score from everywhere in many different ways. (Plus) he's an ultimate team first guy, and a perfect fit to the North Dakota culture."
2. Ryan Fitzgerald, Sr., Boston College ('15-16: 24-23—47)
On a Boston College squad loaded with offensive talent, the Eagles' top offensive weapon carries a very familiar name. Fitzgerald is the just the latest member of the Fitzgerald clan to excel in the college hockey ranks, but this senior forward might just be the most gifted offensively of the bunch. His 24 goals and 47 points in 2015-16 attest to just how dangerous the North Reading, Mass., product is in the offensive zone.
"Boston College has a lot of good players, but (Fitzgerald)'s the guy that has given us a lot of fits in our matchups against them," Northeastern coach Jim Madigan said. "Every time he's played us, he's ended up on the scoresheet more than once and he's just a difference maker in games."
Even with all the offense, like his famous father, Tom (who enjoyed a long career in the NHL), Fitzgerald plays a solid, two-way game. He also displays a tenacity and a willingness to stand up and fight for himself, despite a smaller 5-foot, 10-inch frame. It is that spirit and leadership that his coach Jerry York will miss the most when his senior leader moves on to the next level.
"Ryan has his dad's compete level, but he is more of an explosive offensive forward," York said. "He has quick hard release and is very accurate shooter. He has the ability to be a game changer with his stick skills and he's improved each and every year with us."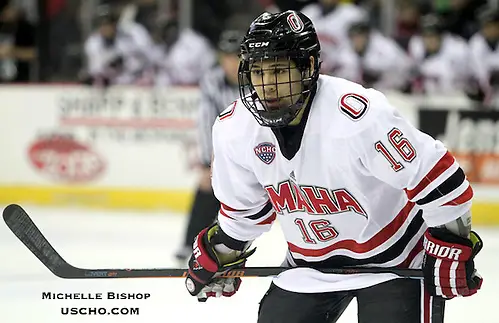 3. Austin Ortega, Sr., Nebraska Omaha ('15-16: 21-15—36)
Though Boeser is the nation's top returning scorer, the most pure offensive player returning to the college ranks is Ortega. The speedy Escondido, Calif., native racks up goals in bunches, and has twice broken the 20-goal barrier in a single season. Plus, the goals Ortega scores are timely ones, as he has a chance to tie and break the NCAA record for game-winning goals playing in the ultra-competitive NCHC.
"He's probably the most dangerous returning offensive player in college hockey," Blais said. "He can score anyway you can score. He's good on rushes, has a good shot, can score in front of the net, on rebounds, tip ins, on penalty shots or whatever. He's three goals away from tying the NCAA record for game-winning goals and that's a tribute to him and what he's done for us."
Blais continues to work with Ortega to round out his game in order to make it translate to the NHL. In the meantime, opposing defensemen and coaches know that whenever the Mavericks' No. 16 takes the ice, they better keep their heads on a swivel or be prepared to stare at a lot of flashing red lights.
"(Ortega) has an unbelievable shot," Montgomery said. "He scores big goals in big moments in games and he's a very opportunistic player. If there is a turnover, he smells it and his transition to offense is very good."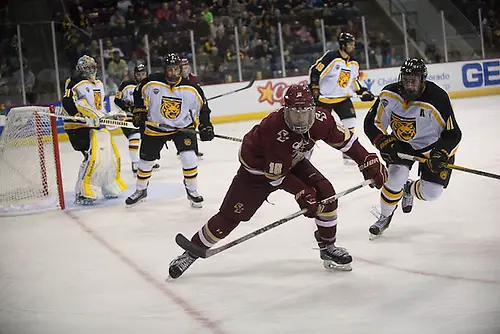 4. Colin White, So., Boston College ('15-16: 19-24—43)
Freshman forwards rarely enter the college ranks as well rounded as White was last season for Boston College. His offense at times seemed effortless, as White quietly racked up 19 goals and 43 points on one of college hockey's top offensive squads. That impressive first campaign included multi-goal performances against Wisconsin and Michigan, and a three-goal, four-point night against defending national champion Providence.
"Colin White is an outstanding skater with very good hockey sense," York said. "He can play in all situations, and there is huge upside to his game. He has a real good change of speed and great edge control that enables him to ward off defensemen and attack the net."
But there is far more to White's game than just goals and points. The Hanover, Mass., native is an effective distributor of the puck who also works hard on the defensive end. As White continues to mature and grow into his 6-foot frame, the sky will be the limit to where he can take his game.
"As a freshman, Colin White scored 40-some points and that shows just how good a player he is," Madigan said. "He's really skilled, is a real cerebral player and has always produced points. Boston College lost a lot of offense last year, but with those two guys, Fitzgerald and White, as well as Austin Cangelosi (who scored 20 goals last year), that's a pretty good trio to start from."
5. Zach Aston-Reese, Sr., Northeastern ('15-16: 14-29—43)
During the 2015-16 campaign, Northeastern staged what might have been the greatest in-season turnaround in NCAA hockey history. After stumbling to a 1-11-2 start, the Huskies closed on a 19-1-2 tear, winning the Hockey East playoff title and earning a surprising bid to the NCAA tournament.
A big reason for the reversal fortunes was the continued development and leadership of Aston-Reese. The Staten Island, N.Y., native found chemistry with the Stevens brothers, John and Nolan, to give Northeastern a dynamite top line.
"Zach plays the game the way you'd expect a player from Staten Island, New York," said Madigan said of the Hockey East title-clinching goal scorer. "He plays hard, is reliable and is effective at both ends of the ice. He will be (counted on) as a leader of our team this year."
All three top line players return for a squad expected to contend again in Hockey East, but Aston-Reese is the player opposing coaches have to be aware of. The senior's best hockey might still be coming as he continues the maturation process. Aston-Reese jumped from 23 points as a sophomore to becoming Northeastern's top pup as a junior by racking up 43 points in 2015-16.
"I do like Aston-Reese as a player," York said. "You always have to be aware when he is on the ice."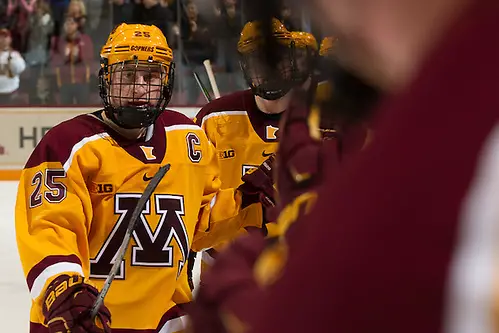 6. Justin Kloos, Sr., Minnesota ('15-16: 16-27—43)
In order to stand out on a Minnesota squad stocked with high-end talent, you need to be a special player, and Kloos is certainly that. Though Kloos stands at only 5-foot-8, he's a true leader and someone coach Don Lucia always looks to in the tough situations, especially when the Golden Gophers need a big goal.
"Slowing (Justin) down this season will be a big challenge for us," Wisconsin assistant coach Don Granato said. "He is very talented offensive player that is dangerous on the ice. He is a big part of team that is deep on offense, strong and difficult to defend against."
Because of his lack of size, and the fact that Kloos went undrafted on a squad full of future NHL prospects, it can be easy to underestimate the Lakeville, Minn., native. But with a resume that shows 107 points over the past three seasons, it's a fact that Kloos is dangerous when there is a scoring chance to be had. As the Big Ten's top returning scorer, big things will be expected of Kloos this season.
Expect the Golden Gophers' star upperclassman to deliver in 2016-17.
"(When Kloos turns pro) he will be the prize of the college hockey free agency market," Starman said. "He's a nice skater with good hands, but he has a little toughness, knows how to gets through traffic and the puck seems to follow him. He has that extra step that allows him to get off the mark quickly, and is very responsible, composed and mature on the ice."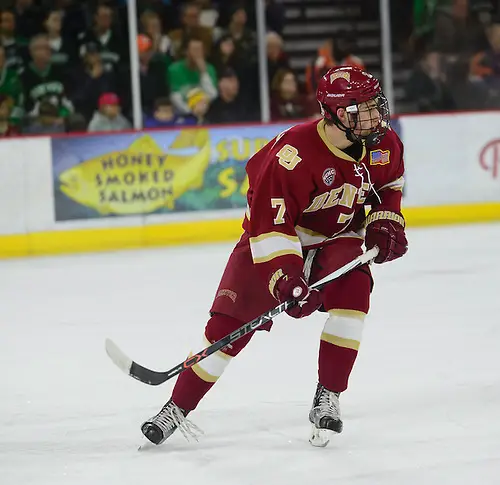 7. Dylan Gambrell, So., Denver ('15-16: 17-30—47)
After an 11-year hiatus, Denver returned to the Frozen Four last spring on the back of a pair of talented underclassmen in Danton Heinen and Gambrell.
Heinen moved on to the professional ranks during the offseason, but Gambrell is back and primed for a terrific 2016-17 campaign. A true facilitator on the offensive end, Gambrell is the type of player that makes his teammates better—as 17 goals and 47 points last season shows.
"(Dylan) quickly became a core player for us quickly last year," Montgomery said. "He was dynamic offensive player for us who was fearless in attacking the net. Now he needs to lead others and help elevate their games. I think he's ready for that because he has the confidence, the work ethic and the professionalism necessary."
Opposing coaches know their players need a 60-minute effort to handle Gambrell, who is the type of player who never takes a shift off, or lets an offensive chance go to waste. As the Bonney Lake, Wash., native continues to develop, that containment challenge will only grow.
"(Dylan) is one of the top returning forwards in the country and a real good team player, who is good on the power play and penalty kill," Blais said. "His role for Denver is a lot like Austin Ortega's is for us. When the Pioneers need a goal, he's usually in on it."
8. Max French, Sr., Bentley ('15-16: 23-24—47)
On a national stage, players in Atlantic Hockey tend to fly under the radar and French is a perfect example of an unheralded star worthy of placement in a list of college hockey's top players.
Despite a low profile, the Falcons' top line was an offensive juggernaut last season, and French was a big reason why. Playing alongside senior Andrew Gladiuk and sophomore Kyle Schmidt, the West Kelowna, B.C., native led his team with 23 goals and 47 points.
"One player that stood out for Bentley when we played them was Gladiuk, but the other was French," Madigan said. "He's a very good offensive player and is very good around the net."
Even without Gladiuk returning, expect French to take over hockey games for the Falcons. Madigan knows his team will have to watch out for the senior during this year's home-and-home series with Bentley.
"Even though a lot of the Falcons' offense revolves around (French), he doesn't mind having the puck and he excels in the pressure situations," Madigan said. "You certainly have to pay more attention when a player like him is on the ice."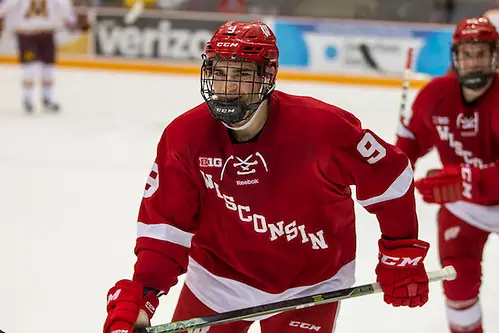 9. Luke Kunin, So., Wisconsin ('15-16: 19-13—32)
Though the Badgers endured a second-straight difficult campaign last year, there are two big reasons for optimism in Madison.
The first is the team's major overhaul behind the bench. Former NHL bench boss Tony Granato took over the reins of the Badgers, bringing with him a pair of fellow head coaching candidates in former Ohio State coach Mark Osiecki and former Team USA Under-18 Team coach Don Granato. The second is the team's new captain, and one of college hockey's top freshman from a year ago in Kunin.
Don Granato was very familiar with Kunin during his time with the U.S. National Team Development program, and looks forward to coaching him again this season.
"I'm excited to get the chance to work with Luke again," Granato said. "He was a captain of my U18 World Championship winning team, and he was truly that—a leader and another arm of the coaching staff. What I enjoy most about Luke is his maturity and his professionalism. He's very, very passionate about having success."
On a Team USA squad that included first overall pick Auston Matthews, and nine other first-round NHL draft picks, Kunin was Granato's go-to player in any situation. That carried over to a 19-goal, 32-point freshman season on a Wisconsin squad that won just eight games. Therefore, the Chesterfield, Mo., native will have to carry an even bigger load this season if the Badgers expect to the return to an elite level in the Big Ten.
"Taking on the role of being captain for us is not uncharted territory for (Luke), even though he's young," Granato said. "He's been in big pressure situations with players that are in the NHL right now and he's handled it with no problem. He's young in age, but he has lots of experience as a leader."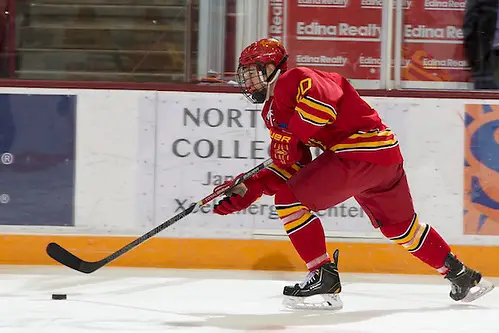 10. Gerald Mayhew, Sr., Ferris State ('15-16: 16-25—41)
The WCHA lost a number of talented seniors a year ago, but Mayhew should pick up the puck right where forwards like Michigan Tech's Alex Petan and Minnesota State's Teddy Blueger left off.
The league's top returning scorer with 16 goals and 41 points in 2015-16, Mayhew guided the Bulldogs on an unexpected run through the WCHA playoffs and then one win away from a Frozen Four berth.
"(Mayhew) is a really smart hockey player with great puck skills," said Montgomery, who faced Ferris State in the NCAA quarterfinals. "I was very familiar with Gerald when I came to college hockey because of coaching against him in the USHL. It's not a surprise to me that he's become a dominant college hockey player."
In a wide-open WCHA in 2016-17 expect Mayhew to make his presence felt in a big way. The Wyandotte, Mich., native and former high school "Mr. Hockey" (in 2011) has the ability to carry the Bulldogs on his own, and for that reason alone, expect Ferris State to again be one of the West's very best teams.
Five More Forwards to Watch in 2016-17:
1. Tyler Kelleher, Sr., New Hampshire (15-16: 10-36—46)
2. Tim Clifton, Sr., Quinnipiac (15-16: 19-24—43)
3. Nolan Stevens, Jr., Northeastern (15-16: 21-22—43)
4. Joe Gambardella, Sr., Massachusetts-Lowell (15-16: 10-26—38)
5. Austin Cangelosi, Sr., Boston College (15-16: 20-17—37)
Five Impact Freshmen for 2016-17:
1. Clayton Keller, Boston University
2. Kieffer Bellows, Boston University
3. Tyson Jost, North Dakota
4. William Lockwood, Michigan
5. Carson Meyer, Miami