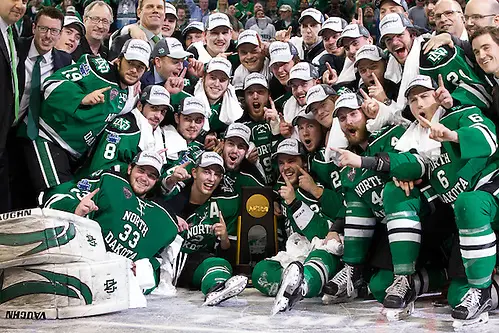 The NCHC was a difficult enough conference to succeed in before one of its member teams won a national championship.
Don't expect that to change in the wake of North Dakota's title success earlier this year. If anything, the grind is likely to now become even more brutal.
Half of the eight-team league qualified for last year's NCAA tournament. One of those teams, UND, won its eighth national championship and first since 2000.
The Fighting Hawks enters the 2016-17 season atop of the USCHO.com Preseason Division I Men's Poll. Denver, Minnesota-Duluth and St. Cloud State – three of the last 16 teams standing last season – help make up the poll's top seven.
Repeating as national champions would be extremely difficult, and no men's D-I team has since Denver did the double in 2004 and 2005. Heading into the fourth season of NCHC play, however, UND coach Brad Berry knows well what lies ahead for his Hawks.
"The league is tough enough anyways," Berry said, "but any time that you have success, there will be a target on your back and you're going to bring the best game from the other team, but we use that as motivation as far as making sure that our focus is more refined.
"We have to make sure that we can be dialed in every time we step to the ice and don't take anything for granted."
UND should consider itself fortunate to have been so successful in the NCHC era. Ever since the conference opened its operations in 2013, the league has been headache-inducing for coaches and perhaps worse for the eight teams beating each other up while jockeying for position.
Six of the NCHC's eight teams have experienced their fair share of success. UND is the conference's two-time defending regular season champion, but the final listings of the top four teams each season have been less static.
Western Michigan and Colorado College are the only members that have never achieved home-ice advantage in the first round of the NCHC playoffs.
In 2013-14, the league's first year of existence, finishing the regular season in the bottom half of the league didn't matter. Miami finished last in the regular season but got hot late and dropped a one-goal game to Denver in the NCHC tournament final, thus finishing just shy of grabbing an automatic bid into the NCAA tournament.
Miami finished second in the following regular season and won the 2015 NCHC tournament championship. The RedHawks struggled by comparison in 2015-16, finishing fifth and missing out on home-ice advantage in the first round of postseason play.
Miami's roller-coaster experience in the NCHC could continue this season, and not simply because the RedHawks are working to bring a 14-deep freshman class acclimated to college hockey.
"Our league is very tough, and I can only say that there are probably only two teams that haven't had, or maybe three teams, that haven't had up-and-down seasons," Miami coach Enrico Blasi said. "Everybody else has been either in the middle of the pack or whatever, but we won the championship two years ago and three years ago when we started, we started off slow with a young team and ended up playing for a championship at the end of the year, and last year we just couldn't seem to keep things going even though I thought in the second half (of the season) we played pretty well.
"Tough league, every night's a grind and every team's well-coached and has dynamic players and you have to be ready to go. You have to win games in order to keep up with the couple of teams that have been consistently at the top, so for us it's no different than any other year. We've just got to keep playing and focus on trying to get better."
Other teams have had topsy-turvy existences in the NCHC. Two seasons ago, Omaha finished third in the regular season standings but then, guess what, caught fire and went on the program's best-ever postseason run.
The Mavericks defeated Harvard and RIT to win the 2015 Midwest Regional and locked up Omaha's first Frozen Four berth. Last season, coach Dean Blais' team lost its last eight games and didn't qualify for the NCAA tournament.
Results of the NCHC's own preseason poll don't deviate much from the final 2015-16 regular season standings. The top four are all supposedly still there, just jumbled somewhat, while Western Michigan and Colorado College are predicted to battle again to see who finishes above the league's basement.
If the first three seasons of NCHC hockey have indicated anything, though, it's that few things can safely be seen as given before pucks are first hit in anger in early October.