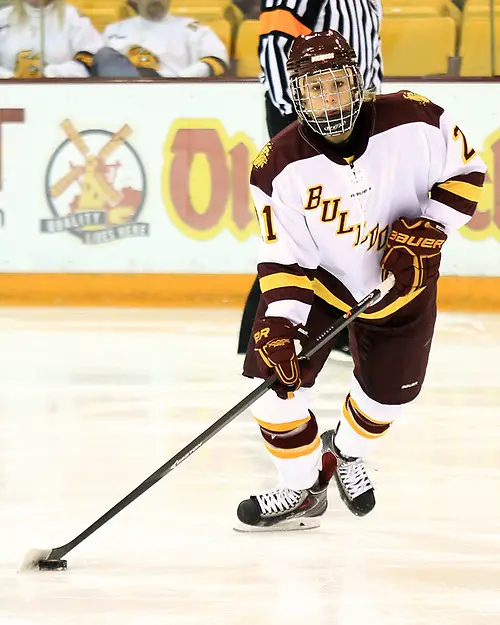 Moving from Boston to Duluth, Minnesota, to take over a storied women's hockey program that had gone through some turmoil was a daunting task for Maura Crowell. The former associate head coach at Harvard is just the second head coach in Bulldogs women's hockey history, taking the reins after the university did not renew the contract of coach Shannon Miller.
Amid allegations of discrimination that made national headlines and led to lawsuits against the university, the women of the Minnesota-Duluth women's hockey team were still just students trying to compete and enjoy their short collegiate careers. For Crowell, the most important thing she could do last season was to put the focus back on her student-athletes.
The transition for first-year coaches is never easy, but Crowell was determined not to let it be a "freshman year." She knew there would be some difficulty transitioning staffs, but she also knew the players on her new team had already experienced enough off-ice distractions to last them a lifetime.
"These guys are college students and they want to have the best four years of their lives and it's my responsibility as their head coach to provide them the best opportunity to do that," she said.
One big way she was able to ease the transition was to change the way the players viewed themselves on the ice. Top-level athletes are rarely unaware of their shortfalls. So instead of spending practices harping solely on the things a player may be struggling with, the coaching staff makes sure the players find confidence in the things they do well, and helps them excel at those.
"We coach positivity," Crowell said. "We want to talk about people's strengths and coach them up. Women in general are pretty self-critical. Nine times out of 10, they know exactly what their weaknesses are and they focus on those. So what we want to do is focus on their positives and make sure that if they're a great skater, a great shooter, a great puck mover, that they're doing all those things all the time, too. I know they're going to focus on the things they need to improve on,"
Though the situations are completely different, Crowell had some experience with the pressure and expectations that come with taking over for a larger-than-life (and very successful) coach. When Harvard coach Katey Stone was named coach of the 2014 U.S. women's Olympic team, Crowell was selected to lead the Crimson in her absence.
"My approach that year was just to be myself, not try to be anyone else," said Crowell. "And make sure that the decisions that are made are with the student-athletes' best interests in mind."
While it's impossible to ignore the past in Duluth, Crowell is working on setting up the future. There's a rich history — and strong community support — in Duluth, and Crowell hopes to see the program return to prominence.
She's off to a good start. Despite a losing record in her first year, the Bulldogs received votes for the USCHO polls throughout the season. The team then upset Bemidji State in the first round of the WCHA playoffs and earned a spot at the Final Faceoff. Though they lost to eventual conference champion Wisconsin in the playoffs, Crowell said her players counted the tournament berth as the high point of their Bulldog careers.
Of course, many of those players now have a different highlight, as UMD tied and then beat No. 3 Boston College to open the season last weekend. The win helped the previously unranked Bulldogs to a No. 6 ranking on this week's D-I Women's USCHO.com Poll.
Life in the middle of the WCHA conference has been tough for programs like UMD, North Dakota, and Bemidji State as they play eight of their conference games against Minnesota and Wisconsin, two of the toughest programs in the country.
Though the games were planned and scheduled before she arrived in Duluth, Crowell admitted that scheduling top Eastern teams like Boston College (and Harvard, who they'll visit at Thanksgiving) is a strategic move — especially with last year's addition of a quality win bonus to team's PairWise calculations. The ultimate goal is the NCAA tournament and a national championship, so the season has to be strategically guided by those rankings.
Beyond the mathematical spike that beating Boston College gives the Bulldogs, Crowell believes that in order for her team to succeed, they need to play — and win against — the best teams.
"We do want to play the best to be the best," Crowell said. "I know that in the WCHA we have a tough schedule as is, but I'd rather put our team to the test out of conference and see how we can do because obviously this weekend it went extremely well. I think we turned some heads and hopefully that will help us come February. I think the reward outweighs the risk."
In pursuit of those goals, Crowell has been working to build a culture of hard work. She's especially proud of the fitness strides the Bulldogs have taken since last season.
The Bulldogs have one of the most eclectic locker rooms in Division I hockey, with players from five different countries. Minnesota-Duluth was one of the first schools to actively pursue European players and Crowell plans to continue that legacy.
Melding the styles of U.S. and Canadian players with women from Switzerland, Sweden, and the Czech Republic brings a depth to their team.
Off the ice, the players bring their different cultures and create a welcoming environment, and that provides a real-life learning experience to the locker room that they wouldn't be finding anywhere else on campus.
"When you bring all them together, you get a really unique puzzle that you can put together; it certainly enhances the way we can play," said Crowell. "The diversity in the locker room just breeds a sense of welcoming and openness. Everybody is different, but we're all Bulldogs at the end of the day. We love being Bulldogs and there's a sense of pride with that."