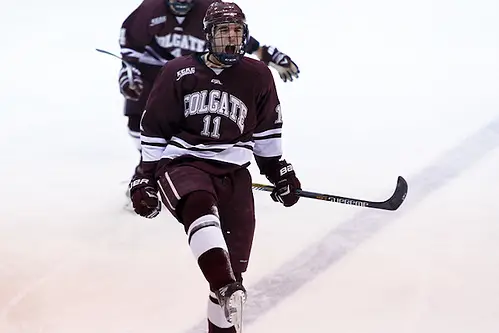 What can we expect in ECAC Hockey during the 2016-17 season?
Our columnists have the rundown of all the teams, in alphabetical order:
Brown
Brown had a rough go of it last season. The Bears' five wins marked the third straight year the program's win total had dropped since appearing in the conference championship game in 2013.
The five wins were also the lowest total under coach Brendan Whittet, who took over prior to the 2009-10 season.
Injuries on defense and inconsistency in goal were some of the main culprits of last year's low win total. Tim Ernst, Tyler Steel, and Connor Maher combined for a .884 save percentage in net last season. Steel announced he was leaving school over the summer, while Ernst and Maher will be joined by incoming freshman Gavin Nieto, who was the top goaltender in the NAHL last year and had a shutout in the league's championship game.
On defense, Whittet is looking to juniors Dane Cooper, who has been hurt much of the last two years, and Josh McArdle to fill important minutes this season. They'll be joined by sophomore Max Gottlieb, who was one of the top offensive defenseman in the league last year.
"Guys have to step to the forefront," Whittet said. "We have some pretty good numbers this year, which we haven't had in the past."
Brown will also need to replace the production of departed seniors Nick Lappin and Mark Naclerio. The duo skated on the Bears' top scoring line for much of last season and saw time on both special team units as well.
Sophomore Tommy Marchin should continue to improve upon his impressive freshman year, but his 27 points last season are more than anyone on the Bears roster has in their career. Juniors Tyler Bird, Sam Lafferty, and Max Willman are all NHL draft picks, but no one from that trio has had more than 12 points in a season.
Brown has typically had one scoring line and struggled with offensive depth the last few seasons. That issue could be even more magnified this year if no one increases their offensive production.
"We're looking towards the large sophomore group that is now juniors," Whittet said. 'They need to step up and they need to be guys we can rely upon just like we did with Nicky [Lappin]. To each of them, they have that ability; it's just who steps to the forefront."
Last season
5-19-7, 3-13-6 (11th). Lost to Rensselaer in the first round of the ECAC Hockey playoffs.
Names to know
Sophomore forward Tommy Marchin, sophomore defenseman Max Gottlieb, junior forwards Max Willman, Sam Lafferty, and Tyler Bird.
Three questions
1. Who will replace the offensive production of Nick Lappin and Mark Naclerio?
2. Can the defense stay healthy? Injuries at this position have decimated the Bears in the past.
3. Can Brown get steady goaltending? The last time it did, the Bears made it to the league championship in 2013.
Crystal ball
Several of the Bears' younger players break out offensively, but Brown still doesn't have the scoring depth it needs throughout the lineup. Better depth on defense puts Brown in position to compete for home ice in the first round of the ECAC Hockey playoffs, but the Bears will most likely be on the road come March.
Clarkson
Once of the league's powers, the Golden Knights haven't made it to ECAC Hockey's championship game since winning the league title in 2007. That's been especially magnified the last three years, as the conference's final weekend has returned to Lake Placid after a lengthy hiatus.
But the Golden Knights enter this year in a good position to break that streak, as Casey Jones has one of his deepest groups in his sixth year as head coach.
"One of the challenges when I got to Clarkson was that we had a couple of big classes," Jones said. "That's kind of been our cycle, every two years it was 10 or 11 incoming freshman. It's a little more balanced now; we've kind of weeded that out to the classes a little more evenly distributed. It's our deepest team since I've been here; that being said, it's going to be up to them how hard they hard want to play for each other."
One of the major questions for the Golden Knights entering this season will be in goal. Departed senior Greg Lewis stabilized Clarkson's goaltending with a strong second half last season. With Lewis gone, Jones said it was an open competition in net this year, with seniors Steve Perry and Ville Runola joined by incoming freshman Jake Kielly.
Whoever wins the starting job will have the benefit from a steady defensive group that should be good again despite the graduation of seniors Kevin Tansey and Paul Geiger. That group includes three NHL draft picks in juniors Kelly Summers (Ottawa) and Terrance Amorosa (Philadelphia), as well as senior James de Haas (Detroit).
Up front, Clarkson returns four of its five forwards, a group that should be strengthened with the arrival of freshman Sheldon Rempal, who led the BCHL in scoring last season.
Last season
20-15-3, 10-9-3 (5th). Lost to St. Lawrence in the quarterfinals of the ECAC Hockey playoffs.
Names to know
Sophomore forward Sam Vigneault, senior forward Jordan Boucher, senior defenseman James de Haas, junior defensemen Terrance Amorosa and Kelly Summers.
Three questions
1. Goaltending is the one thing that could hold Clarkson back this year. Who will win the starting job?
2. How will the defense handle the graduation of seniors Kevin Tansey and Paul Geiger?
3. Last year's team average 2.66 goals per game, a solid number, but will that increase enough to push Clarkson to an elite team this year?
Crystal ball
A tough early season schedule and questions in goal might lead to a slow start for Clarkson, but the Golden Knights should earn a first-round bye for the playoffs and return to the league semifinals for the first time since 2007.
Colgate
A new arena also comes with plenty of question marks for the Raiders.
Construction of the Class of 1965 Arena was completed in time for the season opener on Oct. 1, a 2-2 tie against Army West Point. The $40 million dollar project has been in the making for several years and is a needed upgrade over Starr Rink, which had been in use since 1959.
"It's a very exciting time for us at Colgate," coach Don Vaughan said. "It's a project that has been in the works for a number of years. To see it rise from the ground this year was quite emotional."
While the new arena is good to go, there are a lot of unknowns entering the Raiders this season. Colgate graduated its top four scorers from a team that stumbled to an 11-24-2 finish after making the league championship game two years in a row, as well an NCAA tournament appearance in 2014.
Last summer's early departures of forward Kyle Baun and defenseman Ryan Johnston left the Raiders with little depth last season. Numbers shouldn't be a problem this year, as Colgate enters the season with 27 players after ending last year with 24.
Still, there's not a lot of proven scoring on the roster as senior defenseman Jake Kulevich's 38 points are the most of any returning Colgate player.
A strong senior year by goalie Charlie Finn would help. Finn took over as a starter during his freshman year, and was a steadying presence in net. However, he struggled last year, finishing with a .899 save percentage.
Vaughan revealed that the senior had offseason surgery and is still on the mend, although probably a bit ahead of schedule. Finn started the season-opening tie against the Black Knights and finished with 25 saves.
There's plenty of depth if the senior falters. Juniors Zac Hamilton and Bruce Racine are joined by incoming freshman Colton Point, who was a fifth-round draft pick by Dallas in June's NHL Draft.
"He's a big, strong goaltender," Vaughan said of Point. [That] has inspired Charlie to get back even quicker than might be expected. It will be a battle and Charlie is not going to give up that No. 1 spot easily."
Last season
11-24-2, 6-14-2 (10th). Lost to Dartmouth in the opening round of the ECAC Hockey playoffs.
Names to know
Senior goalie Charlie Finn, freshman goalie Colton Point, senior forward Tim Harrison, sophomore forward Adam Duda, senior defenseman Jake Kulevich.
Three questions
1. Where will the offense come from this season?
2. Will Charlie Finn be able to bounce back – and if not, will incoming freshman Colton Point add stability in goal?
3. Colgate has nine incoming freshman, but a large senior class as well. Who will take advantage of the new opportunities available this season?
Crystal ball
With so many newcomers, Colgate should be interesting this year. But it might not be enough to secure home ice for the first round of the league playoffs.
Cornell
Last year's second half slide looks ugly on the surface for Cornell, but the Big Red were involved in a number of games that could have gone either way.
Sure, there was the occasional blowout, starting with an 8-0 loss to Ohio State on Dec. 29, but the Big Red's 4-8-5 finish to the regular season included four losses by less than two goals.
Still, Cornell rebounded by sweeping Union in the opening round of the ECAC Hockey playoffs before losing to eventual national runner-up Quinnipiac in three games in the quarterfinals.
How much further the Big Red advance this year will likely depend on finding a steady source of secondary scoring. The top line of Jeff Kubiak, Anthony Angello, and Mitch Vanderlaan combined to score 29 of Cornell's 79 goals last year.
Angello and Vanderlaan made an immediate impact as freshman, while Kubiak almost doubled his career point total from his first two seasons at Cornell.
Big Red coach Mike Schafer said he is looking forward to seeing which player will experience a jump in production similar to Kubiak's increase last season.
Possible candidates include junior and Florida draft pick Matt Buckles, who scored four of Cornell's 11 power-play goals last season, and sophomore Beau Starrett, a Chicago draft pick who was limited to 15 games due to an injury. Junior Trevor Yates scored six goals last season after having only one his freshman year.
Despite the graduation of senior Reece Willcox, the Big Red should once again be steady defensively. After splitting time with junior Hayden Stewart two years ago, senior Mitch Gillam took control of the starting job last season, finishing with a .926 save percentage and seven shutouts.
Last season
16-11-7, 8-8-6 (8th). Lost to Quinnipiac in the quarterfinals of the ECAC Hockey playoffs.
Names to know
Senior goalie Charlie Finn, freshman goalie Colton Point, senior forward Tim Harrison, sophomore forward Adam Duda, senior defenseman Jake Kulevich.
Three questions
1. Will the Big Red be able to avoid another second-half slide?
2. Where will the secondary scoring come from?
3. Cornell has never been a great comeback team. Will that change this season?
Crystal ball
Cornell should be one of numerous teams competing for a first-round bye in ECAC Hockey this season. How far it goes will likely depend on the scoring depth the Big Red can manage throughout the season.
Dartmouth
A miserable start to the season ended with the Big Green one win away from having a chance at its first ECAC Hockey title last March.
Dartmouth ended the first half 3-7-1, having allowed at least five goals five times during that span. But a strong January sparked by goalie Charles Grant helped the Big Green turn around its season and upset second-seeded Yale on the road in the league quarterfinals.
Grant and classmate James Kruger graduated last spring, leaving junior Devin Buffalo and incoming freshman Adrian Clark and Dean Shatzer to compete for time in goal.
Buffalo has had limited playing time during his first two years with the Big Green, but was impressive in his first career start last season, a 1-1 tie at Michigan the night at Dartmouth lost 7-0.
"I told him at about two or three o'clock in the afternoon that he was playing," Big Green coach Bob Gaudet said. "I asked him if he was ready and he said, 'I've been ready for this my whole life.'"
Goalie isn't the only position where Dartmouth has turnover entering this season. For the second year in a row, Dartmouth graduated a number of important contributors, including three of its top forwards in Jack Barre, Brett Patterson, and Nick Bligh and defenseman Geoff Ferguson and Ryan Bullock.
While the Big Green will need contributions from its 11 incoming freshman, its success this season will likely be determined by how it's returning upperclassman produce, including the likes of Carl Hesler, Troy Crema, and Corey Kalk. That, along with steady goaltending, helped start the team's second-half surge last season.
Dartmouth can play with speed, but it's a better team when it doesn't try to out-gun opponents. It may take a while for the freshman to adapt to the collegiate game, but if the Big Green can handle a tough first half, it may be in position to make another second-half push.
Last season
18-16-1- 11-11 (6th). Lost to Quinnipiac in the semifinals of the ECAC playoffs.
Names to know
Junior goalie Devin Buffalo, junior forwards Carl Hesler and Corey Calk, senior forward Troy Crema, sophomore defenseman Connor Yau.
Three questions
1. How will the Big Green handle the second consecutive year with a larger roster turnover?
2. Who will be the starting goalie?
3. Will both special teams units improve? Dartmouth killed 78.6 of it penalties in conference play and only scored on seven of 62 power plays.
Crystal ball
For the second year in a row, Gaudet and the Big Green will need to integrate a number of newcomers into the lineup. It might be another bumpy first half, but Dartmouth should end the year with home ice in the opening round of the league playoffs.
Harvard
Hobey Baker winner Jimmy Vesey and linemate Kyle Criscuolo may be gone, but Harvard returns plenty of talent to a team coming off consecutive NCAA tournament appearances.
Last year's team made the national tournament despite a run of injuries on defense near the end of the season. Those injuries resulted in the Crimson playing Thomas Aiken, Adam Baughman and Victor Dombrovskiy in the team's NCAA tournament loss to Boston College, a trio that played only 33 combined games last season.
Harvard's defensive depth should be bolstered by incoming freshmen John Marino and Adam Fox. Both are NHL draft picks, with Marino being drafted in the sixth round of the NHL Draft by Edmonton in 2015, and Fox getting taken by in the third round by Calgary in June.
That duo, along with returners Wiley Sherman, Clay Anderson, and Jake Horton should give Harvard a good foundation on defense.
"We're young at that position," Crimson coach Ted Donato said. "We do return a lot of guys that got some valuable experience last season. It's a tough league; there's a lot of teams with different skills sets, whether teams are big and strong or fast and skilled. We realize that it will be a situation where we need to continue to develop through the season. But we feel we have the talent in position to make it a strength of our team."
Junior goalie Merrick Madsen returns after taking control of the starting job early in the season ending with a .931 save percentage in 29 games. Donato said the coaching staff also has a lot of confidence in sophomore Michael Lackey, who is dealing with some health issues to start the year.
But Harvard isn't devoid of talent up front either. Senior Alexander Kerfoot teamed with Vesey and Criscuolo to form one of the top lines in the league, while seniors Sean Malone and Tyler Malone, along with sophomore Ryan Donato are all coming off solid years.
The Crimson may not score at the same pace it did last season. But if the defense can become a strength, that may be enough to send Harvard to its third straight NCAA appearance.
Last season
19-11-4, 12-6-4 (3rd). Lost to Boston College in the first round of the NCAA tournament.
Names to know
Junior goalie Merrick Madsen, senior forwards Alexander Kerfoot, Tyler Moy, and Sean Malone, sophomore forward Ryan Donato, junior defenseman Wiley Sherman, freshman defensemen Adam Fox and John Marino.
Three questions
1. How will Harvard overcome the loss of Jimmy Vesey and Kyle Criscuolo?
2. Will the Crimson be able to win an NCAA tournament game this year? Harvard had made the tournament two years in a row, but hasn't won a game since 1994.
3. How will the defense come together? Harvard appears to have the talent to make this unit a strength of the team, something that hasn't always been the case the last few years.
Crystal ball
Despite losing a pair of big offensive names in Vesey and Criscuolo, Harvard is once again contender in the ECAC and makes a push for a third consecutive NCAA tournament appearance.
Princeton
Last season
Overall record: 5-23-3
Conference record: 3-16-3 (12th)
Lost to Clarkson in the first round of the ECAC playoffs.
Names to know
Ottawa natives and former junior teammates Ryan Kuffner and Max Veronneau finished first and second, respectively, on the team in scoring. The two sophomores will have to shoulder the load again in 2016-17 if the Tigers want to improve on last season.
Three questions
1. Can the Tigers turn it around on special teams?
Last season, Princeton made good on only 11.2% of their man advantages overall. That put them dead last in the ECAC. Their penalty kill operated at 78.7 %, good for 10th in the circuit. If Princeton wants to bounce back this season it will need to improve on a lot, but special teams is a good place to start.
2. Will Colton Phinney hold up in the crease?
Despite his team's poor season, Colton Phinney put up a .924% save percentage in 30 games last year. The senior from New Jersey has improved in each of his three years with the Tigers and if the trend continues, he could help the Tigers surprise people in '16-17.
3. Who will help Kuffner and Veronneau in the scoring department?
Last year only one Tiger, Kuffner, scored 20 or more points on the season and only one, Veronneau, scored more than 10 goals. For the team to make noise, somebody else, perhaps Eric Robinson, will need to take some of the scoring burden from the team's dynamic duo.
Crystal ball
The Tigers find life a little easier this year and crawl out of the cellar.
Quinnipiac
Last season
Overall record: 32-4-7
Conference record: 16-1-5 (1st)
Defeated Harvard in ECAC championship.
Names to know
Brothers Connor (D) and Tim Clifton (F) gave Quinnipiac's national title ambitions a boost when they booked their return for their senior year.
Three questions
1. Back to the finals?
Last season Quinnipiac enjoyed its most successful season ever, winning the ECAC regular season and postseason title. They backed up their stellar conference form with a run to the NCAA Finals, which they dropped against North Dakota, 5-1. Can Quinnipiac, a program in the midst of a meteoric rise, take the final step this season?
2. How will they handle the heat?
Quinnipiac is now a known quantity on the national level, but the Bobcats have long been a force in the ECAC, having captured three regular season titles in the past four seasons. That means the 2015-16 Frozen Four runner-up will have a target on their back heading into the campaign. How will they respond?
3. Who will replace Sam Anas and Michael Garteig?
After leading the Bobcats in scoring for each of the past three seasons, Sam Anas made the jump to the NHL, signing a two-year entry-level contract with Minnesota. The first-team All-American won't be easily replaced, but look to returning senior Tim Clifton, who had NHL deals offered to him in the offseason, to improve on his breakout season and keep the QU offense humming. Garteig handled the bulk of the playing time in the crease and his heir apparent will need to be on form from the get-go as QU faces a tough early schedule.
Crystal ball
QU struggles to replace Anas, but finds its form in time to finish second in the ECAC.
Rensselaer
Last season
Overall record: 18-15-7
Conference record: 8-7-7 (6th)
Lost to Harvard in the second round of the ECAC playoffs.
Names to know
Goaltenders Cam Hackett and Colorado College transfer and Detroit Red Wings prospect Chase Perry will give the Engineers a formidable duo in between the pipes.
Three questions
1. Will RPI roll with two goaltenders all season?
Both Perry and Hackett could start on almost any team in the ECAC, so it will be interesting to see if head coach Seth Appert commits to one for the entire season.
2. Will their scoring by committee approach work?
The Engineers will rely on depth up front rather than star power. For that style to pay dividends, all four lines will need to contribute – does RPI have that kind of depth?
3. Will Riley Bourbonnais and Kenny Gillespie take on more responsibility?
Last year Bourbonnais doubled his point production from the previous year and Gillespie tripled his, if the two of them can become the offense's focal point this season RPI could be gate-crashers at the top of the table.
Crystal ball
RPI flies under the radar in the regular season but finds its form for the playoffs and makes a deep run in the ECAC postseason.
St. Lawrence
Last season
Overall record: 19-14-4
Conference record: 11-8-3 (4th)
Lost to Harvard in the semifinals of the ECAC playoffs.
Names to know
Last season, Gavin Bayreuther became the first defenseman in program history to lead the Saints in scoring. Las Vegas native Joe Sullivan and senior forward Drew Smolcynski will be expected to put up big numbers in the scoring department.
Three questions
1. Can Bayreuther improve even more?
The offensively gifted rearguard was named as an ECAC first-teamer last season and, should he develop his two-way style even further, could be on the NHL radar after his senior season.
2. Can they break from the pack?
Last year, not only did the Saints finish in the middle of the conference standings, but they also found themselves in the middle of the circuit in almost every statistical category.
3. Is Kyle Hayton the ECAC's best goaltender?
The junior posted a .935 save percentage and 2.03 GAA last season, landing him as the pre-season All-ECAC first-team goaltender. If Hayton remains steady in the blue paint for the Saints, who knows how far he can carry them.
Crystal ball
Relying heavily on Bayreuther and Hayton, the Saints finish in the top-4 in the ECAC.
Union
Last season
Overall record, conference record, (standing in conference). Lost to Team X in the first round of the (conference here) playoffs.
Overall record: 13-14-9
Conference record: 6-10-6 (9th)
Lost to Cornell in the first round of the ECAC playoffs.
Names to know
Mike Vecchione, the program's only 100-point scorer since it moved to Division I, will need to continue his outstanding production. Junior Spencer Foo finished second to Vecchione in scoring last season, could be poised for a breakout season.
Three questions
1. How will Union respond to first overall losing record (13-14-9) since 2006-07?
The Dutchmen's struggles last year must be forgotten to get the program back on track. It will rely heavily on its top forwards, Vecchione, Foo, and sophomore Brett Supinski to put them in the conversation at the top of the conference.
2. Will experience lead to bounce-back season?
The Dutchmen are returning 10 of its top 11 scorers from last season. Will that spell success for Union? Or more of the same?
3. Can they handle a tough conference?
The ECAC is quickly becoming one of college hockey's most competitive conferences. With the rise of Quinnipiac and the consistency from programs like Yale and Harvard, how can Union regain their form from 2014 – when they captured the NCAA title?
Crystal ball
Union relies heavily on its veterans to lead the ECAC in scoring, but its defensive issues keep the team from cracking the top five.
Yale
Last season
Overall record: 19-9-4
Conference record: 14-5-3 (2nd)
Lost to Dartmouth in the second round of the ECAC playoffs.
Names to know
Yale returns last season's ECAC rookie of the year Joe Snively, who scored 10 goals and led the team with 28 points.
Three questions
1. Can they move past their in-state rivals?
Under head coach Keith Allain, Yale has grown into one of the nation's most consistent programs, a run that includes the 2013 NCAA championship. Now, with Quinnipiac's rise, Yale not only has to fight for national supremacy but also has to fight for the spotlight in the nutmeg state.
2. Who will replace Alex Lyon in the crease?
The two-time All-American goaltender signed with the Philadelphia Flyers this offseason and left the Bulldogs with some big skates to fill. The job will be up for grabs for senior Patrick Spano, sophomore Sam Tucker, or freshman Corbin Kaczperski to make their own.
3. Will the defense be able to match their '15-16 output?
Last year, the Bulldogs rearguard unit led the nation in offense while only allowing 1.78 goals per game. Those are gawdy numbers. Will they be able to match that having lost some of their best defensemen to graduation?
Crystal ball
Despite a tough schedule, the Bulldogs are returning 70 percent of the goals scored from last Winter. Look for another top-three finish from the Bulldogs.