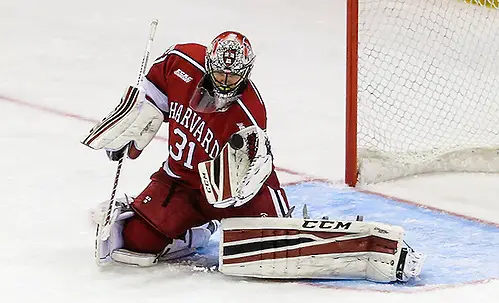 Departures are inevitable in college hockey, but the top ECAC Hockey teams seemed to have been hit especially hard last offseason.
Most notable were Harvard's Jimmy Vesey, who ended his four-year career in Cambridge by winning the Hobey Baker Award as college hockey's top player, and Yale goalie Alex Lyon, who signed a professional contract with Philadelphia after leading the nation in goals-against-average and finishing second in save percentage.
National runner-up Quinnipiac graduated starting goalie Michael Garteig and center Travis St. Denis, and also lost forward Sam Anas and defenseman Devon Toews as early departures to professional hockey. Anas was the best offensive player on last year's team, while Toews was one of the best all-around defenseman in the conference.
Connor and Tim Clifton decided to return for their senior years, and the Bobcats have several other promising returners as well, including sophomore defenseman Chase Priskie.
Picked first in both the preseason media and coaches polls, the Bobcats might not be the same dominant force from last season, but QU should make a push for its fifth straight NCAA tournament appearance.
Cross-town rival Yale was hit hard as well, with the early departure of Lyon accompanied by the graduation of defensemen Rob O'Gara and Ryan Obuchowski, along with forward Stu Wilson. That trio was freshmen during the Bulldogs' national title season in 2013, and each of the three helped Yale become one of the top defensive teams in the country over the last several years.
Yale returns plenty of talent, but overcoming the loss of O'Gara, Obuchowski and Lyon will be a difficult task this year.
Harvard enters the year having made the NCAA tournament in consecutive seasons, but will be without Vesey and Kyle Criscuolo. Vesey won the Hobey Baker award as college hockey's top player last year, the first time a player from ECAC Hockey had done so since Harvard's Lane McDonald in 1989.
But with Merrick Madsen in goal and incoming freshmen Adam Fox and John Marino on defense, Harvard has the chance to make up for that lost offense with an improved defense.
Those losses to the league's top teams may mean that ECAC Hockey isn't as strong nationally, but it should make a typically competitive league schedule even closer this year.
"It's a tough league," Harvard coach Ted Donato said. "There are a lot of different teams in this league with different skill sets, whether teams are big and strong or fast and skilled."
For the second straight year, the league will take part in the Friendship Four in Belfast, Northern Ireland. Quinnipiac and St. Lawrence will take part in the event on Nov. 25 and 25 after Colgate and Brown took part in the initial event last year.
"It's kind of a unique scenario to be doing it in season," Quinnipiac coach Rand Pecknold said. "We're looking forward to those games and having a good trip over there."
There was also a notable coaching change as well, with St. Lawrence's Greg Carvel leaving his alma mater for the same position at the University of Massachusetts.
That led to the return of former Clarkson coach Mark Morris to the North Country. Morris, who coached the Golden Knights from 1988 to 2003, returns to college hockey after spending the last ten years as a head coach in AHL and assistant coach in the NHL. Morris played at Colgate and then was an assistant at St. Lawrence from 1985-88. He inherits a team that may have one the best defensive groups in the league, backed by junior goalie Kyle Hayton.
The return of Morris to the North Country adds another layer to the Clarkson and St. Lawrence rivalry. Current Clarkson coach Casey Jones has one of his deepest groups since he took over at the school. If the Golden Knights can find a goalie, they could be dangerous this season.
There are rarely any positives from an injury, but when senior goalie Jason Kasdorf was hurt last year, Rensselaer got a glimpse of what Cam Hackett could do this season. The sophomore started for much of the first half after Kasdorf was injured, and RPI was 6-2-1 in those games. If the Engineers can get better defensively after a second-half slide last year and find some complementary offense, RPI could improve on last season's sixth-place finish.
For the second year in a row, Dartmouth coach Bob Gaudet is tasked with replacing a large departing senior class. The Big Green played well in the second half last season and made it to the league semifinals thanks to some superb goaltending by the since-graduated Charles Grant.
While the Big Green rode a second-half surge to postseason success, Cornell stumbled down the stretch last season. The Big Red should be solid defensively with Mitch Gillam in goal, but will need some additional offense to improve on last year's eighth-place finish.
Two years removed from a national title, Union has struggled to consecutive bottom-half finishes in ECAC Hockey. The Dutchmen return most of its players from last year's team that was inconsistent at times. The pieces appear to be there for Union to improve, but it remains to be seen if it can put it all together.
Things fell apart for Colgate last season following back-to-back appearances in the league's championship game and an NCAA tournament appearance in 2014. The Raiders simply didn't have the depth to contend last year; many of its high-end players from last year's roster are gone, but Colgate should be a deeper team this season.
The Raiders opened the college hockey season as well at the brand-new Class of 1965 Arena with a 2-2 tie last Saturday.
"It's not only exciting for us, but for the league as well," Colgate coach Don Vaughan said of the new arena. "It says that hockey is important at Colgate."
It seems to be a repeating story for Brown: If the Bears can get some goaltending, they'll have a chance. Injuries and defensive struggles hurt Brown last season and now it will need to replace the production from graduating seniors Nick Lappin and Mark Naclerio.
Princeton will likely finish near the bottom of the league once again, but the Tigers are trending upwards entering Ron Fogarty's third season as coach. Colton Phinney was lost amongst the big names in goal last year in the league, but the senior enters his final year as one of the top returning goalies in the league.