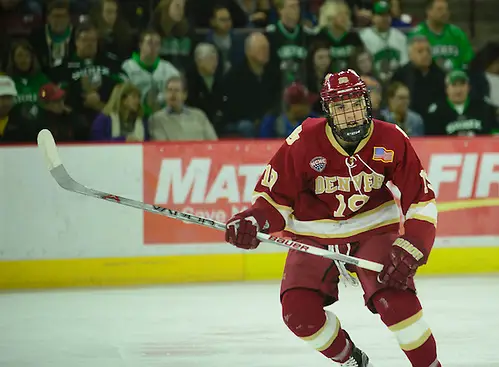 Starting the season at home in the Ice Breaker tournament, Denver was a preseason favorite.
However, the Pioneers lost both games in the tournament, 3-2 to Ohio State and 3-1 to Boston College.
An 0-2 start wasn't cause for panic among Pioneers fans, but when that opening weekend followed with an announcement that star forward Dylan Gambrell would be out for 4-6 weeks with an upper-body injury, there was cause for concern.
However, Denver has rebounded with four wins, following an impressive home sweep of then-No. 2 Boston University with a road sweep of Michigan State last weekend.
The Pioneers' success has mostly come from strong defense, which has limited opposing teams to just a single goal in each of its last three games.
"You know, we said the strength of our team at the start of the year while our young forwards start to gain confidence at the college level was our 'D' corps dominating the games by not allowing easy entries and taking away time and space," said Denver coach Jim Montgomery. "All six, even our freshman, Michael Davies, have done a great job of assimilating and playing how we want to play. The way they break the puck out and the way they shut down offensive transitions has been the most important part to our four-game winning streak."
The offense has been paced by NHL first-round draft pick Henrik Borgström, who, after failing to register a point in his first three games, has three goals and three assists in his last three outings.
"I think he's becoming more of a two-way hockey player, and is improving because of his work habits," said Montgomery. "He's getting the puck with a lot more time and space offensively now."
The offense is also getting production from sophomores Troy Terry and Jarid Lukosevicius, who have upped their production during this win streak, and show signs of stepping up after their freshman years.
"I think both of them had great second halves last year, and I think that their confidence from last year and what they did over the summer has carried forward," said Montgomery. "We expected both of them and needed both them to take steps offensively, and both have done it."
Denver has won with timely scoring in addition to a stifling defense, but the offense isn't as explosive as it was last year, when it was led by the "Pacific Rim Line" (Trevor Moore, Danton Heinen and Gambrell), as well as senior Quentin Shore. The defense also lost scoring blueliner Nolan Zajac. All five players were important on Denver's power play last year, and this year's power play has struggled without them, registering only four power-play goals on 32 chances.
"There's no doubt that losing those guys, it's hard to replace those players, but it's a new season, a new year, and we need new players to emerge and be as dominant and offensive as those players were for us," said Montgomery.
"There's a lot of reasons (for the power-play struggles). One, we're getting outworked. Two, we're losing faceoffs. And three, our decision-making in the zone has not been great. We're trying to get more reps at it and we're trying to get better at it. A lot of it falls on me. Because I run the power play, I don't think I have expressed enough what I think is going to work and what we need to be doing because we haven't had the work ethic and the right attitude when we go over the boards. That's all about me. I need to demand from our power-play groups."
Denver opens its NCHC slate this weekend at home against Western Michigan, which has surprised some observers with a strong 3-0-1 start. The Broncos' success has come at the expense of two then-ranked WCHA teams, but it's no surprise to Montgomery.
"We think they are by far the most improved team in the NCHC this year," Montgomery said. "I think we're going to have to be much better on the special teams than we have been, because they are 30 percent on the power play and 87 percent on the penalty kill. The other part is we're going to have to be better at protecting pucks. We've been kind of like a rush team so far and haven't had a lot of offensive zone time, and if we want to have success against Western, we can't just be a one-and-done offensive zone team five-on-five."
St. Cloud State works out the kinks
St. Cloud State knew there might be some defensive issues this year after losing starting goaltender Charlie Lindgren and blue line quarterback Ethan Prow.
However, after starting the season by giving up 10 goals in two losses to Minnesota State, there might have been concern when St. Cloud fell behind 5-2 in the third period Friday night in Minneapolis against arch-rival Minnesota.
Instead, the Huskies rallied with three goals, then eked out a win in OT, and followed that with a strong 3-2 win over the Gophers at home on Saturday.
"We got a couple of bounces," said St. Cloud State coach Bob Motzko. "We're there playing Minnesota in a big situation, and our kids just kept battling real hard, which they've done all four games. I think they've made some mistakes, but they're a young hockey team and I think that's normal. However, when you do win, there's a major emotional burst in the locker room after, and conversely, we didn't get down when we were losing, and we just want to get better. I thought Saturday was our best-played game of the four. We limited mistakes and we had good structure."
According to Motzko, it was the win Saturday that really displayed the type of growth he is looking for from his young charges, who could have been vulnerable to a letdown after the emotional win on Friday on the road.
"It was huge for confidence. It validates the fact that our guys can keep getting better and we turned it into another good game on Saturday," Motzko said. "That was the critical sign for me, how we played Saturday coming off an emotional win. I really thought Saturday was our best game so far, and the way we want to play. That being said, we were only inches away from losing both games. That's why it's critical that we find ways to win."
One issue for St. Cloud so far in all of its games has been slow starts.
In each game, the Huskies have fallen behind by at least two goals. Against Minnesota State in the second game, they were able to rally and take a 3-2 lead after one period, and then a 4-3 lead in the second before giving up three unanswered goals. They were then down by two after one against Minnesota Saturday after the third-period three-goal rally Friday.
When asked what his team needs to do to improve on those slow starts, Motzko was succinct.
"Just our structure of things within our system, and a little penalty kill and young goaltenders, I think there is a combination of things that have led to that, and how you fix that is you keep moving forward trying to get better at it," said Motzko. "What's most critical now is we have to build on last weekend."
One interesting aspect of the Huskies' early-season play has been special teams. The power play has been strong, clicking 28.57 percent of the time, despite a new cast of players, but the penalty kill has been dreadful, giving up seven goals on 11 chances.
Motzko briefly laughs when asked about what his team can do to improve the penalty kill, saying, "Stop taking penalties."
He does stress that the new players will need time to work out the kinks on special teams.
"The big thing for our penalty kill is we're playing new players on the penalty kill," explained Motzko. "Judd Peterson is our only penalty killer from our forwards that was on the penalty kill last year on the top unit. We're putting new players in new positions in critical moments in a hockey game. That's the No. 1 thing to move forward. We think Jacob Benson has taken a huge step forward and has the ability to take a big role in penalty killing. In four games, he's grown into it. I don't know if we used him a lot the first week, but he's grown into it.
"To be a top penalty killer, it's an art and it's a commitment and not everybody is great at it. We are trial and error right now trying to find the right mix of people who we are going to groom into being our penalty kill unit."
St. Cloud State has one more nonconference series this weekend against Alabama-Huntsville at home before opening conference play the following weekend against Minnesota-Duluth at home.
While Motzko laughs about wishing college hockey would have more of an exhibition series to gain experience, he does value playing nonconference opponents early, and hopes his charges can keep building on last weekend's success.
"I think it's just another opportunity to get games in," said Motzko. "The fact that it's nonconference is critical because I think we just need more games to find the right guys on the penalty kill and power play and juggle that around. Four games so far, we are starting to shift everything around. We keep tinkering, and it gives us another opportunity to solidify what we are doing and tinker with what we are doing and build on the things that we are getting better at and continue to work on the areas that we are struggling with."
NCHC Players of the Week
Offensive Player of the Week – Brock Boeser, North Dakota: Boeser scored five goals in a weekend sweep of then-No. 18 Bemidji State, including the first four of the series. On Friday, he scored a natural hat trick, the second of his career, in a 3-2 win as North Dakota fought back from a 2-0 hole, notching the second and third goals in the third period. On Saturday, he scored two more goals in a 5-4 win. He was named the game's first star both nights and earned a plus-3 rating.
Defensive Player of the Week – Louie Belpedio, Miami: Belpedio earned three points in a tie and win over Maine and helped limit the Black Bears to only three goals on the series. On Friday, he assisted on the game-tying goal in the third period of a 3-3 tie. Saturday, he had two goals, his first career multi-goal game, in a 5-0 shutout. All of his points came on the power play. He also led a penalty kill unit that killed all nine Maine power plays.
Rookie of the Week – Nick Halloran, Colorado College: Halloran helped CC earn a split on its Hockey East road trip, scoring three of CC's five goals in its games against Boston College and New Hampshire. On Friday, he scored the first goal of the game in CC's 4-1 loss to BC. On Saturday, he got his first career multi-goal game, scoring twice on the power play, including notching the game-winning goal in the third period in a 4-3 over UNH.
Goaltender of the Week – Ryan Larkin, Miami: Larkin helped Miami earn a tie and win over red-hot Maine last weekend while only giving up three goals and notching a .944 save percentage and a 1.45 GAA. On Friday, he made 18 saves in a 3-3 tie, and on Saturday, he pitched a shutout with 33 saves in a 5-0 win, for which he was named the game's first star. He also helped Miami kill all nine Maine power-play chances.