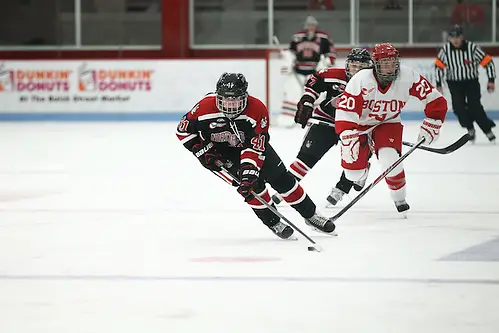 Arlan: All last season, we talked about how ECAC Hockey was as competitive as it had ever been. Maybe we haven't seen anything yet where that league is concerned.
There has only been one conference game to date, Harvard's 5-1 defeat of Dartmouth, but it is very tough to tell who the favorite is. Maybe a more appropriate question is, "How many favorites are there?"
Dartmouth is the only one of the Ivy League half of the ECAC that has lost after those team's opening weekend. Of the teams that are a month into play, Colgate and St. Lawrence are still unbeaten with a tie apiece. Quinnipiac and Clarkson were the two highest ranked before the season. The Golden Knights have had a tough schedule, but they didn't manage any wins against either St. Lawrence or Wisconsin, although they did play those teams tough. The Bobcats couldn't get a win over Boston College, and their split with Mercyhurst looks worse after Cornell swept the Lakers.
Princeton's opening weekend suggests that voters' faith in the Tigers was deserved, even though it has been a while since Providence provided a good measuring stick. Cornell shows signs of being back in the mix. Maybe the biggest surprise is how little Candace, you, and I have collectively mentioned Harvard thus far, given the Crimson are almost always in the hunt.
What have you seen thus far from the ECAC as a whole, and do think we may be overlooking Katey Stone's team?
Nicole: I think last season the competition at the top of the ECAC was the best it's been in awhile, but this year the conference is showing it's competitiveness from top to bottom. Seven of the teams have to at least be in consideration when you're making your top 10 every week and the other five have shown they aren't going to be pushovers. There won't be a lot of easy weeks or letdowns for teams pushing toward the postseason, and that could be a stumbling block. Every week will be a fight, so fitness and focus are going to be as important as scoring goals.
Though maybe they shouldn't have, Princeton surprised me this weekend. It's never easy to get a full grasp on a team you don't get to watch very often and maybe my perception was skewed by the furor that came after the NCAA brackets were revealed and a person on the committee admitted they deemed Princeton to be a better team than their PairWise showed. They lost a very good goalkeeper to graduation and I wasn't sure what we'd see when they finally hit the ice this week, but they came out strong and added even more confusion to the already jumbled top 10.
I'm going to go ahead and reserve judgement at least another week or two on Harvard. They've graduated a lot of great talent in the past two years as well as lost Mary Parker to BU. Sidney Daniels looks like she'll be picking up right where she left off — the Crimson's highest returning scorer had three of their five goals on Sunday. With the rest of the conference exercising their power, I can't get on the Harvard bandwagon until I know more about their situation in net.
The door may be open for anyone to make waves or even win the ECAC, but the depth means the path will be a whole lot more difficult.
Over in the CHA, Robert Morris has the best record, but lost in OT and then tied Merrimack, a team in just its second year of existence. As we've talked about before, Mercyhurst has shown flashes of being a very good team, but they were swept by Cornell this weekend. The Lakers have won all but one regular-season CHA title, but it looks like there's opportunity for someone else to step up this season.
Robert Morris has three ties already in the short season. If they can find an extra gear and find a way to steal a few more of those wins, they'd be in the driver's seat. It's still early, but who do you see taking this one? Will the experience at Mercyhurst help them as the season progresses, or can Robert Morris hold on? Is there another candidate to come up and take a shot at the crown?
Arlan: Mercyhurst is my first, second, and third choice, and I don't know all that much about the Lakers' roster.
Some people believe that if a coin keeps coming up heads, one should gamble ever-increasing amounts that the next flip will bring a tails. Personally, I'd just keep betting the heads until I lose doing it. I noticed in last week's picks contest that you picked Ohio State to take the series opener over Minnesota. It makes sense for a lot of reasons, and you gave two: Ohio State has looked better than expected, and Minnesota has looked like a team that lost a lot to graduation. But after the Gophers' sweep in Columbus, they've now gone 42 games versus the Buckeyes without tasting defeat. I know as well as anyone that one has to find places to get creative to beat Candace in that contest, but trying to find an upset in that series is as low a percentage move as trying to gain ground by picking ties.
Tabbing Mercyhurst to claim the CHA regular season prize is the closest thing that we have to a lock in our little corner of the hockey world. You obviously know this, as you forecast yet another CHA crown. The Lakers have taken at least a share of the title every time, even last year when they were still winless at this point of the season. Mike Sisti always manages to figure out a way to put the pieces together such that he beats his rivals to the finish line, even in recent years when his pieces haven't been far superior as they once were.
Mercyhurst doesn't look very threatening at the moment. Where once there were scoring explosions waiting to happen up and down the line chart, now nobody is averaging more than one point per weekend. That isn't a big surprise, given Rachael Smith and Megan Whiddon have the highest career point totals in Erie, each with 31 points. No problem — Sisti adjusts, and now the Lakers get enough scoring by committee and win CHA games with defense. I think he anticipates that his team isn't going to do well in the early portion of its schedule, but he schedules as tough as he can, knowing Mercyhurst will be stronger for the experience down the road. With the automatic berth in the NCAA tournament, the focus is definitely on putting the best possible team on the ice once the postseason dawns.
Looking at the competition, what do you think of Syracuse? The Orange are winless, and it is hard to be impressive when you're not celebrating at game's end. However, Syracuse has played a difficult slate to date, and other than one game where Bemidji State pulled away in the third period, the Orange have been right there at the final horn. Paul Flanagan had some big holes to fill after graduation. Based on the early returns, is there a chance that he succeeded?
Nicole: Syracuse's schedule is tough and it doesn't really get any easier as the next month approaches, but as you said, they've been in most every game they've played. One thing they need is to get their offense moving. They've not scored more than two goals in any game. In good news, six players have scored goal. In bad news, only one of them has more than one goal. They're a young team and with their schedule they sort of started with their heads below the water. They're learning as they go and I think the fact that they've kept it close so far is something they can build on.
Looking over at Hockey East, Boston College gained some needed confidence and traction this weekend when they tied and beat No. 3 Quinnipiac. It's to be expected with a coach like Katie King Crowley. A lot of teams might have been a bit on tilt after the surprising start to the season that the Eagles had, but they've recovered nicely and this past weekend showed they aren't going to let those games define their season.
We already mentioned the strong showing from Merrimack against Robert Morris, but the Warriors have had a couple of great games already in this early part of the season. They're showing the inconsistency of a young and inexperienced team — they have just two upperclassmen — but they beat St. Cloud State and lost by just a goal to Colgate. The transition to NCAA D-I is never easy, but Merrimack seems to be handling it rather well.
We've talked quite a bit about how Boston College has handled this season after losing so much talent, but Northeastern had the same issue and has quietly done a great job of recovering after their early-season losses to St. Lawrence. They've won five in a row, and haven't lost since October 1. Denisa Krížová is tied for eighth in the country for scoring and there are four Huskies in the top 33. Krížová and McKenna Brand each have a six-game scoring streak. Goalie Brittany Bugalski is the two-time defending WHEA Defensive Player of the Week.
What have you seen in Hockey East so far?
Arlan: I grew up in a rural area where there was no shortage of either gravel roads or bad weather, and the latter took a toll on the former. On a regular basis, the county would have to dispatch a grader to smooth things out, shaving off the bumps and pushing the loose fill into the low spots. From last season to this, it looks like somebody ran a road grader through Hockey East.
Gone are the highest points like Kendall Coyne, Alex Carpenter, and Haley Skarupa. That brings a lot of the other teams into range of the perennial favorites.
A year ago, a team like Maine wasn't built to hang with the Eagles for 60 minutes and never came close to an upset. Even a year later, I'm not sure what did happen to the Black Bears that caused a team that was off to a 6-6 start and seemed to be continuing the positive upswing from the previous season to finish the campaign on a 4-17-2 tailspin. Even that was only thanks to a "hot streak" in the deep of winter where Maine won three of four and salvaged a playoff spot.
Now the Black Bears have added a couple of threats who sit atop the team's scoring chart, Czech forwards Tereza Vanišová and Vendula Pribylová, as well as 6-foot Swede Ebba Strandberg on the blue line and Carly Jackson in net. We'll see over the long haul if Maine is a different team, but it's safe to say that it is relying on a different cast of characters to make an impact.
I have yet to see the Black Bears, but I have gotten to watch the top three teams from a season ago, BC, BU, and Northeastern, as well as Vermont. There is a decent chance that those will be the four home ice teams when the playoffs commence. However, none were at their best when I watched them.
I'll have to discard the Eagles' performance in Duluth and wait for a better day to make an evaluation of them. The Catamounts were a bit overmatched on Friday at St. Lawrence. The first meeting between Northeastern and Boston University wasn't flattering to either team. It was kind of a sloppy game that was out of control much of the time, as is often the case when offensively talented teams meet before they have all of the kinks ironed out, or in keeping with my earlier analogy, the roads graded. The Terriers looked similar to last year, with too many forwards not paying close enough attention to the little things in their defensive games. They'd appear to have a Husky covered on the back check, only to lose interest around the top of the circles and have a good view of the resulting goal.
As a whole, I continue to see Hockey East as BC's to lose. Despite the early wobbles, the Eagles are still likely to approach 30 wins and gain a high seed into the NCAAs.
Other conferences are experiencing a similar phenomenon to Hockey East. Where is the next wave of great scorers who are going to average two points a game for a season? Almost all the current leaders in that regard will fall back once the Ivies play more than a couple games apiece. Do you see a future Patty Kazmaier Award winner in the wings? Can someone like a Sarah Nurse realize the potential that she's always offered for more than a weekend or two?
Nicole: I got the chance to interview Sarah before the season started or I'd seen her skate at all and was really impressed by her. That week, when someone asked me who to watch on the Badgers, it was Sarah's name I mentioned. It's a bit nebulous, but when you talk to players game-in and game-out, you learn their mannerisms and the way the talk (or don't talk) about themselves. This was the first time I'd really seen Sarah talk with confidence and authority. It gave me the feeling that we were going to see a different player on the ice, and thus far, she's proven me right.
As you said, she's a player that has always felt like she was just half a step away from being truly great. She's incredibly fast and especially early on in her career, she had trouble handling the puck at the same pace as her skates were carrying her, so she'd get breakaways and be unable to finish them off. This happened a few times in the 2014 National Championship game against Minnesota her freshman year. This past weekend in North Dakota she finished two goals that I'm not sure she would have in years' past. The Badgers have a ton of depth, so I'm not sure any one player on that team is going to be able to rack up the points to make a Patty Kaz resume.
As for other player's primed to be offensive powerhouses this year or in the future, I think the obvious answer is Minnesota's Sarah Potomak. But beyond that, I'd keep my eye on Boston College's Caitrin Lonergan, Robert Morris' Kaycee Gebhard, Boston University's Sammy Davis, and North Dakota's Emma Nuutinen.
For me, there's not a clear front-runner, or even group of front-runners, thus far for the national MVP. I think Minnesota-Duluth's Lara Stalder is in the conversation as well as the aforementioned Potomak. She's only played one week, so it's early, but I assume we'll be keeping an eye on Kelsey Koelzer. Krížová at Northeastern is also someone to keep an eye on.
One interesting case for me will be Wisconsin's Ann-Renée Desbiens. I've already heard folks say she's not doing as well as last season, despite the fact that she's the only goalie in the country who's played more than one game who has a sub 1.00 goals-against average, and she's already posted three shutouts. It will be nigh on impossible for her to match what she accomplished last season — it was a goaltending season for the ages. Will people be able to stop comparing her to last season and judge this season on its own merit?
Who are your early front-runners?
Arlan: Coming into the season, Desbiens was definitely my favorite for the Kazmaier as the only returner among last year's top three. As such, she probably still is, but the early weeks haven't really strengthened her case. I don't look that closely at goals-against average when comparing goaltenders, because that is usually a product of which team plays the best defense, not just which goaltender is strongest. Save percentage tends to be a better indicator of the goalie's play. I don't compare Desbiens to her previous season, but I do compare goaltenders to their current peers, and right now she ranks fourth in save percentage in the WCHA. Perhaps she could still win the Kaz if that continues, but it is tough to make as strong a case if people like Janine Alder of St. Cloud State and Sauve are stopping the puck with greater frequency despite playing behind less-talented teammates. If Wisconsin stays unbeaten, that definitely helps Desbiens' cause. She'll also get a boost from her historic season of a year ago, in my opinion, rather than being penalized for it. Goalies tend to get recognized a year late, particularly if they shine brightly in the postseason.
As far as offensive players go, it is too early to conclude much about those in the Ivy League after playing a single opponent. Let's see who is still producing after a couple of more weeks elapse.
BU has five players with either nine or seven points thus far, and I won't be surprised to see Rebecca Leslie jump up into that mix. Unless the Terriers start winning more frequently, no one player is likely to attract much attention if there are several with similar production.
For Boston College, Megan Keller is the person I'd most expect to be mentioned in Kaz discussions in a few more months. Consistent scoring from the blue line is hard to find, and she no longer is overshadowed by heralded upperclassmen.
I agree with you on Koelzer of Princeton; she's a safe bet to be in the final 10, having been there before.
In terms of players whose stock has really risen, I'd look to both Ashleigh Brykaliuk and Stalder at UMD. When a team jumps into the national spotlight like the Bulldogs have, one wants to reward those most responsible. The same goes for the top line of St. Lawrence. For any of them to really garner votes, one of Kennedy Marchment, Brooke Webster, or Hannah Miller needs to separate a bit from the others as far as points go. Webster is the senior, so she is more likely to get the nod if they remain in a pack.
Looking beyond personal glory to team glory, No. 1 Wisconsin is still unbeaten, and that isn't likely to change when the Badgers go to Mankato this weekend to extend the Mavericks' streak of WCHA frustration. After that, they close 2016 with 10 games against five opponents that theoretically could spring an upset. Do you see Wisconsin celebrating a new year while still boasting a zero in the loss column?
Nicole: I think it's probably a little optimistic to think they could be undefeated in the new year, but not totally impossible. Even before anyone hit the ice, I figured Wisconsin and Minnesota would split their series. Even with the chinks in Minnesota's armor, I still have to pick it that way. Rivalries like these are rarely about the sum of the actual talent on the ice. Both teams will be up for the games and playing their best. We've talked in the past about how historically one team has dominated this series for a few years at a time and the Badgers did finally break through last year, so it's possible the tide is swinging in their direction.
The other series that has the best opportunity to trip them up is when they head to Duluth. If the series were at LaBahn, I might be less concerned since the Badgers have been so good at home, but the Bulldogs have shown they have the chops to play with anyone this season. All of that being said, what Wisconsin has that Minnesota doesn't this season is stellar goaltending. I think they have more answers for UMD's firepower, so I still have to favor the Badgers.
While we're talking WCHA, Ohio State continued to impress me this week with their tight losses to Minnesota. There's definitely not a better four-loss team out there right now. Their path doesn't get any easier this week as they host Minnesota-Duluth, though they do get a bit of a respite from the heavy-hitters after that. I'll admit to being surprised by the Buckeyes this season. I expected the late hiring of Nadine Muzerall to affect them more, but we obviously have to give credit to the players who got themselves season-ready in the midst of yet another off season of turmoil.
What are your impressions of the Buckeyes? With just two seniors on their roster, OSU has room to grow on this season. Despite vast improvements, it's a tough year to be in the middle of the WCHA, but is this just the beginning for them? Should we expect even bigger things from them next year?
Arlan: I've often thought that Ohio State was a program with more potential than it has demonstrated in past seasons. While the university hasn't invested in women's hockey to the extent that the other Big Ten schools in the WCHA do, the program still has more resources than many others. Under Jackie Barto, the Buckeyes reached the WCHA semifinals more often than not and always had some quality players, but never quite enough of them. Nate Handrahan brought a grittiness to OSU's play, but that wasn't always a positive, as penalties often proved costly. Then Jenny Potter took over, and while it's impossible to say what would have transpired had her tenure been longer, goals allowed spiked sharply under her watch to a higher total than Ohio State had allowed in years.
Now we have another former high-scoring forward in charge of the program in Muzerall. It's interesting that she is succeeding Potter, because the two were teammates for a season at Minnesota, and then they spent a season as rivals on two teams that formed an instant disliking of each other when Potter transferred to UMD. There isn't a lot of overlap in their personalities, with Potter being reserved while Muzerall is more outgoing. People assumed that Potter would have a recruiting edge because of her Olympic experience, but these days, there are a lot of coaches with Olympic credentials. A better asset is having the gift of gab, and I'd have to go with Muzerall on that count.
While we'll have to wait at least a couple of years for her recruiting strategy to become apparent, I expect that she'll immediately bring a healthy dose of passion to Columbus. She was a big part of Minnesota's historic run, and along with being a big sister to the players, her other major contribution was the energy she infused into the program. To run any organization successfully, you need to be able to handle people and do so in a caring way. I expect Muzerall to excel and bring a pride to the Buckeyes women's hockey program that may have been lacking at times.
With all that said, how big can the bigger things get? The star-studded recruiting classes continue to arrive in Madison and Minneapolis, and the staffs there know what to do with them. The Bulldogs are resurgent. Bemidji State is going to keep coming, year after year, even in seasons where the talent won't turn any heads. Some thought that North Dakota would quickly fade away after Jocelyne and Monique Lamoureux graduated; it didn't happen. Now St. Cloud State is a tougher out. Progress is being made at Minnesota State. I think Muzerall will do very well at Ohio State, but I think it may be a slow climb.
As for your point that there isn't a better four-loss team, do we know that? Will the Buckeyes wind up with a better record than Syracuse or Mercyhurst?  Maybe Merrimack will continue to grow in the opportunity-offering schedule of Hockey East. It's not even a done deal that OSU will be ahead of SCSU in the WCHA when the dust settles.
While we're looking at the loss total, who would you say will prove to be the best current three-loss team when the season is over?
Nicole: I think the easy money has to be on Clarkson. They've faltered a bit to start the season and I think they're probably a step or two behind the teams we've seen from them in recent years, but they still have Shea Tiley and a lot of potential on the offensive side. They've got a bit of a brutal stretch to end the season, but have a set of games here in the middle where they can find their groove and confidence.
Another team I think that's up and coming is North Dakota. As I mentioned above, it's not the best season to be a middle team in the WCHA — the competition is fierce for a possible third NCAA bid, but the transition in net has been pretty seamless and the young players have proven their worth already. Everyone is only going to get better and more comfortable with each other and there's a lot of potential on that roster. I would not be surprised to see them among the best at the end of the season.
We've got a full slate of games this week and are finally getting into the meat of conference match ups, so we should have a lot more information to consider next week.