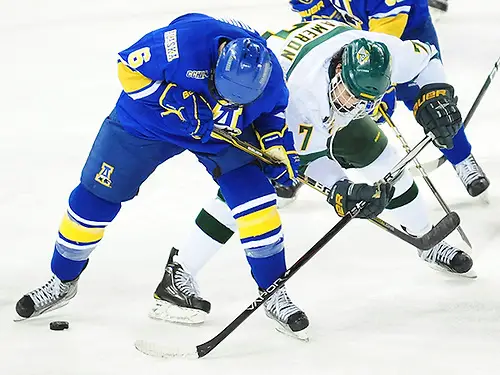 At a Thursday press conference, it was announced that several sports are in their last season at Alaska-Fairbanks and Alaska-Anchorage.
None of those sports is hockey, however.
Skiing is being eliminated at both schools, while UAA is axing indoor track and field. Those sports were targeted for elimination in a waiver request submitted by the university to the NCAA, University of Alaska president Jim Johnsen said Thursday at the Alaska Airlines Center.
The waiver request is a major part of the University of Alaska's effort to cut $2.7 million from intercollegiate athletics as it attempts to survive the loss of $50 million in state funding for this fiscal year. More cuts are expected for the next fiscal year, too.
According to the Alaska Dispatch News, the university is asking the NCAA to waive its requirement that Division II members field a minimum of 10 sports. It wants permission to trim UAA's teams from 13 to nine and UAF's teams from 10 down to eight. In its request for a waiver, the university cites the state of Alaska's budget crisis and the resulting loss of funding for the university.
The university's athletic programs cannot meet the new budgets without eliminating some sports, the request says.
Johnsen said at the press conference that the university had to submit its waiver request in time for the NCAA to review it next month.
In terms of hockey at UAA and UAF, Johnsen said the sport survived mostly because the NCAA requires a school to offer two men's team sports and two women's team sports. At both schools, the only men's team sports are hockey and basketball.
If the NCAA grants the waiver, the Board of Regents would still have to approve the elimination of the skiing and indoor track teams. The next Board of Regents meeting is Nov. 10-11 in Fairbanks.