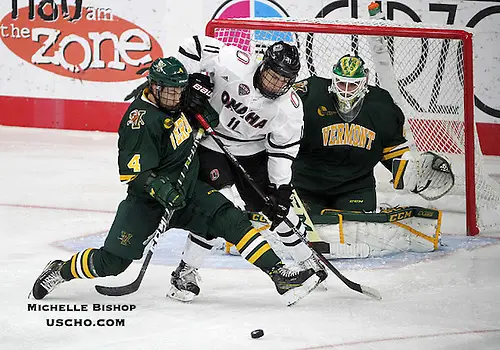 In September, at Hockey East media day, Vermont coach Kevin Sneddon was very specific in talking about how he liked the maturity of his team.
Fast forward a few days later and the team announced that four of its captains and assistant captains would miss the first five games of the season for issues related to an off-ice incident, reportedly for hazing.
"I know a lot of people will say, 'How can you have an off-ice incident and call your team mature at the same time?'" said Sneddon, who said the preseason incident was the responsibility of the entire team, but that the captains needed to be the leaders in the situation and thus were punished. "I think we just have to understand that certainly these guys made a big mistake.
"But I love the character of this team. I still love the leadership of this team. They realize if we could go back in time, they would act differently."
No more did that character shine through than on the ice.
A day after the suspensions were publically announced, Vermont traveled to Clarkson and opened the season with a win. After losing the back end of that home-and-home with the Golden Knights, the Catamounts followed up with a tie and win on the road at then-No. 20 Omaha. Both nights, Vermont trailed by two goals early only to rally.
Last weekend, Vermont returned home to shut out Michigan and then traveled to Boston to beat Northeastern 3-2 to complete the two-win weekend against nationally-ranked foes.
Friday's win against Michigan concluded the five-game suspensions with the Catamounts posting a 3-1-1 mark in the span. Thus, if there were any naysayers criticizing the off-ice maturity of this bunch, on the ice, Vermont has proven itself quickly.
"From a hockey standpoint, I like the maturity," Sneddon said. "I like the commitment of the guys in terms of our identify and how we want to play and what it takes to get there on a weekly basis.
"They're a very focused group right now. I think we're seeing that come game nights. It's a different feel around the team right now and the locker room."
If anything was proven in the opening five games of the season, it is the offensive depth of this year's Catamount team. To date, 28 players have donned the jersey this season for Vermont and 13 of them have found the back of the net. You can add another nine players who have set up goals and realize this is one deep offense that Vermont sports.
"I've always liked to have 2-3 lines that are clicking and for us right now, we actually have four, which is a little unusual," said Sneddon. "It kind of speaks to our identity right now that we're playing a certain way and everyone is playing that way.
"We don't have two lines that we rely on offensively and two lines that are strictly thinking defensively. It's just a mindset of our team right now.
"We're fortunate that we have four lines – even five lines really – that could play on any given night and give us the same type of offensive production and also really good team play defensively."
Counted in the 28 players who have taken the ice for Vermont this season are two goaltenders: veteran Mike Santaguida and rookie Stefanos Lekkas. Santaguida got the two starts against Clarkson and then, after Lekkas surrendered four goals in a 4-4 tie at Omaha, returned to the pipes.
But when the Mavericks struck twice in four minutes, Lekkas took over, stifling Omaha to earn his first win, a 5-2 victory.
"Stef has been great for us," said Sneddon. "Mike Santaguida is a great goaltender for us. Steff is getting a lot of the praise right now, but Michael is certainly someone who is helping us and helping our team prepare every weekend.
"Michael had a little bit of a slip against Omaha and we felt it was important to make a change at that time. Stef came in and shut out Omaha night two when he came in. Then he had a shutout against Michigan and another great game against Northeastern. So he's playing really well.
"Michael's coming around and getting his confidence back, so we feel we've got a great duo in net."
This weekend, Vermont heads to No. 7 Massachusetts-Lowell for a two-game set, the fifth and sixth straight games against nationally-ranked opponents. In a way, the schedule mirrors a season ago, when five of the first seven games for the Catamounts were against teams ranked ninth of higher.
"Last year, we played [so many of] our first games against ranked teams, and not just ranked teams but teams in the top 10," said Sneddon. "Everybody said at the beginning of [this] year, 'Your schedule is a little more friendly this year.' But I really don't feel that way."
UNH's Grasso off to electric start
If you didn't know the name Patrick Grasso prior to last weekend, by now it's likely you do.
The highly-touted recruit for New Hampshire had a solid start to his rookie campaign. That start, though, was magnified on Saturday in a 6-2 win over Merrimack when Grasso scored four consecutive goals to elevate his season total to eight, second in the nation to Union's Mike Vecchione.
For his efforts, Grasso on Tuesday was named Rookie of the Month by both Hockey East and the Hockey Coaches Association, compiling eight goals and 10 points in just six games.
"We're going to hear a lot about him," said UNH coach Dick Umile. "He's real clever and he's got a great stick. The kid can score goals."
And score goals he has.
Parallel his start to the most recent rookie phenom in Hockey East, Boston University's Jack Eichel. Through six games, Eichel had nine points and five of those were goals.
Eichel, as most know, went on to score 26 goals and 71 points his rookie season, earning the Hobey Baker Award and a No. 2 overall selection in the NHL Draft the following June, opting to sign with Buffalo just days later.
While there is still plenty of time before we can declare Grasso the next Eichel, a fast start certainly boosts his confidence.
"Being off to a hot start, it definitely raises the confidence and makes me feel comfortable getting into the games," said Grasso. "But the biggest thing for us is just winning those two [league] games [last Friday and Saturday] and getting to the top of Hockey East.
"That's huge moving forward for our team confidence and if we can build off that, I think we're going to have a lot of success both individually and as a team."
Grasso's ability has never been lost on his linemate and UNH returning scorer Tyler Kelleher.
"I told him to believe in himself right off of the start," said Kelleher. "He's got eight goals already and that's crazy. He just knows how to score goals and he's always in the right spot at the right time."
BC's Mottau heading to the rafters
Boston College announced on Tuesday that former Hobey Baker Award winner Mike Mottau will have his jersey retired during the team's Nov. 27 game against Minnesota at Kelley Rink.
Mottau was a major catalyst in the rebuilding of the Boston College program, leading the team to the Frozen Four in all four seasons he spent at the Heights from 1996 to 2000. His 157 points remain the record for a Boston College defenseman.
"Mike was truly an ambassador for college hockey and embodied what being a student-athlete was all about," BC coach Jerry York said in a press release. "He had a certain charisma to him and he will be remembered as one of the cornerstones of Boston College athletics."
Mottau is just the 13th Eagle to have his jersey retired. His jersey No. 3 will remain in the BC rotation, though as David Emma's No. 16 is still the only truly retired number for Eagles players.