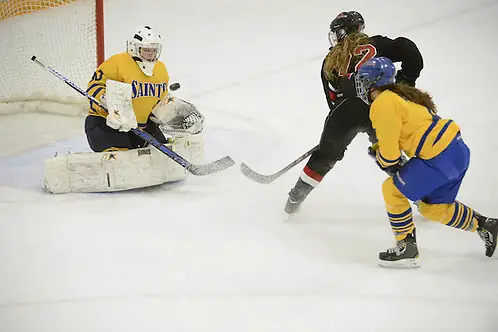 With two ranked teams, the NCHA looks to be a race to the NCAA tournament. Adrian and St. Scholastica are early favorites, but other teams like St. Norbert could have something to say about that.
Last year's champion
Adrian was the regular season and conference tournament champions. They lost to Elmira in the first round of the NCAA tournament.
Favorites
Adrian is the favorite as the Bulldogs return 75 percent of their total offense, including All-Americans Kristin Lewicki and Sydney Smith as well as USCHO Rookie of the Year Brooke Lupi.
Dark horse
If Lake Forest can find a way to replace some of the scoring they got from National Player of the Year Michelle Greeneway, the Foresters might have a chance.
Players to watch
In addition to the three listed above, Adrian returns first team all-conference players Kristine Zink and Kaylyn Schroka. Smith was second in the country among defensemen with 1.07 points per game; she tallied 31 points from the blue line. Kelly Kusch led the conference in goals with 18, eight of which came on the power play.
Goalie Lindsey Hartfiel will be crucial to St. Scholastica's chances of upsetting Adrian. A two-time All-NCHA selection, she set the single-season program record for saves in 2015-16 and led the conference in saves and minutes played. Mac Johnson transferred from St. Cloud State at the semester and tallied 14 points in just 18 games.
Lake Forest has big shoes to fill after graduating a decorated senior class. Olivia Spellmire was a first team AHCA All-American and first team all-NCHA. Kayla Griffith was a second-team All-American and first team all-NCHA.
Reaghan Chadwick will lead St. Norbert's offense as the highest returning scorer. Senior Leigh Grall gives the Green Knights veteran leadership between the pipes.
Two all-NCHA freshman selections return to anchor Concordia (Wis.) defense this season. Christina Pattengale was the all-conference rookie goalie and Elle Woodman added nine points from the blue line. On offense, the Falcons are led by Veronika Metanova, who has 59 career points for Concordia, and Lexi Holman, who had the third-best season in program history last year.
Marian University is in transition, but all-freshman team honoree Lindsey Strainis has a year of experience in goal to help anchor the defense. Emily Everson and Jill Schneider are the Sabres' leading returning scorers.
Finlandia is carrying four goalies and just one — Brianna Merriam — has any collegiate experience; they'll be fighting for the starting job. Annah Smiddy, Merriam, and Sarah Gundry have each gotten a start so far for the Lions. Sierra Meiners was the only skater to tally double-digits last season.
Notes
Three teams will be joining the NCHA next season. Trine University joins as a new member of the conference and Aurora University and Northland College will field women's hockey teams for the first time. All three are set to begin competing in the 2017-18 season.
St. Scholastica hired Patrica Elsmore as assistant coach. Elsmore is a Swiss national who won two national championships in goal with the University of Minnesota-Duluth Bulldogs.
The Saints outscored opponents 23-15 in the first period last season, despite being outshot by 88 shots.
Former Wisconsin-Eau Claire player Mackenzie Miller has joined the Marian staff as a graduate assistant coach.
Finlandia coach Michael Marchel was given the job permanently after serving as the interim head coach last season.
Recent alum Melissa Paluch joined the staff at Lake Forest. She is one of only three athletes in Lake Forest College women's hockey history to score over 100 career points. She is also the only three-year captain in the program's history and the only player to win back-to-back Ry McCarthy awards.
Adrian coach Chad Davis was named NCHA coach of the year for the second season in a row.
Marian University MVP and first-team all-NCHA freshman Courtney Wittig transferred to Wis.-Eau Claire.