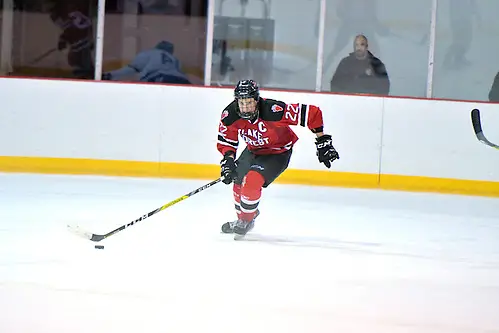 Jack Lewis recorded his second career hat trick earlier this month against Concordia and already has five goals on the season for Lake Forest.
Skill has something to do with his success, but as Lewis, a senior forward for the Foresters, puts it, having opportunities to make plays does as well.
"It's just about being in the right spot at the right  time," Lewis said. "I also have great linemates and they put me in a position to execute offensively."
Lewis has always been a tremendous scorer for the Foresters. He burst onto the college scene as a freshman out of Canada three years ago and finished up his rookie campaign with 10 goals and eight assists on his stat line. He tallied 18 or more points in each of the next two seasons as well, highlighting his sophomore campaign with 16 assists and punching in 11 goals to punctuate his junior season.
He went into this season determined to be even better, and feels as if his added dose of confidence has been instrumental to his early-season success.
"I have a lot of confidence with and without the puck," Lewis said. "When I was younger, I would get into situations where I'd tighten my grip on the stick more or be more eager to pass the puck off on a power play rather than be a little more patient. That all goes back to my confidence and the belief I have in my teammates."
Lewis is not only more confident, but is in better shape as well, pushing himself to get faster and stronger in the off season.
"I trained real hard in the off season and was consistent with those workouts and stayed dedicated to them," Lewis said. "I felt like I went into the season well-prepared for it because of the training we did in the off season. It's paying off."
As one of the older players, Lewis has embraced a leadership role and does his best to stress the importance of making every game count during what ultimately is a short season.
"It's important to help guys understand that you have to be consistent every day. It's only a 25-game season, so the games count for a lot. But you also want to make sure you are having fun, too. Finding that right balance is important."
Lewis and the Foresters are coming off one of their biggest wins of the year, a 5-3 victory over national power St. Norbert on the road Saturday night. That win came on the heels of a 7-0 loss to the Green Knights one night earlier.
"That was a big win for us, especially after the way the game went on Friday," Lewis said. "To be able to rebound from that loss and pull off a close win against a great team is huge for us."
The Foresters hope to build off the victory as they push toward making the postseason after missing out on an NCHA tournament bid a year ago.
"We just have to take it one game at a time," Lewis said. "You have to be able to put a game behind you, whether it's a win or a loss, and move on to the next one. It's important for us to be consistent and execute every time we play."
Perfect Pipers
Hamline has yet to lose a hockey game this season, fashioning a 3-0-1 record, and more importantly, the Pipers are 2-0 in the MIAC after sweeping St. Olaf last weekend.
Russ Jordan has been instrumental to the Pipers' success, scoring three goals and dishing out three assists against the Oles to push his season totals to five goals and four assists. He is the leading goal scorer in the conference and the second-best goal scorer in the nation.
Jordan, who might just end up as the breakout player of the year in the league, is a transfer forward from Wisconsin-River Falls, and after managing only one goal and a couple of assists last year, the talented junior out of Illinois has made his presence felt with the Pipers in his second year with the team.
Hamline has scored 16 goals in all and Jordan is one of three players who has scored two or more goals for an offense that has put up four or more goals in each of its last three games.
Great start for Bulldogs
Adrian has rattled off three consecutive wins and their success is partly due to the play of Trevor Boyd and an offensive attack that has scored five or more goals in each of its last three wins.
Boyd is only a sophomore, but plays like a veteran. He struck for a couple of goals and dished out four assists in a two-game sweep of Northland over the weekend.
Boyd currently leads the NCHA in point scoring, averaging 2.25 per game, and is well on his way to matching his totals of a year ago when he came through with 16 goals and 13 assists.
Adrian hasn't missed much of a beat this year in terms of offense as a team, scoring 19 goals in all. The Bulldogs have also been tough to crack on defense, giving up just eight goals, thanks in part to the play of Kevin Entmaa, who has two wins and a 1.68 goals-against average.
Pointers thrive off balance
Being the defending national champion means the target on your back is a little bigger and at least through four games, Wisconsin-Stevens Point has handled the added pressure well, going 3-0-1 behind a balanced scoring attack.
Seven players have come through with at least two goals and 10 players have tallied two or more assists. With that kind of balance, opponents have to cash in on every opportunity they get if they hope to pull off an upset.
Jacob Barber leads the way offensively with four goals and three assists and Nathan Harris is second on the team in scoring with two goals and a team-high five assists.
Barber and Harris both have the experience of playing on the national championship team a year ago and that experience is paying off for the Pointers, who have already scored 19 goals and are poised to be one of the top offensive teams in the nation again this year.