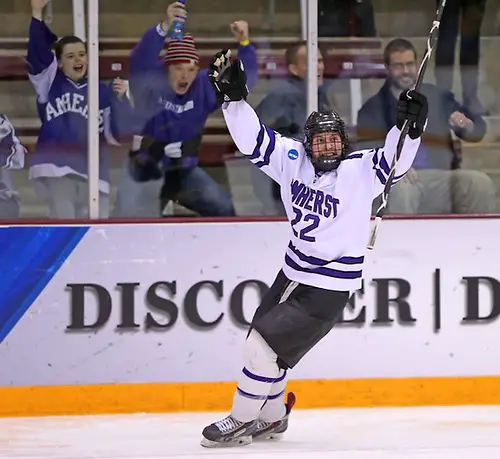 What an entrance the NESCAC teams make to the season. As always, the late arrivals but with the most dramatic entrances and battles for playoff positioning amongst any of the other conferences in the D-III ranks.  This year will likely be no exception according to last year's championship coach from Williams, Bill Kangas.
"We start the season, the grind, right away with two always challenging teams in Bowdoin and Colby," stated Kangas. "There is no easing into the schedule and the focus on being better than the day before has already started. Everyone you play against is competitive, especially in our league, so it is important to stay focused and in the moment, not to get too far ahead of ourselves with what team is on the horizon."
The favorites
Over the past few years, Amherst, Bowdoin, Trinity, and Williams (placed in alphabetical order consistent with NESCAC naming and listing conventions) have battled down to the wire for the conference title and auto-bid to the NCAA tournament. This year is shaping up to be no different among the key competitors, but roster makeup may be an important factor.
"When you look at the teams that have been successful in the past, the senior group usually has a lot to do with it," noted Kangas. "We had a great group of seniors last year led most notably by Zander [Massucci], who will be very hard to replace. Guys like Noah Klag, who played great but also gave time and help in Michael's [Pinios] development. The seniors are an important piece for getting the chemistry right and on-boarding the new freshmen to the culture of the program and assimilation to the school. We have a great senior class this year with eight guys that will hopefully help keep us focused on the daily grind and just improving as a team every day so that February and March we can still be playing important hockey."
The dark horses
Virtually every team in this conference could qualify as a dark horse candidate based on the top-to-bottom talent and competitiveness in the league, but look for second-year coach Patrick Norton to make some noise with the Tufts Jumbos as a continuation of last year's improved play.
While long-time Bowdoin coach Terry Meagher has retired, there is great continuity in the ascension of long-time assistant Jamie Dumont to the head job, which should have the ever-present Polar Bears in the mix at the top of the conference standings.
Players to watch
Amherst: David White – forward; Phil Johansson – defense
Bowdoin: Jamie Dumont- coach; Cody Todesco – forward
Colby:    E.J. Rauseo – forward; Geoff Sullivan – defense
Connecticut College: Craig Liautaud – defense; Joe Giordano – forward
Hamilton: Robbie Murden – forward; Neil Conway – forward
Middlebury: Mike Najjar – forward; Stephen Klein – goalie
Trinity: Ryan Cole – forward; Sean Orlando – forward
Tufts: Sean Kavanaugh – defense; Mason Pulde – goalie
Wesleyan: James Kline – forward; Jordan Jancze – forward
Williams: Michael Pinios – goalie; Colby Cretella – forward
USCHO predicted finish
1. Williams
2. Trinity
3. Amherst
4. Bowdoin
5. Tufts
6. Middlebury
7. Hamilton
8. Colby
9. Wesleyan
10. Connecticut College
The addition of the NESCAC schedule this month means that every conference is active with real games.  There are some great nonconference matchups with upcoming holiday tournaments as well as jumping right into the very difficult conference play, where every single result matters as potential future tiebreaking criteria.