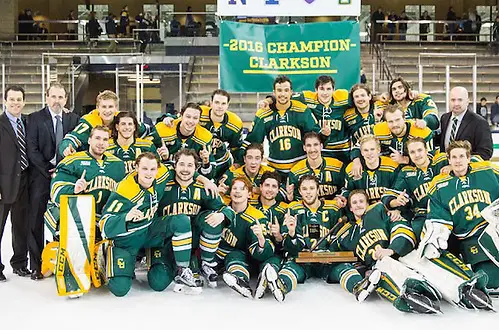 It's been a pretty good month for Clarkson's athletic branding – and the results on the ice for the men's hockey team has been impressive as well.
The NHL's expansion franchise in Las Vegas revealed earlier this month that it would go with "Golden Knights" as its nickname. According to ESPN, the franchise needed approval from Clarkson before proceeding with the name.
As for the collegiate Golden Knights, Clarkson has a seven-game unbeaten streak and won its first in-season tournament since 2006 when it beat Notre Dame 2-0 in the championship game of the Shillelagh Tournament.
Clarkson's seven-game unbeaten streak comes after the team had only one win in its six preceding games, including losses to Big Ten opponents Minnesota and Wisconsin, as well as Quinnipiac, last year's national runner-up.
"I think we're just getting a little bit more consistent with style of play," Golden Knights coach Casey Jones said. "We have some young guys in lineup through something playing good competition it was easy for teams to expose us. We had some weaknesses we had to work through defensively."
Clarkson entered the season without defenseman Kevin Tansey and Paul Geiger, each of whom graduated last spring. But an injury to junior defenseman Terrance Amorosa forced him to miss the first nine games of the season; the Golden Knights haven't lost since he returned.
"He puts everyone in their proper place for where their minutes should be," Jones said of Amorosa's return to the lineup. "That's the most important thing; he gives us the ability to put everyone in the right place."
But while veterans like Amorosa have been important contributors, Clarkson has gotten production from several freshmen.
The trio of Devin Brosseau, Sheldon Rempal, and Nico Sturm have been playing on the same line and account for three of the Golden Knights' top four scorers.
Jones said the trio didn't start out together, but they stuck together after some moving around.
"You're probably not thinking about putting three freshmen on the same line; it just happened one game," explained Jones. "They are playing at a level that it almost doesn't feel like they are freshman anymore."
Clarkson has been looking for consistency in goal the last few years; since graduated senior Greg Lewis provided it down the stretch run last season, and freshman Jake Kielly has done so for most of this season.
"He's got a winning pedigree," Jones said of Kielly, who won a USHL championship with Tri-City last year. "I think that's something that's undervalued at the position. Sometimes guys just know how to win games."
The freshman made 35 saves Saturday against the Irish for his second shutout of the season. He was named the Shillelagh Tournament's most outstanding player and was also named the NCAA's first star of the week. Rempal and Amorosa were also named to the all-tournament team.
Kielly is coming into form at the right time for the Golden Knights. Clarkson hosts Dartmouth and Harvard this weekend, and then heads on the road for seven straight games.
Tigers break through
Princeton started last weekend as the only team in Division I without a win. It ended it as the first team to beat Bemidji State at home this season.
The Tiger swept then-No. 10 Beavers, who had been 6-0 at the Sanford Center this year.
"The players were focused on the task at hand, regardless of the record," Princeton coach Ron Fogarty said. "We went in there and worried about ourselves and concentrated on puck support and our systems."
Despite an 0-6-1 record entering the series, Fogarty said he saw some encouraging signs from his team. Princeton led Cornell and Colgate in its previous two games, but allow three third-period goals in each game en route to a pair of losses.
"I told the guys, 'Don't deviate from our systems,'" Fogarty said.
The Tigers got contributions throughout the lineup last weekend, including backup goalie Ben Halford, who made a career-high 43 saves in Saturday's win. It was the junior's first appearance in goal since last February and his first collegiate win.
Halford's start came after senior Colton Phinney was hurt in Friday's game. Fogarty said he would assess the goalie situation heading into this weekend's games against Union and Rensselaer.
Princeton also got offensive contributions from the line of Eric Robinson, Jeremy Germain, and David Hallisey. The trio has emerged as a steady source of production early in the year, and Fogarty pointed to the line of Ryan Kuffner, Alex Riche, and Max Veronneau that should score as the season progresses. Veonneau has no goals through the first month of Princeton's season after leading the team in goals as a freshman last year.
Fogarty is in the midst of his third season at Princeton. While wins have been hard to come by, the coach has been able to start shaping the team to fit his system.
"We have been fortunate enough that the guys are eager and relentless to turn the program around," Fogarty said. "The freshman and sophomores have some skill and hockey sense and the veterans have good leadership experience."
Still, the sweep at Bemidji State helped ensure the Tigers wouldn't be in the headlines for the wrong reasons.
"It's frustrating when you're the only team in college hockey not to have a win and that starts to become the story," Fograrty said.
Around the League
• Saturday's Friendship Four consolation game between St. Lawrence and Massachusetts had a little more intrigue than most third-place games. It was the first time former Saints and current Minuteman coach Greg Carvel faced his former team since taking the Massachusetts job last spring.
"This might be the most emotional consolation game you'll ever see," Carvel said during a TV intermission interview Saturday. "There's definitely a lot of emotion out there tonight and they guys are playing real hard. It's an excellent hockey game for a consolation game."
• Cornell beat New Hampshire 3-1 Saturday at Madison Square Garden for its third straight Frozen Apple victory. Alex Rauter scored on a penalty shot, the first time the Big Red had scored on a penalty shot since Joe Nieuwendyk did so on Feb. 27, 1987 — a span of 949 games.
• ECAC Hockey announced two suspensions on Monday. Quinnipiac defenseman Connor Clifton was given a one-game suspension as result of major penalty and a game misconduct penalty Saturday against Vermont. Clifton will sit out Friday's game against Rensselaer. St. Lawrence defenseman Nolan Gluchowski was given a one-game suspension and will miss the Saints' game versus Harvard Friday. The junior was suspended after receiving a major penalty for a contact to the head and a game misconduct penalty Saturday against Massachusetts.
• Princeton's David Hallisey (player), Harvard's Adam Fox (rookie), and Kielly (goalie) were this week's awards' winners, as announced by the conference.