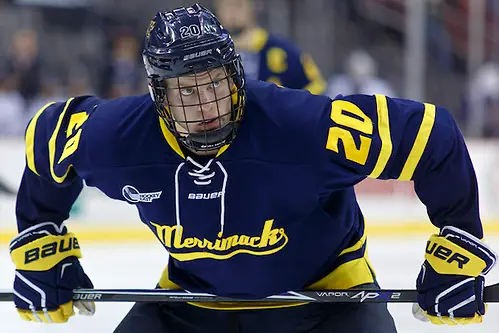 An 0-3 start for Merrimack wasn't exactly what coach Mark Dennehy had in mind for his club.
Every coach enters a season with high expectations for their hockey team. But this season, Dennehy understood that he has more talent up and down the roster than in years past.
So when the Warriors started things off with a loss to Sacred Heart at home and then went to the North Country and came away with points against Clarkson and St. Lawrence, that wasn't the start Dennehy wanted in any way, but his team's response since then has him optimistic.
"I like how we've trended," said Dennehy. "We got off to a horrific start. Since then, we've won half of our games and only lost three. I think we're getting better every day and those are our goals."
Last Friday, Merrimack fell behind to Providence but was able to rally with five goals in the third period to earn a win. A weekend prior, Merrimack lost a tough 3-2 decision to Wisconsin on Friday but rallied with a 2-0 victory the next night.
Thus, the ability of this Warriors team to respond to adversity is a positive that Dennehy takes away from his team to date.
"The mental side of it is really important," said Dennehy. "I'm a big fan of golf. If you stand in the tee box and all you see is the water, inevitably that's where the ball is going. So there's a level of confidence, and wins like the one at Wisconsin, wins like the one against Providence, those get stored in the memory bank to be called upon. Those are good deposits."
One of the major improvements of this year's team is the depth and experience throughout the lineup. That has already been relied upon with injuries throughout the first 15 games.
"We've lost a number of guys to injury," Dennehy said. "We haven't really been healthy, but we're at .500."
Last Friday's game was a bit of a coming-out party for rookie Tyler Irvine. Irvine has played in all 15 games for the Warriors, but Friday's performance that produced two goals and two assists certainly opened eyes.
"He brings a lot more than just statistics — he's earned our trust," said Dennehy. "Any coach in Hockey East will tell you, when you earn trust, it's hard to lose it. It's hard to get, but it's also hard to lose.
"He's on the right side of the puck, he's got a great motor and a good stick. He's hard to play against."
This weekend, Merrimack will be off before finishing the first half with a home-and-home series against Massachusetts-Lowell. The weekend off may not be well timed for a Merrimack team that has been playing its best hockey of the season, but Dennehy looks to find a silver lining.
"We're going to look at it as a positive as it will allow ourselves to get rested," Dennehy said. "It might give us a chance to go into the second half well-rested and healthy. If we can come out of that break healthy and rested, I think we can make a run."
A quick glance at the PairWise
With the calendar changing to December and most every team more than one-third of the way through their schedules, it's not the worst time to take a look at the PairWise and seeing how Hockey East would fare in the NCAA tournament field in the season ended today.
Right now, the prognosis is pretty good. Five Hockey East clubs are ranked in the top 13 currently led by UMass Lowell at 5. Vermont, fresh off its Belpot Trophy win and a 5-1 upset of then No. 3 Quinnipiac, is only a single spot behind at 6. Boston College and Boston University land at 8 and 9, respectively. And Notre Dame, in its swan song Hockey East campaign checks in tied for 13th.
All of that is pretty good news, particularly considering Hockey East's early-season struggles in nonconference play.
But there is a pretty negative side to this story.
After those five Hockey East clubs, you have to do some searching before you find another Hockey East team. Below the bubble, the highest ranked Hockey East team is Northeastern at 27. So while there is a lot to potentially look forward to from those five teams above the bubble, any team below the bubble will have to put forward a strong second half if they want an NCAA bid.
Madison Square Garden a nice home for Hockey East teams
The bright lights and big city of New York for so long was without college hockey. But a few years back when Cornell and Boston University decided to renew their rivalry at Madison Square Garden, it started a trend that has extended throughout much of Hockey East.
Last weekend, New Hampshire had the chance to take on Cornell at MSG. This weekend, Boston College will clash against North Dakota in a matchup of top 10 teams.
The Boston College-North Dakota game renews a great NCAA rivalry. The teams have faced off nine times in the NCAA tournament, seven of those games between the years of 1999 and 2008. Regular season meeting, though, are a bit more rare. The two clubs haven't played a regular season game against one another since 2011, a 6-2 BC victory. The two teams have split the all-time series, 11-11-1, though the Eagles hold a 6-3-0 record against the Fighting Hawks at neutral sites.