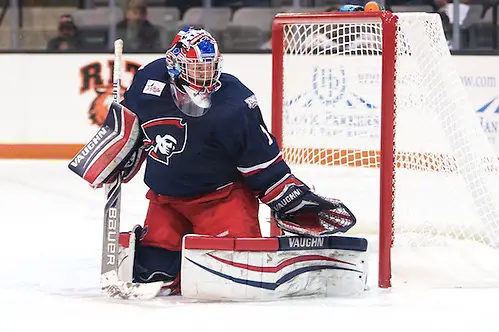 Maybe it's that the CHA has just six teams and their tournament autobid status is just a year old. Maybe it's that Mercyhurst has had such a stranglehold on the CHA that it seems impossible to imagine another team taking over.
Maybe it's just that we don't give the CHA enough credit.
Whatever the reason, Robert Morris' status atop the CHA conference standings at the midway point comes as a bit of a surprise.
It probably shouldn't; the Colonials returned 19 players from last season, including their four top scorers, and they were adding Jaycee Gebhard, who'd been the AAA Midget Rookie of the Year and the JWHL Player of the Year.
Gebhard has lived up to her own hype. She leads all freshman in the country in scoring and is tied for 15th overall among all scorers. She's amassed 12 goals and 11 assists in 18 games played and she and Brittany Howard have powered Robert Morris to a 12-1-5 start the season.
Two wins over second-place Penn State have them five points clear at the top of the table and in control of their destiny as we look toward the second half.
So the Colonials' status in the driver's seat of the CHA may be surprising to everyone but their coach.
"We've felt like we've been able to compete anywhere over the country; I guess we're not necessarily that surprised," said coach Paul Colontino. "Sometimes, because of the small number of the CHA, having only six teams, I think sometimes it does get a little overlooked."
The return of so many players has been a key to the Colonials' success. Where in years past, Colontino said the Colonials may have three or four or five leaders in the locker room, now it's nearly half the team. Nearly all the upperclassmen are in what he'd call leadership roles.
While those players are providing guidance and maturity and accountability for the current team, Colontino is most excited about the precedent and example they're setting for the younger players.
It's never easy to build up a program. Roster turnover and the constant growth from other programs can make it difficult to find a foothold and maintain it. While Colontino is excited about the current season and the things these players can accomplish together, he's also loving how they are changing, establishing and building the character of the program at Robert Morris. They've set an example for the underclassmen and now those younger players know what kind of leaders they want to be in the future. Meaning that regardless of the games won or lost this season, they'll have a lasting impact.
"Pretty much all our upperclassmen know how they want to be and what they want that locker room environment to be," said Colontino. "It is their locker room at the end of the day. You want it to be a place that you love being in. That's the start."
The senior class is selfless and that attitude it permeating the team. Colontino describes the atmosphere as very family-like. The players look out for and are accountable to each other.
"They're a close group; they treat each other well, look out for each other on and off the ice, and they stick together through things," said Colontino. "That can be a very hard thing when you try to put a group of 20-25 players together. The way this group deals with it is incredible. Good days, bad days, they stick together and just plow through it. I do think that when they look around the locker room they believe as a group they can get through it."
It's clear from how he talks that Colontino has a lot of expectations for his players, but also a lot of respect. He is big on accountability, both positive and negative, and preaches it to the players. The fact that the players hold themselves accountable to each other is a an offshoot of the expectations they get from their coaching staff.
"They're easy to coach," he said. "They're a lot of fun. They respect the game. They respect the program. When you do that, a lot of opportunities are open."
Sitting atop the conference instead of chasing teams that are does allow the Colonials to be more thoughtful, detailed, and diligent in the way they prepare. It helps with confidence and keeps the team focused on maintaining the status quo.
Colontino said his team prepares for other teams by preparing themselves. He is looking to see his team improve and build as the season goes on, but also wants them to be playing with urgency.
"When the weekend hits, you can't fake it," he said. "You're either ready or you're not and the only way you're ready is through preparation and hard work. (We look to) play our best game every night. It that means getting just a little bit better from the night before; that's what the goal is."
The large amount of returning players on Robert Morris' roster means there are a number of players who've been around for disappointing ends to the past few seasons. That's left them with a hunger that, combined with their experience and maturity, has left them wanting to focus more on the future than on the past.
The season is only halfway through, so the Colonials aren't looking too far ahead of themselves. Being in the lead gives them a bit of breathing room and allows them to fine-tune passes, shots, and plays, as opposed to trying to figure out what they need to fix or change in order to be able to catch up. It might be a bit of a change or novelty for Colontino, but it's not one he takes for granted.
"We want to win championships and we want to grow on and off the ice. … Treat every game like it's our last. You want to play your best hockey because at some point it might be your last game. You can't take games and opportunities granted."