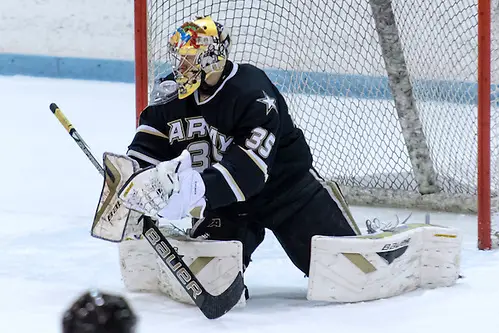 While not quite at the halfway point of the season (42.2 percent, to be exact), the holiday break is a time to look forward to some tournaments as well as look back on the 2016 portion of the 2016-2017 season.
We've had a few surprises, but that's par for the course in Atlantic Hockey.
Who's overachieving?
Who's got work to do in the second half?
Let's find out.
Where things stand
Early in the season, standings can be deceiving if sorted by points because teams have played an unequal number of conference games. This past weekend, both American International and Rochester Institute of Technology faced nonconference opponents Maine and Providence, respectively.
This allowed the rest of the league to burn off some games in hand held by AIC and RIT and even things out a bit – the largest gap in conference games played is down from five to three.
Army West Point and Air Force benefited the most, with each recording sweeps last weekend. The Black Knights opened a two-point lead over RIT for first place in the conference, with Robert Morris in third, three points back with a game in hand on Army. Air Force is five points back, but has three games in hand on its fellow service academy.
Offensive
Army exploding last weekend for 12 goals in a 4-2, 8-1 sweep of Holy Cross, a rematch of last season's quarterfinal series, also won by the Black Knights.
Goaltending and defense are the mark of coach Brian Riley's teams, and this year is no exception. Thanks in good part to the stellar play of senior netminder Parker Gahagen, Army's defense is ranked second in the nation, allowing just 1.81 goals per game so far.
But the difference between a sixth-place finish last season and the Black Knights currently perch atop the standings may be offense. Army West Point is averaging a half a goal a game better than last season, and even a small difference can have a huge impact, especially in close games, like the Black Knights' wins over Robert Morris and Air Force this season.
The eight-goal outburst against Holy Cross stands out, with rookie Brendan Soucie scoring a hat-trick, the first for the Black Knights since 2013. It was the first time in six seasons that Army West Point scored that many goals in a game.
Soucie's heroics is an example of a strong rookie class that also includes Dominic Franko, whose 12 points lead the team, and Zach Evancho, who is tied for the team lead in goals with seven.
This is probably a better team than the one that came up a goal short in last year's conference semifinals. Last year's edition played in 15 overtime games, so a half a goal a game can loom large if Army West Point can keep moving the offensive needle higher.
Familiar faces
The four teams that made it to Rochester last season currently occupy the top four spots in the standings, with Mercyhurst coming in at sixth.
RIT and Air Force were expected to be at or near the top, and they are, with RIT currently in second place, and Air Force in fourth, but with games in hand on the three teams above it.
A mild surprise is Robert Morris, currently in third. The Colonial's play so far indicates thats the loss of a record-setting group of seniors didn't leave the cupboard bare. Robert Morris sports the top line in the conference and one of the best in the country so far with a combined 74 points to date. Junior Brady Ferguson's 28 points is tied for fourth nationally, and linemates Alex Tonge (23 points) and Daniel Leavens (23 points) are close behind.
Rookie goalie Francis Marotte has been a huge factor, winning seven games so far and posting a 1.86 goals against and a .943 save percentage, best in in the nation.
Against the rest
Tournament time means some of the final non-conference games of the season, as we move to almost exclusively league play in 2017.
* Robert Morris hosts the Three Rivers Classic on Dec. 29-30, and this year's edition has a stellar field: RMU, Boston College, Ferris State and Quinnipiac.
* Mercyhurst will participate in the Mariucci Classic on Dec. 30-31, featuring host Minnesota, as well as Massachusetts and Alabama-Huntsville.
* Army West Point will travel to Dartmouth for the Ledyard Bank Classic, also on Dec. 30-31. The Black Knights will take on the host Big Green, with Massachusetts-Lowell and Colgate also participating.
* In other non-conference play after the holiday break, RIT travels to Bowling Green (Dec. 30), Bentley is at Vermont (Dec. 31), and AIC will battle crosstown rival Massachusetts (Jan. 3).
After that, just two nonconference games remain. Canisius will host St. Lawrence the weekend of Jan. 6-7.
These are the final chances for the league to improve on its non-conference record of 12-33-10 (not counting Tuesday's Arizona State at AIC game). The .309 winning percentage is better than last year, and better than the WCHA this season.
Home games can make a difference, with 18 non-conference games hosted by AHC teams so far compared to just 12 at this point in the season five years ago.
So far, so good
Here are my picks for the first-half Atlantic Hockey All-Star Teams
First Team
F – Brady Ferguson, Robert Morris (28 points so far, including 13 goals)
F – Jordan Minello, Sacred Heart (11 goals, 15 points)
F – TJ Moore, Holy Cross (11 goals, 19 points)
D – Lester Lancaster, Mercyhurst (three goals, 15 points)
D – Chase Norrish, RIT (six goals, 12 points)
G – Parker Gahagen, Army West Point (1.69 GAA, 940 save %)
Second Team
F – Daniel Leavens, Robert Morris (six goals, 23 points)
F – Danny Lopez, Holy Cross (10 goals, 19 points)
F – Alex Tonge, Robert Morris (10 goals, 23 points)
D – Phil Boje, Air Force (five goals, 14 points)
D – Eric Israel, Robert Morris (three goals, 14 points)
G – Francis Marotte, Robert Morris (1.87 GAA, .943 save %)
Third team
F – Max French, Bentley (seven goals, 18 points)
F – Derek Barach, Mercyhurst (two goals, 17 points)
F – Myles Powell, RIT (10 goals, 16 points)
D – Brady Norrish, RIT (15 points, all assists)
D – Spencer Trapp, Holy Cross (13 points, all assists)
G – Charles Williams, Canisius (2.26 GAA, .935 save %)
Rookie
F – Blake Christensen, AIC (5 goals, 15 points)
F – Zach Evancho, Army West Point (7 goals, 11 points)
F – Dominic Florien, AIC (7 goals, 11 points)
D – Adam Brubacher, RIT (4 goals, 12 points)
D – Matt Sief, Canisius (1 goal, 7 points)
G – Francis Marotte, Robert Morris (1.86 GAA, .943 save percentage)
Weekly awards
From the home office in Winthrop, Mass.:
Player of the Week
Brendan Soucie, Army West Point: The freshman scored his first collegiate hat-trick and added an assist in an 8-1 Black Knights win over Holy Cross on Saturday.
Defensive Player of the Week
Mitch Nylen, Sacred Heart: Nylen, a senior captain, scored a shorthanded game-winner on Saturday in a 3-2 win over Mercyhurst. He's notched a point in six consecutive games.
Goalie of the Week
Shane Starrett, Air Force: The sophomore stopped 38 of the 39 shots he faced last weekend in a sweep of Niagara. On Saturday, he recorded his fifth career shutout, stopping all 19 shots.
Rookie of the Week
Ryner Gorowsky, Bentley: Gorowsky repeats as ROTW, this time for a three points weekend in a split with Robert Morris. All three came in Friday's 4-3 win on a goal and a pair of assists.