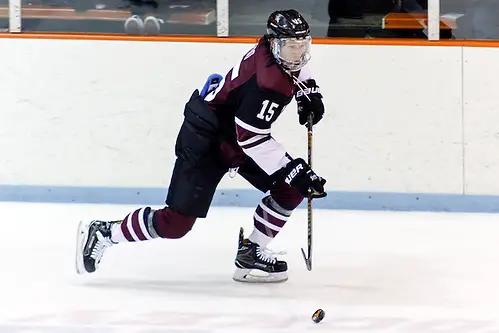 Last weekend marked the final set of conference games in ECAC Hockey prior to the semester break.
Various scheduling factors, including the Ivy League's late start, means that the league's twelve teams have an unbalanced number of conference games thus far. Still, here is a look at each team to date, with some thoughts on where each one could be headed in the second half.
Teams are listed in order of the league's current standings and overall win-loss records are listed first, followed by records in conference play.
Union (12-3-2, 8-1-1)
The Dutchmen have undoubtedly been the surprise of the first half in ECAC Hockey following a pair of difficult seasons. While it hasn't always been pretty, Union enters this weekend's series with Vermont on a four-game winning streak. That stretch started after an unusual schedule quirk, as the Dutchmen went nearly three weeks without a game prior to beating Princeton on Dec. 2. Senior Mike Vecchione appears to be making a push for Hobey Baker consideration; he has 17 goals and 18 assists in 17 games. Linemates Spencer Foo and Sebastian Vidmar are each averaging over a point per game as well.
Second-half outlook: The Dutchmen's top line has combined to score 36 of the team's 68 goals. Union will need balance throughout the lineup and a strong second half in goal by senior Alex Sakellaropoulos, who has picked it up the last few weeks. Union may be hard pressed to hold on to the top spot in the league, but it should be among the host of teams in the running for a first-round bye.
St. Lawrence (10-5-4, 7-1-2)
There have been few noticeable bumps in Saints' Mark Morris's return to the college games. St. Lawrence has been one of the most consistent teams in the league, thanks in part to another outstanding season by junior goalie Kyle Hayton. Forward Mike Marnell is having a breakout year with 11 goals in 15 games so far, but the Saints are averaging over three goals a game thanks to a deep lineup that has six other players with a legitimate chance at reaching double- digit goals this season.
Second-half outlook: Hayton and a talented defense are the x-factors for the Saints, who may not have the big-name scorers of other top teams in the league. Expect St. Lawrence to finish near the top of the standings for the third straight season.
Quinnipiac (10-7-2, 6-4-1)
The first half ended on a bit of dud for the Bobcats, who were swept by travel partner Princeton last weekend and enter the break with one win in its last six games. Despite being picked first in the preseason polls, something coach Rand Pecknold admitted he was surprised at, this doesn't appear to the dominating Quinnipiac of recent years. The Bobcats are averaging three goals per game, but are on pace to allow the most goals per game as a team since the 2009-10 season.
Second-half outlook: The break comes at a good time for the Bobcats. Quinnipiac has played the most conference games of any ECAC Hockey team, so it can ill-afford any slipups in the second half. Look for it to push for a first-round bye, but there's a good chance the Bobcats will be playing in the opening weekend of the league playoffs.
Clarkson (9-7-3, 5-3-1)
This is a veteran Clarkson team that has also had some important contributions from underclassman in the first half, including freshman goalie Jake Kielly. Clarkson lost its final two games prior to the break, but were on an impressive run prior to that, including beating Notre Dame 2-0 on Nov. 26 to win the Shillelagh Tournament, the program's first in-season tournament win since 2006. Always a hard-hitting team, the Golden Knights have shown flashes of offense in the first half, as they enter the break averaging just over three goals per game.
Second-half outlook: The Golden Knights start the second half with seven straight games away from home, including six league games. That looks to be a critical stretch for Clarkson, which should have a good chance at finishing with a first-round bye.
Cornell (7-3-2, 4-2-1)
It's been an interesting first half for the Big Red, who played the first five games of the season on the road and also had a number of injuries throughout its lineup. Cornell was in a similar position record-wise at this time last year, but went through a second-half slump that diminished that promising start. Like the Golden Knights, Cornell has increased its scoring this season and looks to have more speed in its lineup compared to previous years.
Second-half outlook: For whatever reason, it seems as if the Big Red are flying under the radar a bit entering the holiday break. It will be interesting to see how the team plays in the second half after stumbling down the stretch last season. If everything falls right, this could be a team that sneaks into one of the top-four spots in the league.
Harvard, (8-2-1, 4-1-1)
There may not be a better example of the unbalanced league schedule thus far than Harvard. The Crimson sit in sixth place thanks to having played the fewest league games, but look to be one of the more dangerous league teams heading into the second half. Harvard has the best power play in the country and is also third in scoring per game. Freshman defenseman Adam Fox has played a large role in that, but the Crimson have gotten plenty of contributions from returning players as well.
Second-half outlook: The Crimson appear to have as a good a chance as team in the league in capturing the regular season title and should also be in the running for No. 1 seed in the NCAA tournament.
Princeton (6-7-1, 3-6-1)
Princeton has won five of its last six games and is on pace for its best season since 2010-11.
Senior goalie Colton Phinney has played better in net the last several games, while the Tigers have gotten contributions from a number of players throughout the lineup. Princeton has scored 42 goals through 14 games; two years ago it scored 39 goals all season.
Second-half outlook: A first-round bye may be a bit out of reach for the Tigers, but home ice is a definite possibility for a Princeton team that looks like it could be dangerous down the stretch.
Colgate (4-9-4, 2-4-1)
The Raiders struggled last season despite a talented senior class, so it's no too surprising that is has been a bumpy first few months of the 2016-17 season. Senior goalie Charlie Finn has improved his numbers slightly from last season, but as a whole, the Raiders have allowed opponents too many shots per game. Sophomore Adam Dauda has been solid for Colgate after missing time last season due to an injury.
Second-half outlook: Colgate appears hard pressed to host a home playoff game in its first season playing in the Class of 1965 Arena. Still, the Raiders have more depth this season and should gain valuable experience down the stretch.
Yale (4-6-2, 2-5-1)
No team has taken a bigger tumble than the Bulldogs, and that's not a surprise given the amount of talent Yale lost on defense. Patrick Spano looked ready to take over for the departed Alex Lyon in net, but the senior has struggled lately. Despite the struggles, the Bulldogs have gotten great individual performances from senior John Hayden, junior Ryan Hitchcock, and sophomore Joe Snively, each of whom is averaging more than a point per game.
Second-half outlook: Yale has had some growing pains in the first half. The last two months of the season should be a bit smoother, but it looks unlikely that Yale will finish with a first-round bye.
Brown (3-9, 2-6)
There may be different players, but it's the same story for Brown. The Bears have struggled in net, posting a .875 team save percentage, and with secondary scoring. Brown has 26 goals this season; 14 of them have been scored by three players. Only one of its three wins has come against a team with a winning record.
Second-half outlook: Unless Brown suddenly finds some secondary scoring or goaltending, it seems likely that the Bears will finish near the bottom of the conference standings.
Dartmouth (4-5-2, 1-3-2)
Like Colgate, the Big Green have had to work a number of new players into the lineup through the first half of the season. Like Colgate, it's been a bit rough start for Dartmouth, although it beat Michigan at home to open the season and beat New Hampshire last weekend. The fact that the Big Green is only a game below .500 is remarkable considering the team is 3-for-60 on the power play so far.
Second-half outlook: Is another second half run in store for Dartmouth? Last year's team made it all the way to Lake Placid thanks to a late push over the closing months of the season. That might not happen again this year, but the Big Green should make a push for home ice in the first round of the playoffs.
Rensselaer (3-16-1, 1-9)
It's been a rough first half for the Engineers, who are not only entrenched as the worst team in ECAC Hockey, but also one of the worst in the league. RPI has never been a high scoring team, but usually could be counted on for solid defense and goaltending. That hasn't been the case thus far this season, as the Engineers have allowed at least four goals in six of its last seven games entering the break. Goaltending looked like the least of RPI's worries entering the season, but neither Chase Perry or Cam Hackett has inspired much confidence in goal so far. The Engineer's rough start is obscuring a good season by sophomore Evan Tironese, who returned from an injury last year to average more than a point per game through the first half.
Second-half outlook: RPI has gone on second-half runs in the past, but this looks to be too deep of a hole to dig out off. The Engineers return from the break to play Harvard twice, Massachusetts-Lowell, and then Clarkson. That's a rough stretch for any team, never mind one that has struggled mightily for much of the first half.