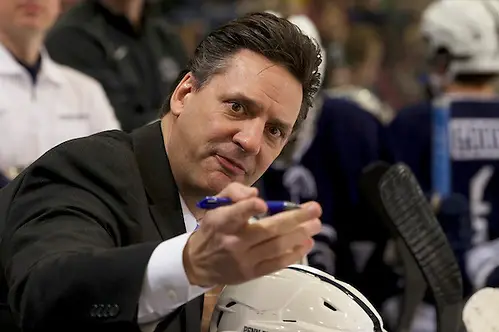 The Big Ten's hockey conference and Penn State will forever be linked.
Of course, when the Nittany Lions elevated their hockey program to the Division I level it gave the conference enough teams be a hockey conference. So it should come as no surprise that the Big Ten's combined 42-23-10 record against nonconference opponents has a lot to do with Penn State.
The No. 3 Nittany Lions go into the holiday break with 13-1-1 record and a nonconference mark of 11-1-1. Penn State will wrap up its nonconference slate with a game against Princeton in late January.
"It remains to be seen how it helps out at the end of the year, in terms of getting into the tournament," PSU coach Guy Gadowsky said. "At this point in the season every program is more worried about itself and trying to improve the most they can."
Naysayers will point to the Big Ten's 10-11-6 record against Hockey East and the NCHC this season and say that takes some shine off of the improved nonconference record. On the same note, Penn State's strength of schedule had gotten called into question. The Nittany Lions have the 33rd-ranked strength of schedule and has gotten victories over two-win Niagara, three-win Alaska-Anchorage and five-win Arizona State.
According to Gadowsky, people tend to forget about three things when talking about the schedule; time, travel and academics.
"For us, and it's always going to be this way, it's very important to Penn State that you miss as little school as possible," he said. "For example, next year we have to change two trips. One we're going to have to go the day of because you have to miss minimal class time. For us, we're always going to play teams close to us."
Gadowsky added that it's important to remember that for the most part schedules are made two or three years in advance. He said that it's "impossible" to try and predict where teams are going to be. There are other factors, too. He said the traveling to Alaska, as the Nittany Lions did last year, was important in terms of getting extra revenue opportunities at home from the Alaska Exception and it was important to play Arizona State because of the fact that his team was in a similar spot a few years ago.
"I remember how thankful we are to the programs that played us, and that's what we want to do for Arizona State," Gadowsky said.
Strength of schedule aside, the Nittany Lions have for the most part have beaten whoever they played during the season's first half. A defeat to St. Lawrence during the second game of the season remains the only loss for Penn State, it is currently riding a 11-game winning streak and is unbeaten in its last 13.
"You've just got to go win the games," Gadowsky said. "There's two things. No matter if you have the hardest schedule in the nation you've got to go win the games or if you have the easiest schedule you've got to go win the games. Period. And if you lose to a team that you should beat, then that's going to really going to affect your RPI and on the other side, if you beat a team that you really shouldn't, you're going to get the benefit of the RPI."
When asked how he thought the team's first-half play would transition to the second half, Gadowsky was hesitant to say much.
"We'll see, right now we're focused on exams," he said. "Right now we're doing pretty well, and you probably don't want to have a 35-day break when you're doing pretty well. What it does allow us to do is focus on our academics, and that's what we're doing."
With 12 of their 19 remaining games being road contests and four series remaining with the conference's other two ranked teams, the Nittany Lions will have ample opportunities to prove their worth.
What each Big Ten team wants for Christmas, probably
Minnesota: A North Star College Cup victory
Minnesota's annual tournament featuring four of the state's five collegiate teams has gotten off to a rough start if you look at its attendance numbers. Since winning the big wooden trophy the inaugural year the Gophers have struggled, too. Even though they won the tournament, the Gophers did it by winning the first game and then tying Minnesota-Duluth and winning a shootout. The rules were later changed to feature a continuous overtime until a winner emerged. Minnesota has gone 0-4, losing to Minnesota-Duluth, Bemidji State and Minnesota State twice, the last two tournaments. Couple that with the fact the Gophers are 2-10 against in-state opponents the past two seasons, including a 1-3 mark this year, and it's safe to say that Goldy's Christmas wish could be for two wins at St. Paul's Xcel Energy Center in late January.
Wisconsin: A sweep
Before last weekend, this could have also worked for Minnesota. Since the Gophers took care of business at Michigan State we'll slide the wish-list item across to boarder. The Badgers have had an up-and-down season so far. Considering the last couple years, that's an improvement. Wisconsin has avoided losing back-to-back games, but its winning streaks have been capped at two twice this season. Sweeping a conference opponent would do wonders for Wisconsin's confidence. The Badgers have the offense to make this happen, it's just a matter of putting two complete games together.
Ohio State: No more ties
If not for Penn State, the Buckeyes would be the story of the season's first half. Ohio State has a 9-2-4 record this year after splitting its first Big Ten series of the season. Nine wins is pretty good and only having two losses is very impressive but ending four games with a tie leaves the Buckeyes wondering what could have been. As Big Ten games dominate the second half of the season, ties also mean that conference points are left on the table.
Penn State: Some road magic
Strength of schedule aside, the Nittany Lions played most of their games at home during the first half of the season. Penn State has traditionally played very well at Pegula Ice Arena and it quickly became a very difficult building for opponents to play in. To have a second half that somewhat resembles their first, the Nittany Lions are going to have to become road warriors. Penn State went 6-5-3 on the road last season, its best mark in program history. PSU went 4-9-0 on the road in 2014-15 and 2-11-0 in 2013-14.
Michigan: Goaltending consistency
Michigan has been a very curious team this season, so it's really no surprise that the Wolverines have experimented with three different goaltenders so far this season. Jack LaFontaine has appeared in seven games and has a 1-4-1 record with the 3.13 GAA. Hayden Lavigne has a 4-2-0 with a 2.29 GAA. Zach Nagelvoort has appeared in five games and has a 2-2-0 record with a 2.52 GAA. Lavigne, who was pulled after giving up six goals to Wisconsin on Friday but responded with a strong performance on Saturday, seems to be the hot hand as of late. Nagelvoort, a senior, won 11 games as a freshman and sophomore but only appeared in 11 games last season.
Michigan State: More scoring chances
The Spartans have only gotten 30 or more shots on goal three times this season. Last weekend against Minnesota they were outshot 78-33. Michigan State certainly wasn't blown out by Minnesota, the Gophers won each game by two goals because of a late empty-net goals, but it's hard to beat a team that's getting more than twice as many shots on your goaltender than you are getting on theirs. More shots on goal does not always lead to more goals, but it does help.
Three stars of the week
First star — Minnesota senior forward Justin Kloos: Kloos led all conference players with five points last weekend. He had a goal two assists during Friday's victory over Michigan State and added two more helpers on Saturday. This is his fifth career Big Ten weekly award.
Second star — Wisconsin sophomore forward Luke Kunin: Kunin scored two goals to help Wisconsin to a 7-4 victory over Michigan on Friday. He assisted on the Badgers only goal in a 4-1 loss on Saturday. This is his third career Big Ten weekly award.
Third star — Minnesota sophomore forward Tyler Sheehy: Sheehy notched a goal in each game for the Gophers last weekend. He assisted on Minnesota's first goal on Friday. This is his fourth career Big Ten weekly award.
B1G in the poll
No. 3 Penn State, No. 9 Ohio State and No. 10 Minnesota represent the Big Ten in this week's USCHO.com Division I Men's Poll. Michigan and Wisconsin each received a single vote in the poll.
My ballot
1. Minnesota-Duluth
2. Denver
3. Penn State
4. Boston College
5. Boston University
6. Harvard
7. Massachusetts-Lowell
8. Quinnipiac
9. North Dakota
10. Ohio State
11. Minnesota
12. Vermont
13. Bemidji State
14. Notre Dame
15. Union
16. St. Cloud State
17. Minnesota State
18. Western Michigan
19. St. Lawrence
20. Omaha
This week's matchup
Northeastern at Michigan State (Sunday, Munn Ice Arena)
Happy Holidays
In case we don't talk before then, I hope everyone has a fabulous holiday season. Don't eat too much…ah, never mind. Go big or go home.