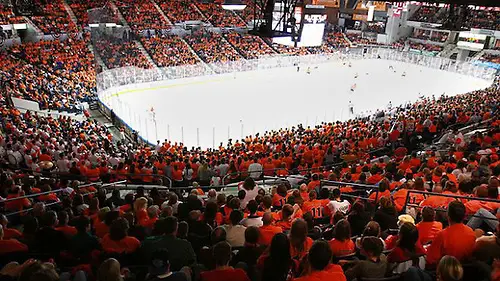 The Atlantic Hockey postseason semifinals and finals will remain at the Blue Cross Arena in Rochester, N.Y., through the 2018-19 season after operating on a year-to-year basis the last few seasons.
The tournament semifinal and championship games have been played at the rink since 2007, with campus sites serving as the championship location prior to 2007. Since moving to a neutral site, the tournament has seen record-setting attendance numbers the last two seasons.
"We couldn't be happier to have this deal done with the Blue Cross Arena," said AHC commissioner Robert DeGregorio in a statement. "We have been able to make the Atlantic Hockey championships a staple of the Rochester area in our 10 years there and are thrilled we can continue our partnership with the arena, (arena GM) Jeff Calkins, and the city of Rochester for another three years."
The city of Rochester recently announced that SMG, who has managed the arena since 2000 and whose contract was set to expire on Sept. 30, 2017, will remain as the operator of the facility. Along with a new contract, SMG will also begin the process of upgrading the arena, using more than $10 million in state funding to target areas that need improvements.
"This commitment by the Atlantic Hockey Conference is great news for the city of Rochester and the Blue Cross Arena," added Calkins. "We value our partnership with the league and the trust they place in SMG and the city of Rochester to host a prestigious NCAA Division I hockey tournament in our community."
Blue Cross Arena will host the 2016-17 conference semifinals on March 17 and the championship game on March 18.