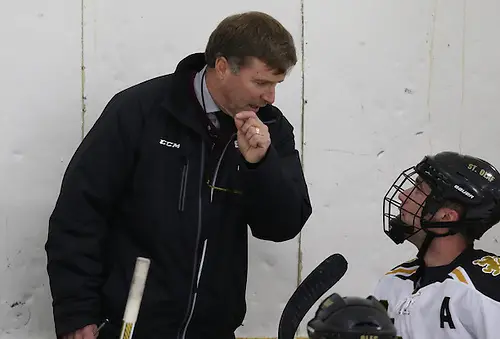 Mike Eaves has traveled throughout the hockey world as a player and as a coach.
Wherever he'd go, he and his family still had roots near St. Olaf College, a 3,000-student liberal arts school in Northfield, Minn., less than an hour south of the Twin Cities.
Eaves and his family have had a cabin on a lake near the college from his days in the mid-1990s working at the Shattuck St. Mary's boarding school in nearby Faribault.
"We've held onto (the cabin) all these years and we would come back in the summer and it was a good place to decompress on the lake," said Eaves, in his first season coaching St. Olaf after a 14-year stint at Wisconsin that ended with his firing last spring. "Now, we're living in it full time."
Working at St. Olaf has also allowed Eaves to spend time each day with his oldest son, Ben, who was hired as an assistant and strength and conditioning coach for the Oles. When Ben was hired, an informal conversation was had regarding whether Mike would consider joining the staff as head coach.
Following formal conversations, Mike was offered the job as head coach.
"That's been a blessing," Eaves said of working with his son. "You see this office, it's 10 (feet) by 12; he sits right there and we're able to see each other every day. Together, we're trying to create something here and a culture here. That's been really fun."
Unique challenges
St. Olaf takes great pride in its academics.
"I sit around all day and I'm doing hockey things," the older Eaves said, "and when I get on the ice, I'm ready to go. But these kids are coming from neuroscience class, and chemistry class, and econ class and they've got so many other things going on.
"I've had to adapt to what they've got going on."
Eaves may be more demanding than the players anticipated when they chose to be Division III athletes at the academically challenging school, but that's all part of the excellence the school is striving toward.
"St. Olaf College prides itself on excellence," athletic director Ryan Bowles said. "We want to provide a great experience for student-athletes. We think winning and competing is a part of that and that's what we hope and expect Mike to bring in for us."
Eaves had success preparing players at Wisconsin for their lives professionally, and he hopes to do the same at St. Olaf. But he had a much bigger support system in Madison to help out with that task.
In Northfield, Eaves has had to retrain himself in the trades of skate sharpening and laundry, among other things.
"Any Division III coach will tell you, we wear so many hats," he said. "The difference between Division I and here is you have people to do things for you there."
He said he had to call UW equipment manager Nate LaPoint for tips on washing jerseys and socks for the players.
"That's all part of the duties here," Eaves said. "There have been nights that we've been hanging laundry together. Our guys have work study, so they're in there doing laundry. We're folding laundry and hanging up jerseys and socks."
'Change can be a very good thing'
No one wants to get fired.
But few people could turn a thing like being fired from your alma mater into a positive like Eaves has been able to do.
"We think about collegiate hockey being amateur and it is in some aspects," Eaves said. "In other aspects, it's very much a business. We weren't putting butts in the seats, our record wasn't what it needed to be in order to do that. So changes were made.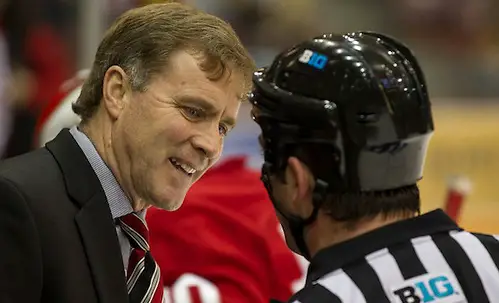 "I've been fired a couple of times in my life. I've been in this business for over 30 years and it happens. Change can be a very good thing."
Perhaps Eaves would have liked to retire as the coach at the school where he is the all-time leading scorer.
"I've learned more and more over the last ten years that part of the thing that makes him tick is that he loves new challenges," the younger Eaves said. "Not that every year or season isn't a challenge, but to be stimulated and out of his element. He truly enjoys that — it satisfies him."
Eaves' dismissal from UW was seen as a relief of sorts for the family, which includes wife Beth and younger son Patrick, an NHL player for the Dallas Stars.
"He was always fine," Ben said. "But it was hard for us to know that the more they struggled, the more he wanted to dig into it. His response is always to work harder.
"For a lot of us, it was kind of a breath of fresh air that he was released."
Boat to shore
In 2012, the Badgers started out slow. Eaves said the team would be fine, but it would be more like turning around a steam liner in the ocean. It would take time. Wisconsin ultimately won the WCHA tournament championship that season in its final year in the league.
The nautical references have followed Eaves to St. Olaf.
"A young man this year was talking to our team and he said he had a coach that would ask if the boat got to shore," Eaves said. "Don't tell me about the waves, I want to know if the boat got to shore."
Eaves put together a 267-225-66 record at Wisconsin and won the 2006 NCAA championship. The Badgers returned to the national championship again in 2010, but lost. It was the same year Blake Geoffrion because the first Wisconsin player to win the Hobey Baker Award. Geoffrion was one of 26 players that Eaves coached at Wisconsin that went on to play in the NHL.
Unfortunately, having those future-NHL players in the program is a risk as they are inclined to leave school early to pursue the NHL. Kyle Turris left after a season, which left a hole for the program. Ryan Suter left on the first day of class in what should have been his sophomore year.
When guys left early, Eaves and the Badgers couldn't get the boat to shore enough.
The coach tried to adjust by recruiting players that would be more inclined to stay for four years in order to get more consistent results, but it didn't work.
In his penultimate season, the Badgers set modern-era program records for fewest wins and most losses in a 4-26-5 campaign. A year later, Wisconsin doubled its win total, but it was still the second-worst season since the program's reboot in the 1960s. Eaves referred to his young team as puppies as they struggled to compete.
But if they had been able to win, Eaves wouldn't have the opportunity at St. Olaf.
For that reason, Eaves has no hard feelings toward his alma mater.
"I met my wife there," he said. "I got my degree from there. Fourteen great years there. We learned a lot about ourselves in those two years that we struggled.
"What I care about is how we conducted ourselves."
So when Wisconsin athletic director Barry Alvarez relieved him of his duties in March, Eaves understood why it had to happen.
"This was one of the hard things that the coach had to do," Eaves said, referring to Alvarez. "He had to bring me in and make a change. He's the boss; he has to do those things. I've been in his shoes, I've done some hard things, it's not easy, but when you're in that position you have to be willing to do those, or, you know what, you should get out of that position."
And so, for Eaves, it's back to the cabin — on to the next riddle; on to the next challenge.
"We tell our guys in the game of hockey, every game is a riddle and there's no textbook answers," Eaves said. "It's the same in life. It's a riddle and there's no textbook answers.
"The one common denominator that's good every day, and it's been a huge blessing, is that I get up in the morning and the lake is there and I go home every night and lake is there and it's that calming effect."