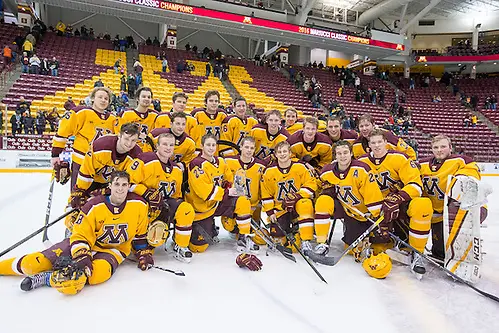 After recording his first collegiate hat trick in Minnesota's 5-1 win over Mercyhurst in the Mariucci Classic last Friday, Brent Gates, Jr., said, "I feel like if you're trying to work hard and do the right things, bounces happen from time to time."
Maybe the sophomore forward wasn't intending to be philosophical, but what a fitting idea to begin the new year and kick off the second half of the 2016-2017 season.
After all, January brings with it all the hopes and goals that piggyback on every new calendar year, but for the six teams in the Big Ten, January also ushers in a full slate of conference play with just 10 weekends of hockey between now and mid-March to determine postseason plans.
The Gophers were one of four B1G teams playing this past weekend and the only team that can count the weekend as a success. With that 5-1 win over Mercyhurst and 4-1 win the following night over Massachusetts, Minnesota captured the Mariucci Classic for the first time since 2012 – a first for this season's senior class.
"It's something we talked about with our seniors," said Minnesota coach Don Lucia. "They've won a lot of games, Big Ten championships and played for a national title at the Frozen Four and everything, but we haven't been able to win [the Classic].
"I'm really happy for Schierhorn, the way he played this weekend. That's without question the best he's played this year on a given weekend. We're a much better team when he plays like that. It makes a difference with our penalty kill."
Midseason hardware like this can help propel a team through the second half of a season, but good momentum can be overcome quickly with inconsistent goaltending. Sophomore Eric Schierhorn (2.17 GAA, .894 SV%) has fought that particular bug for two seasons but appears to be improving, with a goals-against average of 1.5 in his last four games, all wins.
His increasing steadiness will help with a maturing Minnesota penalty kill, now 31st in the nation (83.1) but one that kept opponents 0-for-12 in the Mariucci Classic.
Lucia said that his team was good "from goaltending right on out" in the two games, and that his squad "versus last year's team" is "a little bit more veteran." That experience shows in Gates' play at midseason. As a freshman, in 35 games Gates netted three goals. He has nine already this season.
This season, Gates said that he's seeing the ice better. "I've tried to adjust my game playing with different players, guys who see the ice really well and I'm trying to get open to get pucks and shoot. Hopefully they'll go in."
Gates said that keeping the rust away during the holiday break was a matter of accountability. "I didn't want to go home and just sit on the couch and eat, even though it's tempting. It's tough but just because you're home and you might want to do other things and relax – which you can – but kind of having that end goal and knowing back to a team of guys, a team of brothers who really have and end goal and want to make a run."
Junior Leon Bristedt had 20 goals last season but came into the weekend with just five. Bristedt endured a seven-game, month-long scoring point-scoring drought from the end of October through the end of November, but began his second half with a goal and two assists in the Mercyhurst game.
"As an upperclassman and as I look at myself, I think I have a responsibility to help all the guys getting better," said Bristedt. "I should be that guy the coaches and the team rely on."
Bristedt said that "it's natural" for everyone to want to improve. "You want to take a step as a hockey player, you want to take a step as a leader. We all want to play on the next level. If you can elevate your game, if you can elevate your leadership, I think you should, so that's what I'm trying to do."
Minnesota came out of the first half of the season among the top 16 teams in the PairWise Rankings and now sits at No. 10 after the Mariucci Classic wins. The Gophers also went 3-1-0 in their first four Big Ten games to end the first half, putting them in a good position to make that run that Gates alluded to.
Said Lucia: "We'll take our two wins and move on, have a couple of good weeks of practice getting ready for Michigan and back into Big Ten play."
Minnesota has a bye this weekend before hosting Michigan Jan. 13-14. The Gophers' schedule isn't easy down the stretch. Minnesota begins February by hosting No. 2 Penn State, followed by two straight weekend of travel to take on No. 11 Ohio State and Penn State again.
The GLI at the JLA
Sometimes, all it takes is one sentence from Red Berenson to put things in perspective.
After beating Michigan State 5-4 in overtime of the Great Lakes Invitational consolation game, Berenson said, "If you've got a car with a flat tire and you won't admit it, you're not going to get very far."
The Wolverines were the only other Big Ten team to win a game this past weekend, that single game over Michigan State on Friday, a game Michigan led 4-1 at the start of the third period. It was the best game that either the Wolverines or Spartans played in the tourney. Michigan was shut out in the first round Thursday by Michigan Tech, 2-0, and tournament champ Western Michigan beat Michigan State 4-1 on Thursday as well.
And until the Spartans scored three unanswered goals in the third period of their game against Michigan to send it to OT, the hockey that both they and the Wolverines played was generally uninspired.
In past years, either the Spartans or the Wolverines could have captured the GLI title and used that momentum to help spur them on through the end of the season.
Not this year, though.
The Wolverines began league play in December with three losses and a win; Michigan State was 0-2 in B1G play in December and went 0-5-0 in Division I play for the month.
Players on both teams pointed to a lack of consistency as problematic.
"Consistency is key," said Mason Appleton, who scored a goal seven seconds into the third period to ignite Michigan State's comeback in the game against Michigan. "Special teams were a big thing all weekend. Penalty kill wasn't where we wanted it to be Thursday night and obviously special teams at the college level are really key because five-on-five goals are hard to come by. I think going forward, what I take away is that it's going to be a special teams battle for us.
"We've got to get better, both on the penalty kill and the power play, and then five-on-five we've got to keep doing the things we're doing to get the success we want."
Appleton leads the Spartans in scoring with eight goals and eight assists. He's scored six of his goals on the power play. Michigan State has scored 38 total goals this season, 46th in the nation.
Appleton said that the third-period comeback showed that the Spartans have what it takes to succeed when they play as a unit. "Especially in that game I thought when we have 20 guys pulling up the same way, we get the results we want. I think it's going to take all 20 of us to get the wins and the results that we want."
Zach Osburn, who assisted Appleton on that goal, said that Michigan State needs to move forward.
"Now we've just got to go back to the drawing board and pull out a good week of practice and go into the Big Ten schedule on a good note," Osburn said.
The Spartans will head to Wisconsin for games Jan. 6-7, while the Wolverines won't return to play until their road series against Minnesota Jan. 13-14. Michigan, though, will return to Big Ten play on a winning note, one that they owe in part to the return of sophomore Cooper Marody, who sat out the first half of the season because he was academically ineligible. In the win over Michigan State, Marody had three assists to lead the Wolverines in points.
"The first game back it's going to be a lot different than just practicing," said Marody. "It's been a while since I've played up to that speed and I think after a day playing together, me and Alex [Kile] had good chemistry and as a team we just played better, which helped us do better."
Tony Calderone had two goals in the game against Michigan State, including the overtime game-winner. With 10 goals on the season, Calderone is one goal shy of his career-best 11 from a year ago. He's also optimistic about the Wolverines' second half.
"We're under the radar right now and you can play against a team that maybe overlooks you a little bit," said Calderone. "I think we've shown this year that we can play with just about anybody, but we're just not consistent. We can have one good period and then have one really bad period and that can cost you the game, so if we can be more consistent and play the game we're capable of playing we can match up against anybody in the Big Ten."
Berenson said that the weekend at the GLI This weekend will help. "This is a learning experience. Sometimes you leave here with a lot of confidence and I think we're going to leave here with some resolve and some awareness and look at this and say, 'These are the areas we've got to fix.'
"We're going to stop and fix the flat. It's not as easy as that, but that's what we'll take out of this tournament."
An afternoon to forget
The fourth B1G team to play this past weekend was Ohio State, a Saturday afternoon 6-3 home loss to in-state rival Miami.
It's tough to call the Buckeyes to win home games against the RedHawks, since it hasn't happened since March 1, 2013. In the last 19 games between the Buckeyes and the RedHawks, Ohio State is 2-13-2.
"It was one of those nights," said OSU coach Steve Rohlik. "We didn't take care of the puck, we didn't play with a sense of urgency. When you're playing a very good hockey team, you have to bring it. There's no excuse."
The RedHawks scored four third-period goals in that win, all between 12:03 and 16:55. Ohio State captain Nick Schilkey said that the Buckeyes couldn't use rust as an excuse for bad play and now they need to look ahead. "We have to shake it off and come back ready to play a really good team in Penn State," said Schilkey.
With the loss, the Buckeyes dropped from a comfortable top-10 place in the PairWise Rankings to the bubblish No. 13. This weekend, the 11th-ranked Buckeyes welcome No. 2 Penn State to Columbus for games Jan. 6-7.
Three stars of the week
It's all Minnesota.
First star – Minnesota sophomore goaltender Eric Schierhorn
Schierhorn (Anchorage, Alaska) had a .968 save percentage and 1.0 goals-against average as the Golden Gophers captured the Mariucci Classic. Schierhorn led all B1G goaltenders with 60 saves as well. This is his fourth career weekly Big Ten award and his first this season.
Second star – Minnesota senior forward Justin Kloos
Kloos (Lakeville, Minn.) had four points in the Mariucci classic, including a goal in each game and two assists in Saturday's title-game win. Saturday's three-point game was Kloos's 36th career multi-point effort. This is his sixth career weekly Big Ten award and his second this season.
Third star – Minnesota sophomore forward Brent Gates, Jr.
Gates (Grand Rapids, Mich.) recorded his first career hat trick in Minnesota's 5-1 win Friday, the fourth hat trick in 26 years of the Mariucci Classic. The three-point game was also a career high for Gates. This is his first weekly Big Ten award.
My ballot
1. Minnesota-Duluth
2. Denver
3. Penn State
4. Harvard
5. Boston University
6. Mass-Lowell
7. North Dakota
8. Minnesota
9. Boston College
10. Ohio State
11. Western Michigan
12. Union
13. Vermont
14. Notre Dame
15. St. Cloud
16. St. Lawrence
17. Omaha
18. Michigan Tech
19. Army
20. Quinnipiac