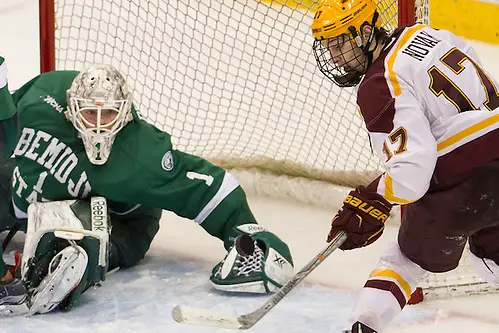 Minnesota announced Monday that sophomore forward Tommy Novak will miss the remainder of the 2016-17 season with a lower-body injury.
Novak, a Nashville Predators prospect, suffered the injury in Minnesota's win over Michigan on Saturday, Jan. 14.
"We're really disappointed for Tommy and losing him for the year is a big blow for our program," Gophers coach Don Lucia said in a statement. "The good thing is that we are lucky to have some of the top medical professionals in the country here at the University of Minnesota and we know that Tommy will be in great hands as he recovers and rehabs from this injury."
Novak has played in all 57 games and has 41 points (11 goals, 30 assists) since joining the Gophers last year. In 20 games this season, he has 14 points (five goals, nine assists).