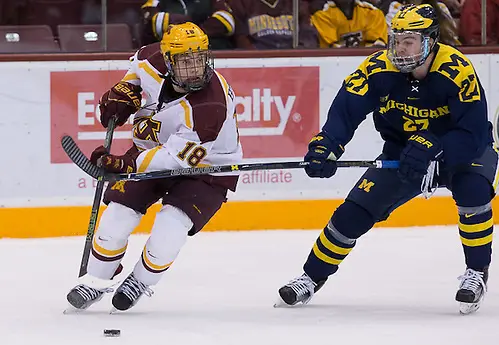 Here we are in mid-January, and the hottest Big Ten match of the weekend is between No. 1 Penn State and No. 13 Ohio State.
Let that sink in for a second.
Along with the Nittany Lions and the Buckeyes, Minnesota is among the top 20 teams in the nation, ranked No. 7 this week. Not only are there three B1G ranked teams currently – or half the league's members – but for the first time since its inception in 2013-14, the Big Ten has three teams that have remained so competitive through the first half of the season that the three are currently among the top 16 teams in the country in the PairWise Rankings.
Penn State is No. 1 overall in the PWR, Minnesota is No. 8 and Ohio State is No. 13 – and all three of those teams give the league more than a little post-season hope.
But I digress. Penn State is No. 1.
Penn State. A team that has fewer than five whole seasons as a Division I contender. The Nittany Lions are 16-2-1 so far this season.
The Nittany Lions
There has been a lot of talk about Penn State's early season strength of schedule, but there are several things to point out regarding that. Teams often make schedules years in advance and with as many nonconference games Big Ten teams need to schedule in the first half of the season, getting opponents to commit can be challenging. Coaches don't often have a lot of control over who they're playing or where or when – ask Minnesota's Don Lucia about his road-heavy first half for a tutorial on that – and Guy Gadowsky put together the most rigorous schedule he could for the first half with willing opponents, and he did so when the Nittany Lions were fairly new to Division I.
So there's that.
Another thing about that strength of schedule: Who cares? Even if the Nittany Lions had been some sort of weak sister at the start of the season – and it's clear now that they weren't – they put together a run of 13 unbeaten games from Oct. 14 through Dec. 2, which is no easy thing to do no matter who you're playing. And it's clear now that the Nittany Lions were far better than even they expected to be. Good teams find ways to beat teams they should beat.
And now the Nittany Lions are first in the PairWise Rankings and were voted into first place in the USCHO.com Men's Division I Poll, something that many teams that have been around for a lot longer than just four years and change have never been able to do.
This is the stuff that fans and writers discuss ad nauseum, but do you know who really doesn't put much stock in such things?
Penn State, that's who.
"We never talk about," said coach Guy Gadowsky.
And the players, do they talk about it?
"I've never heard it," said Gadowsky. "Not once."
Gadowsky is aware of the team's ranking, of course, and knows that it can change with a single play in a single game. He also knows that it matters to other people. "I think it is really good for the program and for our alumni and our fans, and it's good for the administration that's supported us so much."
According to Gadowsky, the biggest thing on the minds of the Nittany Lions as they prepare to host Ohio State this weekend is penalties. "We have a long way to go. For example, I know how many penalties we took last year. For us, that is very much on the forefront. We're working on that every week."
Gadowsky likes his team to play a very persistent, physical style of hockey but he doesn't want that to translate into penalties. Last year, the Nittany Lions were 34th in minutes nationally, averaging 10.4 per game. This year, they're 52nd but averaging more minutes per game (11.4). Last year's penalty kill was a dismal 40th (80.4) but this year's is fourth in the nation (89.0).
Last weekend, Penn State swept Michigan State 5-2 and 5-3, but the Spartans scored on the power play each night. When the Nittany Lions split with the Buckeyes two weeks ago, the only two goals Ohio State scored in the game the Buckeyes lost to Penn State were with the man advantage.
"It's finding the sweet spot.," said Gadowsky. "Quite honestly, I thought we worked a lot on it at the start of the year and I thought we were there. We're trying to find that sweet spot between aggression and passion."
Whatever Gadowsky's doing is working. The Nittany Lions have the top offense in the nation, averaging 4.58 goals per game, and their tied with Army for third-best in the nation for average goals against (2.00). There are a lot of guys on the Penn State roster that have scored goals. Sophomore Chase Berger has become something of a power-play specialist with six of his 10 goals scored on the PP. Senior Andrew Sturtz leads the team in goals (14) but freshman Denis Smirnov (11-18—29) leads the Nittany Lions in overall scoring. Smirnov scored a goal so sweet against Michigan State Jan. 14 that it was featured on ESPN's plays of the day.
"You know what's amazing about him?" asked Gadowsky. "His feet move quickly, his hands move extremely quickly, but his head looks like he's reading a magazine on a hammock."
Offense, defense and steady goaltending from freshman Peyton Jones (2.04 GAA, .918 SV%) have the Nittany Lions clicking on all of the proverbial cylinders right now. That could be bad news this weekend for Ohio State, a team that is a few cylinders down.
The Buckeyes
Ohio State is the team that halted Penn State's undefeated streak just two weeks ago, when the Buckeyes shut out the Nittany Lions in Columbus, 3-0 (Jan. 6). Last weekend, Ohio State defeated visiting Arizona State 6-1 before tying the Sun Devils 2-2.
"I wouldn't want to play the same team four games in a row in league play," said coach Steve Rohlik, "but it's just kind of the way it worked out."
Rohlik said that he expects the Nittany Lions to be even harder to beat this weekend on Penn State's home ice. "It's a fun place to play," he said. He was being sincere.
The Buckeyes are a team loaded with talent, picked to finish first by B1G coaches in the preseason poll, and seeming cursed to forever play without a full roster. In that 2-2 tie against Arizona State last weekend, Buckeye senior captain and leading scorer, Nick Schilkey, exited the game midway through the first period with an injury. Schilkey, who has 17 goals this season, may not play this weekend.
Like Schilkey, there are a number of other Buckeyes that are listed day-to-day. Forward Tanner Laczynski returned from the IIHF World Junior Championship with a gold medal and an injury; he played a little against Arizona State. Junior forward Matthew Weis hasn't played since Ohio State's 6-3 loss to Miami on New Year's Eve. Sophomore forward Dakota Joshua has been out since Ohio State's 8-3 win over Minnesota Dec. 3. That's four important frontmen that may not be available to play against the top team in the country this weekend.
"We've only played four games in the Big Ten so far," said Rohlik, "so it's kind of the stretch drive. Certainly it's going to be a battle all the way down the stretch. Everybody goes through the injury thing, though. It's just that the handful of guys we do have [out] are the guys you're counting on."
Rohlik said that he hasn't been able to put together a full roster for many weeks now, and lines change from week to week. "We've had a different power play for eight games in a row. It really puts an onus on continuity. Literally since November we've had a different power play every game. Our lines, guys are not sure if they're playing with this guy or that guy right up until the day of the game.
"What you do between Monday and Thursday certainly prepares you for the weekend but at times, when those lines are different week to week, and you see a stat sheet from the other team and it's the same lines they've been playing all season, you shake your head."
Rohlik may be a little frustrated, but he stressed repeatedly that the injury bug is something every team encounters and he's not complaining. He also credits his team for the way they've been able to compensate this season. Ohio State's offense is second in the nation, averaging 4.20 goals per game and the Buckeye power play – the one that hasn't been the same game to game since November – is third in the nation (25.6).
"I like our group," said Rohlik. "I like our culture. There's a difference between expecting to go into games and keeping them tight and going into games expecting to win. Certainly, our guys go into every game thinking they can win every game."
The Buckeyes are 11-4-5 this season, but since the beginning of December they've gone 3-3-1. Against the Nittany Lions, Ohio State is 10-6-0 all-time, and the teams split a pair of games in Columbus the first weekend of January 2017.
This series will be played in State College, with the games beginning at 7:00 p.m. both Friday and Saturday. Sadly, neither of those games will be televised.
There are rivalries, and then there are rivalries
While neither B1G team from Michigan has been experiencing a season that can be deemed successful, there is no denying the intensity of play when Michigan and Michigan State meet, as they will this weekend for the 311th and 312th games.
Or the 306th and 307th games.
This rivalry is so intense that the two schools can't even agree on how many games they've played. According to Michigan, prior to this season, the Wolverines were 155-130-19 all-time against the Spartans. According to the 2016-2017 Michigan State hockey media guide, Michigan State has an all-time record of 131-159-19 against Michigan. Given that the Wolverines beat the Spartans in the third-place game of this season's Great Lakes Invitational Tournament, that means that the teams have met 309 times previous to this season according to Michigan State, and 305 times previous to this season according to Michigan.
At least they agree on the number of ties. That's something, right?
The Spartans are looking for their first conference win of the season, which would be especially sweet were it to come against the Wolverines this weekend.
Since the dissolution of the CCHA, these rivals have met 12 times in Big Ten regular-season play, three times in the GLI, and once in the Big Ten playoff tournament. In that span dating back to 2013-14, Michigan is 11-5-0 against Michigan State, including two GLI wins and that B1G playoff game.
Michigan hopes to return its leading scorer, freshman Will Lockwood, this weekend against the Spartans. Lockwood last played when the Wolverines beat the Spartans 5-4 in overtime of this year's GLI third-place game.
The other intense long-time rivalry for B1G hockey this weekend is the series between Minnesota and Wisconsin. These are two more teams who can't agree on how many times they've met. According to Minnesota, the Golden Gophers and Badgers have met a total of 277 times with the Gophers holding a 164-90-23 lead. According to Wisconsin, it's 276 times with Minnesota ahead 162-21-21.
The teams have met a total of 12 times as Big Ten conference rivals, with Minnesota leading that in that span 7-3-2.
Minnesota sophomore forward Tommy Novak will have to miss the rest of the season because of a lower-body injury sustained in Minnesota's 4-2 win over Michigan Jan. 14.
All four of these hotly contested games will be televised. The Big Ten Network will cover both games between the Spartans and Wolverines. It's a home-and-home series, with the game Friday, Jan. 20 beginning at 6:35 p.m. in Michigan's Yost Ice Arena and Saturday's game in Munn Ice Arena starting at 7:05 p.m.
Wisconsin hosts Minnesota for the whole weekend at the Kohl Center. Friday's game begins at 7:07 p.m. CDT, Saturday's at 5:07 p.m., and each game will be carried by both Fox Sports North and Fox Sports Wisconsin Alternative Channel.
Three stars of the week
Two forwards and a goalie, from three different teams.
First star – Penn State sophomore forward Chase Berger
Berger (St. Louis) had three goals, including Saturday's game winner, and an assist in Penn State's home sweep of Michigan State. Berger has at least one goal in his last three consecutive games. He has 10 goals and 8 assists through 19 games this season, after registering 26 points (13-13—26) his freshman year. This is his second career weekly Big Ten award and his first this season.
Second star – Minnesota senior forward Vinni Lettieri
Lettieri (Excelsior, Minn.) netted his first career hat trick in Minnesota's 4-2 home win over Michigan Saturday night – a power-play goal, a penalty shot and an empty-net goal. Lettieri has 11 goals and nine assists through 20 games this season; in 37 games last year, he had seven goals and 19 assists. This is his second career weekly Big Ten award and his second of the current season.
Third star – Ohio State senior goaltender Christian Frey
Frey (Arlington, Tex.) led the conference in save percentage (.953) and goals-against average (1.44) in Ohio State's series against Arizona State. He allowed three goals in the win and tie, none at even strength. This is Frey's eighth career weekly Big Ten award and his second of the season.
My ballot
1. Penn State
2. Boston University
3. Mass-Lowell
4. Denver
5. Minnesota-Duluth
6. Minnesota
7. Harvard
8. North Dakota
9. Boston College
10. Ohio State
11. Western Michigan
12. Union
13. St. Lawrence
14. Vermont
15. Notre Dame
16. Cornell
17. Michigan Tech
18. Air Force
19. Omaha
20. Quinnipiac