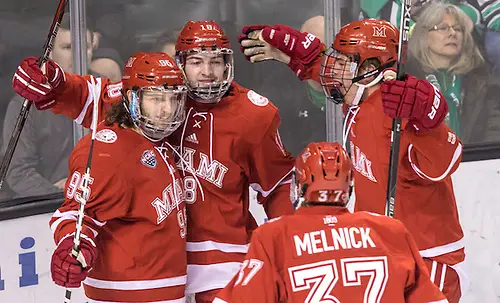 After starting the second half of the season with a three-game win streak, Miami seemed to have come crashing back down to earth Friday night against North Dakota, trailing the Fighting Hawks 3-1 entering the third period.
North Dakota hadn't lost a game it was leading entering the third period since 2013, a streak of 83 games, and was also riding a three-game win streak in which the Hawks had scored 19 goals, including six in the third period.
Further, Miami had in the first half of the season shown it had trouble scoring goals.
Instead, Miami rallied with five goals in the third, sparked by Anthony Louis scoring just 32 seconds into the third period to get things going. Carson Meyer scored at 4:03 to tie it, then Karch Bachman scored what would prove to be the game-winner at 7:49. Miami didn't score any of its five third-period goals into an empty net, and only the last one, at 15:58, was scored on a power play.
The next night, Miami again trailed 3-1 entering the third period, but couldn't rally, as North Dakota clamped down defensively and limited the RedHawks to six shots in the period.
"I thought we were playing well really from the start of the game and were getting some chances," said Miami coach Enrico Blasi. "I thought it was a continuation of the momentum from the second period. Anthony Louis and Carson Meyer made some really good plays. We just needed to be a little hungrier around the net; that's really all it was. We were opportunistic on our chances, and it was a good team win."
Louis also scored in the loss Saturday. He currently leads the team in scoring with 28 points. He has scored in every game during Miami's last seven games, in which the RedHawks have gone 5-1-1, and he has had three multi-point games in that span.
"Well, he's been a second-half player since he got here, so again not a surprise," said Blasi. "In this day and age when guys are drafted, or not even drafted but a free agent, and go to the pros, to see a guy like that who stayed all four years have success means a lot not only to the program, but to the locker room."
For Miami, the season has gone back and forth in streaks. After starting well, going 3-1-2, the RedHawks failed to get a win from Oct. 29 through Dec. 9, a stretch of 10 games in which Miami went 0-7-3. Miami closed the first half by beating Colorado College in overtime 3-2 and then got off to a good start in the second half.
Asked if the break enabled Miami to reset its mindset, Blasi responded affirmatively.
"I think it was probably all of that; I think we were playing pretty good hockey in the game against Nebraska-Omaha, then we played really well in Denver, a few ties there in November. Maybe we didn't have the results we wanted against Cornell, but I thought we played hard.
"Then we had guys who were injured, Carson Meyer, guys like that, who weren't in the lineup. Last weekend was really the first series where we had pretty much everybody back. It was good for us that we got to start the year healthy. The guys have had good energy and a good attitude, and we've practiced the way we want to practice."
One strength of Miami's has been its penalty kill. The RedHawks limited North Dakota to a five-on-three power-play goal Friday. The PK is ranked 15th nationally, clicking at 85.8 percent.
"The penalty kill is all about hard work and outworking the other team's power play, so blocking a lot of shots, getting in position in shooting lanes, things like that," said Blasi. "There's a commitment level to the penalty kill, there's a structure that we have, but at the end of the day it's about the sacrifice and our guys are buying into that."
This weekend, the RedHawks travel to Omaha, and Blasi and his players know they need to be sharp to have a different result than the last time, when they were swept at home by Omaha in November.
"They're a good hockey team, they score in bunches, and they have a great power play, so we have to be ready to compete, and play defense, and be disciplined. We are going to focus on our preparation and be ready to play Friday night."
Sandelin notches 300th win at Minnesota-Duluth
Winless in the first three games of the second half, Minnesota-Duluth had to feel good about where it was at 4:25 of the second period Saturday night against St. Cloud, when Dan Molenaar scored to make it 3-0 Bulldogs.
Barely eight minutes later, the score was tied 3-3. However, Duluth regrouped, and Kyle Osterberg scored at 2:33 of overtime to give Minnesota-Duluth its first win in 2017. The win was also the 300th career win for Bulldogs coach Scott Sandelin.
"Quite frankly I was more happy to get the three points," said Sandelin. "It was a much-needed win for our team. The 300 was great, but that was the most important thing in the moment. I'll probably reflect on it a little bit more deeper. It's cool , I guess. I always like to joke though that if you put that in comparison to Jerry (York), it doesn't seem like a lot."
Another plus from Sandelin's perspective was the way his players regrouped after giving up three goals in the second period. Though it took overtime, he thought his players had their chances in the third to win it.
"Our guys kept their composure and didn't panic and had some opportunities in the third period and capitalized on the one in overtime," said Sandelin. "It doesn't matter how you win (laughs). We've won games different ways all year, so it was just another way, and they showed a lot of character and stayed with it when it could have gone the other way, but again, kind of the resiliency of this team."
Duluth entered 2017 ranked first in the nation, and opened its second half by hosting lowly Colorado College. It seemed a perfect matchup to start the second half well and get some momentum, but the Bulldogs struggled to score on Alex Leclerc, getting a tie Friday night and losing Saturday.
This past Friday against St. Cloud, the Bulldogs again struggled offensively, only scoring once. If it hadn't have been for Neal Pionk's extra-attacker goal with 42 seconds left in the game on Friday against CC, it would been three straight that the Bulldogs only got a single goal.
Sandelin, therefore, was happy to see his team break out for four goals against St. Cloud Saturday, but knows there is still some work to do.
"I think number one the Friday game against CC was their goalie played well," said Sandelin. "We came out with 45 shots, about 80 shot attempts, and he made some good saves. Again, getting to the net more. I thought against them, they do a very good job of clogging the middle and we didn't do a very good job of getting pucks through and getting traffic at the net. I thought that was more evident Saturday than Friday, because I thought we had a lot more chances to score on Friday. Saturday, we didn't get to the net quite as much.
"Friday against St. Cloud, I won't say we had plenty of opportunities; I thought their grade A's outnumbered ours about 10-7. I thought we did a better job Saturday of getting to the net and getting into those areas where you need to be and driving hard to the net and it paid off with some goals."
One part of the offensive struggles has been the struggles of the power play unit, which had a single five-on-three power-play strike against CC on Friday, and one power-play goal Saturday against St. Cloud. In the first four games of 2017, UMD's power play is 2-for-18.
"You know what, sometimes it comes down to simple execution," said Sandelin of the power play. "We've had some good puck movement and we haven't executed some of the plays or looks that we want to. I won't say we've gotten too fancy, but it's just missing those plays and maybe being a little hesitant. Again, the puck needs to get to the net, and we've had some opportunities to do that, but we for whatever reason have held onto it too long or got out of position too low to set up certain plays, and I think that's been a big part of it."
This weekend, the Bulldogs travel to Grand Forks to take on North Dakota. It's always a tough series, and will be made tougher for Duluth since North Dakota will be extra motivated after the Bulldogs swept them last time in November.
"They are firing on all cylinders," said Sandelin. "They had a blip in the third period against Miami Friday, but certainly when you have a healthy Brock Boeser that makes a difference. They're a good team. They were a good team early; they certainly weren't where they are now. I think they are a better team and riding a pretty good wave here going back to right after Christmas. Again, it's always a tough place to play, but you're going to be under pressure. Every inch on the rink is going to be contested. You have to battle. It's going to come down to that.
"Overall, we have to go in and compete hard and execute plays and defend well against them, but we know it's going to be one of those hard-fought battles in there like it always is and you have to try to take the crowd out of it early, because they really feed off that too."
NCHC Players of the Week
Offensive Player of the Week – Anthony Louis, Miami: Louis' goal 32 seconds into the third period Friday on the road at North Dakota helped spark a rally, as Miami came back from a 3-1 deficit to defeat North Dakota, 6-3. Louis added an assist on the last goal, the fifth of the period for the RedHawks, and finished the night plus-2. Saturday, he had Miami's only goal in a 3-1 loss, tying the game early in the first period. He finished the weekend plus-2, and is third in the NCHC in points with 28.
Defensive Player and Rookie of the Week – Jack Ahcan, St. Cloud State: Ahcan, back in the lineup after playing the IIHF World Junior Championship and earning a gold medal with Team USA, helped St. Cloud State earn a road split with NCHC conference leader Minnesota-Duluth while playing on his team's top defensive pair. Friday, he scored St. Cloud's only two goals, including the game-winner in the second in a 2-1 win while finishing plus-2 and helping the penalty kill go 5-for-5; he earned the game's first star for his efforts. Saturday, he had an assist on a goal that tied the game at three in the third period before Duluth won in OT. He finished with a plus-3 on the weekend.
Goaltender of the Week – Tanner Jaillet, Denver: Jaillet helped Denver earn a split on the road against Western Michigan, holding the Broncos to a single goal in each game. Friday, he made 27 saves in a 3-0 loss, with Western's final two goals coming into an empty net. On Saturday in a 7-2 win, Jaillet played the first 50 minutes and made 22 saves while earning the game's first star. He finished the weekend with a 1.10 goals-against average and .961 save percentage, and is now second in the conference in goaltending with a .927 save percentage and 1.92 goals-against.