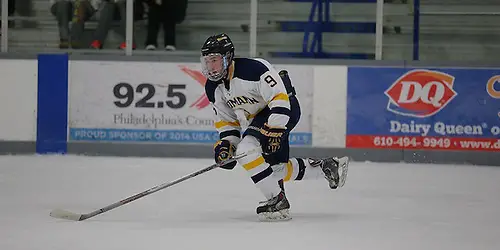 For Neumann senior forward Jory Mullin, this season has really showcased the culmination of a lot of hard work, great teamwork, and the payoff in results. In his first three seasons at Neumann, Mullin never scored more than 20 points in a full season, having recorded 14 as a freshman, 17 as a sophomore and 20 in his junior season. Mullin has also surpassed his high-water mark of 11 goals in a season, which he achieved in his sophomore campaign. So far through 17 games in his senior campaign, the Knights' forward has already recorded 35 points and has a realistic opportunity to reach the coveted century mark for his career before the season's end.
To what does Mullin attribute this year's success, where he has already recorded 19 goals and 16 assists for his 35 points, including five power-play goals and three short-handed tallies?
"I guess first it is the opportunity to play," stated Mullin. "Not only do I get a lot of ice time playing five-on-five, I also play a lot of special teams, which means there are better opportunities for me to score and get points. We have a very experienced roster with a lot of seniors here this year, and we have played a lot together over the prior three seasons so the experience and chemistry with my teammates has also been a big factor in having better productivity this season. We know each other very well and have been able to create more and better scoring chances. I guess the other obvious thing is I am shooting more this season. When the opportunities have been there, I have been taking the shot and have been fortunate to have more pucks find the goal so far this season."
Fortunate may not quite be as accurate as Mullin's shooting has been. Case in point, Mullin walked away with tournament MVP honors at the Skidmore Invitational held just after Thanksgiving, when he recorded hat tricks in both wins over Fitchburg State in the first round and Skidmore in the championship game. His line for the weekend was 6-2-8, which included four even-strength goals, one power-play goal and one short-handed goal — really showcasing his versatility and ability to be dangerous in any situation on the ice.
You would think that someone with Mullin's penchant for scoring would garner some special attention from other teams. It is certainly not a surprise to Mullin, who has noticed some special attention from teams.
"I definitely have noticed some of the same numbers in games trying to match up," said Mullin. "I think the problem with that is our depth and skill across our lines, and as I said before the experience we have playing with each other for going on four seasons now. It may be possible to stop one line or me or other teammates for a game, but we all pick each other up and that is difficult to manage defensively for a lot of teams."
The Knights are 11-4-2 overall, but only 3-3-0 in conference, where they have not played an ECAC West foe since mid-November. The remaining schedule finds Neumann battling it out with eight conference games to close out the regular season, starting with Friday night at Manhattanville, a team that bookends the remaining schedule.
"We really need to focus a lot on the details to close out the remaining games," said coach Matt Tendler. "We have played a lot of road games, including tournaments, this season and now get to leverage that experience over the last weeks in the regular season. The team has readjusted to my methods and systems in our second year together, so I believe we can be successful in our conference by being consistent in our game and the things that have us going 8-1-2 in our last 11 contests.
"Outside the conference, we have been very good away from home," noted Tendler. "We hope that success can carry over to our league games, where goals have been harder to come by."
This weekend, Neumann only plays a single game at Manhattanville on Friday. The singular game is notable in Mullin's mind as a way to get things going in league play.
"One game is nice," stated Mullin. "You can leave it all out there on the ice and not worry about having something in the tank for a game the next day."
Last weekend in a single game scheduled, Neumann picked up a nonconference win over Morrisville by a 6-4 score, where Mullin chipped in with three assists, including a helper on the game-winner in the second period. Leaving it all out there and picking up the "W" is something player and coach both have in mind, and don't be surprised if a certain No. 9 figures prominently on the score sheet.