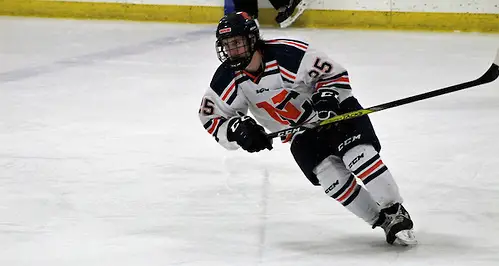 It's a Wednesday night in mid-January and Northland coach Seamus Gregory is in his office working on the lineup for a weekend series against Aurora. His Lumberjacks are 5-8-2 overall and 3-6-1 in the NCHA and he's asked to talk about his thoughts on the way his team has played up to this point in the season.
"The best way to put it is that we've competed," Gregory said. "We have a lot of improvements to make still, but our compete level is there. We play hard every game."
That much is for certain for Northland, which played reigning national champion Wisconsin-Stevens Point to a 1-1 tie last Wednesday.
The Lumberjacks picked up all five of their wins prior to the holiday break, the first time that has happened in program history. It's a sign of the progress Gregory has made since taking over the program in the summer of 2014.
The Lumberjacks won seven games a season ago after winning just three in Gregory's first season as the head coach. The hope is to get to at least eight wins this season.
"It's about us believing in ourselves," Gregory said. "We have to believe we belong in the league. This is a tough league but the players are practicing hard and working hard. We're working to get to where we can compete with the best teams in the league night in and night out."
Only 11 players were on the roster when Gregory was named coach. In a two-month span, he and assistant coach Mike Lennon added 19 players to the team.
"We had to work to piece together a roster in a short amount of time," Gregory said. "It wasn't an easy thing to do but things came together for us."
Only one player on the current roster is a senior. That's captain Anthony Stempin, who has dished out three assists. Of the 31 players on the team, 25 are underclassmen.
Recruiting has become a little easier compared to when Gregory first started and no one really knew where Northland was located.
"We used to go on the road and no one knew where our school was," Gregory said. "We've become more relevant. Our program is being recognized."
Building a program takes time and while Northland is currently out of the NCHA playoff picture, the Lumberjacks refuse to fold. They continue to push forward and hope that even if this season doesn't end with a playoff trip, the future seems to be bright.
"We've seen our program grow and have seen our players get better, and our hope is that at the end of the season, our games mean something," Gregory said. "We want the games to count and have a chance to compete for a playoff spot."
For now, he'll take seeing his team continue to take small steps forward.
"We're happy to be where we are as a program," Gregory said. "It's definitely not enough for us but we feel good about the strides we have made."
Dynamic Duo
Martin Gruse and Chad Cesarz both rose to the occasion in Saint Mary's win over reigning national champion Wisconsin-Stevens Point Friday night. Gruse and Cesarz scored two goals apiece for the Cardinals in a pivotal road win. It's the second consecutive weekend in which Saint Mary's has beaten a nationally ranked opponent. The Cardinals topped St. Thomas 2-1 on Jan. 7.
Gruse ranks second on the team in points, tallying five goals to go along with 10 assists. Cesarz is second on the team in goals, punching in nine. He has dished out three assists as well. Cesarz has scored 32 goals in his career and has tallied 18 career assists over the last three seasons. Gruse has racked up 101 points in his career, with 57 of those points coming off assists.
The two have helped fuel an offense that has cranked out 59 goals in all this season. Saint Mary's is 9-6-2 overall and in second place in the MIAC standings.
Leaders of the MIAC
Hamline's Russ Jordan continues to dominate offensively. Jordan leads the league in goals (12) and points, while helping the Pipers move into fourth place in the league standings with a 4-3-1 record. Augsburg's Nick Schmit has been sensational in goal this season. He ranks first in the MIAC in goals-against average, sporting a 1.61 GAA, and he also has the best save percentage in the conference at .947. He's won a league-best 81 percent of games, fashioning a 6-1-1 record.
Lant lighting it up
Michael Lant scored a goal and an assist in Wisconsin-River Falls' 4-1 win over Gustavus Adolphus Saturday, helping the Falcons extend their win streak to two games. The goal by Lant was his sixth of the year. Three of his goals have come off the power play. His total includes three game-winning goals as well.
Lant is tied for the team lead in goals with Joe Drapluk and is one of four players on the team who has tallied nine points this season.
His effort has helped the Falcons get back on track after a tough start to the year. Wis.-River Falls has won six of its last seven and is on the brink of the .500 mark as it sits at 8-9-1 overall.
WIAC leaders
Patrick Moore of Wisconsin-Eau Claire leads the way in points this season, racking up 27. He has highlighted his performance with 17 assists. Daniel Litchke of Wisconsin-Superior is the top goal scorer in the conference. Only a sophomore, the forward has scored 14 goals in 18 games. Wis.-River Falls goalie Zach Quinn is just a freshman, but leads the WIAC in goals-against average (1.61). He has won seven games this season.
St. Scholastica star Brandon Millin is the offensive player of the week in the NCHA for the second consecutive week. Millin came through with five points in a weekend series against the Milwaukee School of Engineering. The senior forward scored two goals and dished out three assists as the Saints earned a split with the Raiders.
Millin is the first player in the league to win the award more than once this season.
He leads his team in goals and is one of only four players in the NCHA to have tallied at least 10 goals and 10 assists. Two of his goals have counted as game-winners, and he has notched at least one point in all but three games, helping the Saints fashion an 8-6-1 record. St. Scholastica is 6-3-1 in the conference.
NCHA leaders
Cory Dunn of Adrian is the points leader in the NCHA, racking up 25. Jack Lewis  of Lake Forest and Trevor Boyd of Adrian are tied with Millin for the league lead in goals with 12. T.J. Black is having a stellar season in goal for St. Norbert and is the best in the NCHA in goals-against average (0.88). He also has the best save percentage (.949) and winning percentage (.944) in the league. Black has won eight games and has yet to lose a game this season.