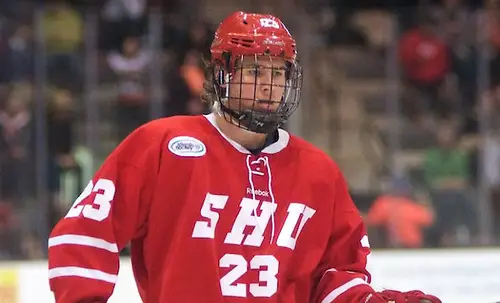 Fans and analysts have a way of always looking for marquee matchups.
They look for those games at the top of the standings between the best records in the league, games they hope could be instant classics. They have a way of overlooking some of those teams who seem to play everyone tough.
Though their record has them in ninth place, Sacred Heart's been a team to be reckoned with.
While it's true they've been swept four times this year, it's come at the hands of the league's top three teams. Against all others, they've proven themselves formidable, and more recently, it's started to pay off. After splitting with RIT two weekends ago, the Pioneers took three points from Holy Cross last week thanks to an overtime win on Friday and tie on Saturday.
"We really put a premium on our puck movement," Sacred Heart coach C.J. Marottolo said. "And we put an emphasis on minimizing turnovers. That's been a big help more recently, and we identified that as something that can help us as a group moving forward."
While emphasizing those fundamentals, they've also found balance and depth through a lineup change. Forwards Justin Danforth, Jordan Minello, and Evan Jasper – all seniors who have played together for four years – account for over 36 percent of the team's points this season, with the top defensive pairing of Liam Clare and Mitch Nylen adding another 26 points.
But beginning with the RIT series, the Pioneers split them up to create more balance through their lineup.
Against the Tigers, it worked, with Stephen Hladin scoring a power-play goal to help the Pioneers to a 5-1 victory. This past weekend against Holy Cross, Zach Tsekos got in on the mix, assisting on Danforth's overtime winner on Friday, before they earned a weekend victory with a 2-2 tie on Saturday.
"We started to see some great balance," Marottolo said. "It's a decision that we hemmed and hawed about doing because those guys play great together and enjoy playing with one another. But it's something that helps our team and creates more balance among the remaining lines."
The win on Friday had another subtle undertone as the Pioneers won their fourth one-goal game. Now 4-2 in those situations, they rank right alongside teams like Robert Morris, Canisius, and Air Force in that category.
"It's nice to get into those types of games now," Marottolo said, "since we'll be faced with similar type games late in the year and in the playoffs. You need to walk in the shoes now, even though when you're going through them, it makes for some tough games, but it's something that we can learn now and apply knowledge when we get into those situations later."
The Pioneers take on Bentley this weekend in a home-and-home series, with Friday night being played in Bridgeport, Conn., before switching to the Boston area on Saturday.
USA vs. Canada
The modern-day hockey rivalry between USA and Canada is probably the hottest thing going in the game today, taking place in many forms.
From the Olympics to the World Cup and from women's championship games to the World Juniors, the chance to compete brings out the best in nationalistic pride on both sides. This year's WJC gold medal game is proof positive as a game that can take over social media and bring out the best in nationalistic pride.
On Saturday, Army West Point will host the Royal Military College Paladins in an annual exhibition between respective academies of the two nations' militaries. In its 81st incarnation, the Black Knights have won five straight since the rivalry restarted during the 2011-2012 season.
The Black Knights have a commanding lead in the series, holding a 44-29-7 advantage with a 27-13-6 record at home. It's the longest-running annual international sporting event in the world, dating back to 1923.
Home, Home on the Range
As we focus more and more on the race for the postseason, there's the aspect of home ice advantage to consider.
Every team talks about how important it is to play at home because of its obvious positives, but some teams might find it more important than others.
No team currently has a better record on the road than it has at home, and there are only two teams (Air Force and Robert Morris) with records above .500 on the road. Unsurprisingly, they're among the top three teams in the league.
Of the 11 Atlantic Hockey teams, Army West Point and Holy Cross both have the biggest disparities between playing at home and on the road this season. The Black Knights are 8-3-0 this year but just 3-4-3 on the road, while the Crusaders are 7-3-2 at home and 2-5-2 on the road.
Players of the Week
Here's the latest from the league offices honoring those memorable performances of the past week.
Player of the Week: Bentley's Kyle Schmidt: Schmidt had two goals and two assists in a road split against Niagara. He scored both of his goals in a 6-3 victory on Friday night, adding the assists in the losing effort on Saturday.
Defensive Player of the Week: RIT's Adam Brubacher: Brubacher earned the hard hat award for punching the clock and really going to work. He had a goal and two assists, blocked three shots, and was plus-2 in a weekend split with Sacred Heart.
Goalie of the Week: Canisius' Charles Williams: Williams faced 87 shots in a three-point weekend against first place Air Force, a series that produced three points for the Golden Griffins. He made 46 saves in a 2-2 tie on Saturday, which was a follow-up performance to a 38-save game in a 4-1 win on Friday.
Rookie of the Week: American International's Patrik Demel: Demel debuted last weekend against RIT, helping AIC defeat the Tigers, 5-3, with two goals and an assist. His second goal was also a game-winning strike.