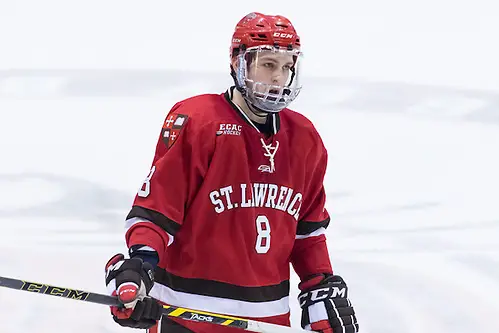 A three-point weekend on the road in ECAC Hockey is impressive regardless of the situation.
It's even more impressive when a team is dealing with a rash of injuries to important players.
That was the case for the Saints last weekend, as St. Lawrence rallied twice on the weekend, scoring twice to erase a 1-0 deficit at Brown Friday and rallying to tie Yale Saturday.
St. Lawrence is without defenseman Gavin Bayreuther, the team's leading scorer, and forwards Mike Marnell and Jacob Pritchard due to injury.
While Saints coach Mark Morris joked his team needed some bubble wrap, he also noted how his team's chemistry has been impacted by the injuries.
"When you're taxing what key guys you've got left to kill penalties and then you get on a power play, there's not a whole lot of petrol in the tank to give you that boost," Morris said.
He said Bayreuther is likely out six weeks, while Pritchard was week-to-week. He didn't have an update on Marnell, who was hurt unexpectedly during practice.
That was evident Friday against the Bears. The Saints scored the tying goal on the power play, but looked sloppy for much of the game as several inexperienced players were thrust into larger roles.
One freshman who hasn't looked out of place is center Alex Gilmour. Listed at 6-foot-5 and 210 pounds, he's already one of the biggest players on the Saints' roster and has four points in five games since leaving the junior hockey ranks with the CCHL's Pembroke Lumber Kings to join St. Lawrence last month.
Morris, who took the job at St. Lawrence last spring, said he and his staff recruited Gilmour, but didn't expect to him to come to campus this soon. But the Saints were already inexperienced at center, a fact that wasn't helped by an injury earlier this season to sophomore Michael Laidley, who had five points in six games prior to going down.
"It's tough to lose half a year [of college eligibility]," Gilmour told the Watertown Daily Times. "But if you look at the long picture, I'll graduate a little bit earlier and get a few extra credits here [and] there to get on schedule to graduate in 2020."
As the injuries kept piling up, Morris and his staff eventually had no choice but to bring Gilmour in early.
"We could see the writing on the wall when we lost pretty much an entire second line," Morris said. "For [Gilmour] to do what he has done for us in a short amount of time as a freshman player is real encouraging for us. He's a smart kid and so mature. We think he's got a bright future with us."
Schafer reaches 400 wins
Four-hundred wins is a lofty milestone for a college hockey coach.
But Cornell's Mike Schafer, who recorded his 400th win Friday at Princeton, was able to the put number into perspective.
"I don't think you're ever looking to get to 400 [wins]," he said. "But it does put it into perspective – guys like Jerry York, I'd have to coach until I'm 98 to be able to catch the legends of the game. The guy that has been on my mind is Ron Mason. I think my first collegiate game was at Michigan State and I calculated it out that I'd have to coach until I'm in my mid-80s and win 20 games a year to even come close to him. So it means a lot to me."
Schafer said all of his assistants and players are what stand out to him the most, along with the wives of the coaching staff for putting up with all the recruiting.
"I've tried to mature a little bit in my old age and just enjoy it more and have more fun with our guys," Schafer said.
Brown looking for results
The wins haven't been coming for Brown, but coach Brendan Whittet has liked some things about his team's play despite a 3-13
"Guys did enough things to win the game," Whittet said following the Bears' 2-1 loss to St. Lawrence Friday. "If we continue to do those good things, and just eliminate those minor mistakes' we'll be successful. As long as they play hard, I will never fault them for what the result is. Even though our record is what it is, we've made some good strides. We're a much better team than we were at the start of the year."
The trio of Charlie Corcoran, Max Willman and Sam Lafferty has emerged as a legitimate scoring line, while freshman defensemen Nick Maguire and Conner Wynne have the ability to move the puck and keep the Bears from getting hemmed in in their own zone.
"I feel good about the direction we are going, but ultimately we've got to continue to play the way we did for large stretches [against St. Lawrence]," Whittet said.
Around the League
• Harvard allowed a season-high eight goals in a loss to Dartmouth Tuesday. It was the third straight loss for the Crimson, who entered last weekend with only two losses for the entire season.
• Following an offseason where many ECAC teams lost their starting goalie, RPI's Cam Hackett was generally regarded as the replacement with the least question marks.
Now he's off the team until further notice. The school announced last Friday that the sophomore was suspended indefinitely for "failing to uphold team standards." He will not take part in any activities until the suspension has been lifted, according to a statement released by the university.
Hackett's suspension leaves Colorado College transfer Chase Perry as the only goalie on RPI's roster with collegiate experience.
Perry responded with a career-high 41 saves in a 4-0 win over Harvard Friday. The win snapped a seven-game losing streak for the Engineers.
• Union senior Mike Vecchione leads the nation with 41 points. But a five-point weekend by linemate Spencer Foo pulled him into a tie with Vecchione for the national lead in points and earn him the league's player of the week award. Cornell's Jeff Malott earned the rookie of the week award after recording a natural hat trick Friday against Princeton. The goals were the first three after Malott's collegiate career. Dutchmen goalie Alex Sakellaropoulos was named the league's goalie of the week after posting a .970 save percentage in a pair of Union wins.