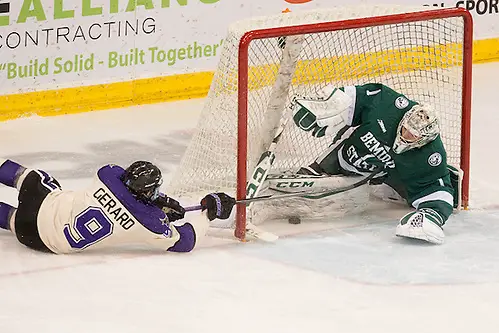 This is why the WCHA took a progressive look at the overtime format.
When the season comes to a close and NCAA officials review the how the WCHA handled overtime this season, this past weekend could be a key piece of evidence that convinces other leagues to adopt a 3-on-3 format after traditional overtime.
Let's look back at those examples, where WCHA fans were collectively granted close to 60 minutes of sudden-death hockey across the league.
Of the eight WCHA games this past weekend, seven went to overtime.
Two were decided in the first overtime, three were settled during the second 3-on-3 overtime sessions, while a pair of games made it all the way to a shootout before a bonus point was handed out.
It says a couple things about the WCHA.
1. The league is still extremely close, no matter what the matchup is.
2. Being able to execute in 3-on-3 could be the difference to a more favorable playoff matchup.
And Alaska was the big winner in the overtime showcases this weekend, as the Nanooks climbed into fifth place with back-to-back overtime victories.
"It was a great start to our road trip," Nanooks coach Dallas Ferguson said. "The league is tightening up and it's only going to get tougher."
On Friday, the Nanooks upended Ferris State during 3-on-3 play, with Austin Vieth taking advantage of a turnover behind the net. One night later Alaska secured all three points when Dany Kiraly scored on a point shot just 25 seconds into overtime of a 2-1 victory.
Both goals came with the Alaska going to the dirty areas. On Vieth's goal, a heavy forecheck set up the turnover, while Kiraly's goal came with two players crashing the net.
"The game-winning goal is something we talked about all weekend," Ferguson said. "Let's get pucks and bodies to the net and usually good things will happen."
While Alaska went to the dirty areas, Alaska-Anchorage and Bowling Green each scored highlight reel goals in overtime.
Matt Anholt scored on a breakaway during 3-on-3 overtime for the Seawolves against Michigan Tech, firing a wrist shot over the shoulder. Bowling Green scored on a rush in traditional overtime, with WCHA leading scorer Mitch McClain cashing in on a one-timer.
McClain told BGSUHockey.com that it was a "tic-tack-toe play," and that it helped the Falcons weather a storm earlier in overtime.
Lake Superior State was the other team to win in overtime, thanks to Gage Torrel's wrist shot with 9.1 seconds remaining before a potential shootout.
"Those are big, big points," Lake Superior State coach Damon Whitten said after the game. "It's back and forth and you have to be ready for it."
Even in the games that required a shootout fans went home happy. On Saturday, Lake Superior and Northern Michigan each had a pair of breakaways during 3-on-3 play before the shootout.
The one change we need to make to overtime? Let's make 3-on-3 goals count for player's official statistics.
Final stretch
There's just six weeks of regular-season hockey left. This weekend, though, is significant: For the first time in 2017, all 10 WCHA teams will be playing league games.
Obviously, it goes without saying that we're in crunch time for everybody — only one team has clinched a playoff berth. The rest are fighting for that right.
First things first: We know league-leading Bemidji State has already clinched a playoff berth. The Beavers, who host Ferris State this weekend, have 49 league points and are 10 points up on second-place Michigan Tech.
After the Beavers — who haven't clinched a home-ice first round playoff series yet, but are close — it's more of a scramble.
The big series to look for this weekend involves No. 2 vs. No. 3 as Michigan Tech hosts Minnesota State in Houghton. A Tech sweep would give the Huskies 45 points, and it would also punk the Huskies a ticket to the playoffs.
According to the league office, Tech is the only team that can clinch this weekend, but a few results would make things interesting. A Minnesota State sweep in Houghton, for example, would put the Mavericks (currently tied for third with Bowling Green) just a point back of the Huskies.
Bowling Green hosts fifth-place Alaska — another series that could drastically change things up by the week's end. The fifth-place Nanooks (24 points) and ninth-place Alaska Anchorage (19) are separated by a mere five points. The Seawolves travel to last-place Northern Michigan (13 points). A Seawolf sweep would make it very difficult for the Wildcats to climb out of the cellar and back into playoff consideration.
Got all that? It's a lot to take in. And there are still a ton of variables left — every team except Bemidji State and Bowling Green has 10 more league games (the Beavers and Falcons both have eight).
Whatever happens this week, we can expect a frenetic race for the MacNaughton Cup and the WCHA playoffs. Would you expect anything different?
Ice Chips
— Alabama-Huntsville had a bye last week and watched as other teams passed them in the standings. The Chargers travel to Lake Superior State this weekend.
— Alaska-Anchorage is 4-3-3 in its last 10 games and has at least a point in four straight games. They took three last weekend when they tied with Michigan Tech in both games — winning in 3-on-3 OT on Friday and losing a shootout on Saturday.
— Bemidji State was idle last weekend — just the second bye week they've had this season after a short break for the holidays. The Beavers' Phillip Marinaccio currently leads the team in scoring with 19 points and eight goals — both career highs for the senior.
— Bowling Green will have ample chances at home to move up in the WCHA standings. Of the final 13 games in the second half, nine of them come on home ice.
— Freshman Max Humitz scored both goals for Lake Superior State last weekend as the Lakers skated to a pair of 1-1 ties with Northern Michigan. Humitz has 11 goals and is tied for the freshman goalscoring lead along with Minnesota State's Marc Michaelis.
— Michigan Tech's Jake Lucchini scored a goal last Friday against Alaska-Anchorage. Lucchini leads the Huskies with eight goals. Five of those are game-winners, tying him for the nation's lead. He also has four power play goals.
Players Of The Week
This week's WCHA Players of the Week were Minnesota State junior forward C.J. Franklin (offensive), Alaska senior goaltender Davis Jones (defensive), Humitz (co-rookie) and Northern Michigan freshman defenseman Rylan Yaremko (co-rookie).