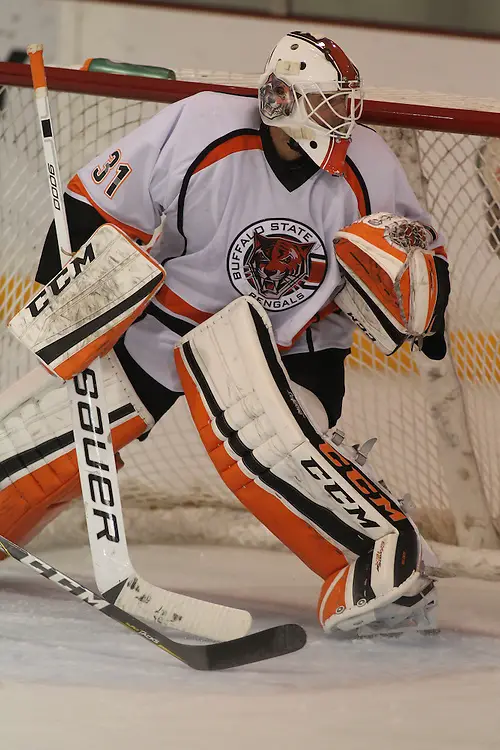 Quickly, name the nation's second-ranked goaltender in both goals-against average and save percentage. No cheating on USCHO or collegehockeystats.net! Some may quickly point to goalies at St. Norbert, Wisconsin-Stevens Point or, in the East, Hamilton's Evan Buitenhuis among others, but the answer is Buffalo State's Mike DeLaVergne and his consistent performance has not happened by accident.
"I came here and really had the opportunity to work with one of the best goalies to have played at Buff State in Kevin Carr," said DeLaVergne. "I saw the work ethic, and attention to detail and how much he focused on being better every practice and every game. Now that attention to detail is something that I have really focused on related to technique and being in the right position, moving smoothly and being as technically sound as I can be. I think this year I have made improvements in my post play and my moving from post to post in very controlled movements. That has helped me being in the right position to make saves without being out of control."
So far this season, DeLaVergne has played in 15 of 17 games for Buffalo State, going 12-2-1 and recording three shutouts. His goals-against average is an astonishing 1.20 and his save percentage is .953. With those numbers, he is in line to eclipse many single-season and career records that he or his mentor, Kevin Carr, currently hold. He is on pace to break his own school record for single-season save percentage of .932 (current .953); on pace to break his own school record for single-season GAA: 2.06 (current 1.20); on pace to break his own school record for single-season wins: 14 (current 12); on pace to break the career record for save percentage held by Kevin Carr: .921 (current .933); and on pace to break the career record for GAA held by Kyle Gunn-Taylor 06-08: : 2.63 (current 2.05). In talking to DeLaVergne though, he isn't worried about the numbers or his legacy.
"You might think about those things a little bit when they come up," said DeLaVergne. "I don't focus on that stuff at all. We are very focused on winning a SUNYAC championship and being able to compete for a national title. We have a great group of guys here and maybe the best defensive group in D-III. While it has been great beating Plattsburgh, Geneseo and Oswego so far this season, we aren't taking anything for granted. There is still a lot of hockey to be played and room for us to be better as individuals and as a team."
One of the things DeLaVergne points to in helping him and the other Bengals netminders in getting better has been the goalie-only session work that takes place regularly with assistant coach Nick Therrien.Therrien played at Utica and has added an extra ice-time session where goalies can focus on their skill development and techniques  As a true student of the position, DeLaVergne really enjoys the work and being pushed by his teammates in the goalie sessions, as well as regular practice time.
"Mike is really self-motivated," said coach Steve Murphy. "He works hard every day and is constantly striving to be better. He is on my office all the time watching film — he may be in there more than I am. Seriously, he saw what Kevin [Carr] did here and has aspirations of following his path to professional hockey. He is very disciplined but like the rest of the guys, is enjoying the hockey and the overall college experience."
Following Carr's departure (now with the Alaska Aces in the ECHL) DeLaVergne didn't necessarily get off to the most auspicious start one would expect from a no. 1 goaltender. His current coach, then an assistant, recalls the maturation process that has led his current no. 1 to his consistent and rock-solid performance level.
"As a sophomore, we brought him into the conversation as being our guy in net," said Murphy. "I was an assistant at the time and remember he got off to a rocky start and then got injured. Starting the second half of the season in a game against Potsdam, we had a 2-0 lead but he gave up a couple of really quick goals and my predecessor as coach was ready to pull him. I may have overstepped my bounds as an assistant in firmly saying not to do that, but Mike found himself and I think finished the end of the season going 5-1-1 and setting the foundation for what he did last year and now this season. The team has great confidence in 'Delly' and loves to play hard in front of him. They see how hard he works and it rubs off on the skaters too."
This weekend, the Bengals travel to Plattsburgh and Potsdam for two important conference games that, DeLaVergne says, he and his teammates will not treat differently than any other game, home or away.
"These games are all important and our preparation for them, wherever we are playing, is the same for each game and every opponent," said DeLaVergne. "To reach our goal we need to stay focused and that starts with winning our conference games — Friday night means a tough Plattsburgh team in a tough place for visitors to play."
So expect Buffalo State to be a contender in this second half as they emulate the guy who stands tall in their crease — playing with poise, confidence and committed to being better for when it matters most.