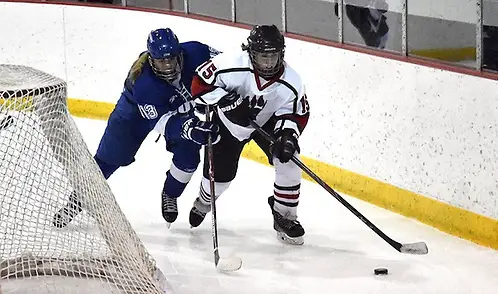 Lake Forest College coach Carisa Wahlig found herself in an unusual and frankly somewhat uncomfortable position this past off season. Despite 12 years at the helm of the Lake Forest women's program, she had absolutely no idea what to expect from her squad for the coming season.
The Foresters graduated six seniors, including national Player of the Year Michelle Greeneway. They had nine incoming freshmen. They had concluded the best season in program history and there were a lot of unknowns.
In order to try and ensure continued success, they made two changes before the school year even ended last spring. In their exit meetings, Wahlig and her staff talked to their returners about leadership and expectations and emphasized the need to prepare in the off season. They focused on continuing to grow the program and maintaining the momentum and progress they've made.
"It gave the girls from last year that six- or seven-month period to mature and really do the things over the summer to come back (strong)," said Wahlig. "They knew we graduated a good group, but they were also serious about moving the program forward and continuing the success and not just having it be a one-time thing because of just a handful of players. I think it's always difficult but as a coach, you just have to make that adjustment. I knew our freshman coming in were good, but you can't predict the success of the freshmen. We were just really fortunate that the freshman came in right away and they got it."
In addition, instead of choosing new captains before the summer break, they waited until the season started this fall to elect them. With the freshman class comprising such a large portion of their roster, they wanted those players to take part in that process of choosing who their leaders would be. Doing so immediately gave the freshmen agency in their own team.
Wahlig is a firm believer in team chemistry. There's always a nebulous sort of aura around a team and either they click, or they don't. Either players buy into what the coaches are telling them, or they don't. No one knows why these things happen the way they do, they just know it can't be forced and teams either have chemistry or they don't.
If nothing else, Wahlig demands two things from her team: mutual respect and hard work. Not only does she not ever want to see her team get outworked on the ice, she's a firm believer that players have to want to do the extra work and put in the effort. Being a student athlete is difficult and stressful, no matter the level, maybe even more so in Division III. Add in that Lake Forest spends more time on a bus than all but a handful of other teams in the country and it's not a particularly glamorous life choice.
Wahlig believes it's worth it, however. It's the path she, her staff, and the players chose and they knew what they were getting themselves into. So from top to bottom everyone has bought in and really, new players had no choice but to be up to speed and fall in line.
For the Foresters to not only continue their winning ways this season, but also match their offensive output, is something Wahlig said she would probably have laughed at in the off season.
They are averaging 4.63 goals per game and are currently ranked no. 6 in the polls.
It wouldn't be happening if the rookie class hadn't come in and immediately contributed. Five freshmen are in double-digits in scoring. Freshmen Jacque Rogers has split time in net and has a 1.09 goals-against average in 10 games played.
"I would prefer that my freshmen come in and contribute. I think that's really important," said Wahlig. "For me, when we have freshmen that can contribute it's exciting because they're getting a full four years. I think that's why we had such a successful senior class that just graduated. When they came in, they were leaders right away."
It's high praise for the recently graduated, but also a mandate for the current rookies.
Lake Forest wants to be a contender. They want to win a national championship. They want to be a top team and they want to play in the NCAA tournament and Wahlig needs everyone on her squad to want that as well. It's important that they share the commonality of the same objective.
"I think as a team, you don't ever want to be just a flash in a pan," said Wahlig. "Knowing that we're starting to build that base of success is really nice. It makes me feel that we're doing something right."
When past teams have found regular season success but failed to advance in the postseason, Wahlig fears the team was split on what they say to be the end goal. She was reticent to mention any single player because she wants it to be clear that success comes from every player doing their job and contributing. She likened it to recent NHL Stanley Cup winners, saying they didn't win because of one or two superstars, but because the third and fourth lines stepped up and every person on the squad was accountable.
Early in the season, the Foresters traveled to play conference-mates Adrian in Michigan. Though they lost 3-0, Wahlig laughingly admits the game wasn't that close. Lake Forest will have another crack at No. 3 Adrian in their final two home games of the season and Wahlig knows those games will be important not only for their record, but as a measuring stick to see how far the Foresters have grown this season.
Before they can even get there, they have four more games against conference opponents, so it's a balancing act of keeping the players focused on the present while Wahlig and her staff also look ahead to prepare for a series that could very well define this season for them. At the very least, it'll be a good measuring stick for where the Foresters are and where they might still be looking to go.
"It would be great to continue and it would be great to be able to vie with some of the top teams. Are we there yet? I don't know."