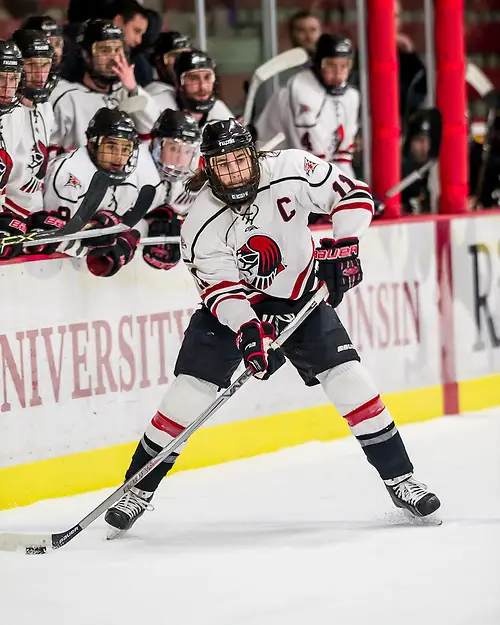 Michael Lant went into the season determined to be a player his Wisconsin-River Falls teammates could count on to step up when needed.
He hasn't had any trouble making good on that goal, considering he ranks third on the team in points (10) and has scored the second-most goals on the team (six) for a River Falls team hoping to repeat as WIAC champions.
"I pride myself on playing a strong defensive game and I needed to be a defenseman my team could rely on," Lant said. "I feel like I've established that role."
Lant has made significant strides this season after racking up just three goals and six assists in his first three seasons combined.
"I think my experience has played a big part in it and being more confident with the puck and knowing where to be in the defensive zone," Lant said. "The little things that come with experience have helped me step up my game."
Lant has also taken his leadership to another level. It comes with the territory of being a senior.
"I try to lead by example," Lant said. "I go out there and try to do everything right to the best of my ability and not take any shifts off. It's also huge being a leader off the ice and a player that can help bring the team together."
That togetherness has helped the Falcons turn their season around after a rough start. Wis.-River Falls lost its first four games, but has won eight of its last 10, pushing its record to 10-10-1 overall. The Falcons are 1-3 in the WIAC.
"Everyone believes in each other," Lant said. "We were struggling at the beginning of the year, and that had to do with our confidence being down a bit. Once we started scoring goals and started believing we could win games, we really turned it around."
The Falcons are hoping to keep the momentum rolling and nail down their third regular-season WIAC title in the last four seasons. They are also seeking their first conference tournament title since 2015.
"We just have to focus on what we've been doing," Lant said. "We're strong offensively and we have a strong defensive core. We can be a contender against any team. It's just a matter of continuing to play as a team and play for each other."
With Lant having the best season of his career, he wants to continue to make the most of it, and being able to do it at Wis.-River Falls means a great deal to him.
"It's every hockey player's dream to play college hockey, whether it's D-I or D-III, it's still a high level of hockey," Lant said. "To be at River Falls, a team that is a contender every year, it's something special. I've enjoyed all of my years here and I'm hoping to hang another banner this year."
Gusties break through with conference win
Gustavus Adolphus came up empty in its first seven MIAC games, but the eighth time was the charm for the Gusties, who edged St. Olaf 3-2 in overtime Saturday for their first conference win of the year.
The Gusties showed their resolve in the final game of the series Saturday. Stinging from a 3-2 overtime loss the night before, Gustavus managed to overcome a two-goal deficit to earn the win.
Evan Erickson was the hero, scoring the game-winner in the extra session. It was his seventh goal of the season. Erickson leads his team in goals and is second on the team in points with nine.
Gustavus is 2-11-4 on the year and 1-6-1 in conference play. The win over the Oles ended a 14-game winless streak. Gustavus has been outscored 52-32 this year, but has been competitive on most nights under the direction of coach Brett Petersen, who is in his 17th season at the helm of the Gusties. He has won 212 games in his career at Gustavus.
MIAC leaders: Hamline star Russ Jordan leads the MIAC in points (24) and goals (13) as his breakout season continues. Nick Schmit of Augsburg is the top goalie in the league, fashioning a 1.65 goals-against average and a win percentage of .833. His save percentage is .945. Schmit has won seven games, the most in the MIAC.
Brausen steps up for Blue Devils
Wisconsin-Stout went on the road to play powerhouse St. Thomas Saturday and left with a 1-1 tie against the Tommies. Colten Brausen paved the way for the Blue Devils, scoring his seventh goal of the year.
Brausen's goal extended the Blue Devils' unbeaten streak to three games. Wis.-Stout has lost only once in its last six games and sits at 9-8-2 overall.
Ranking second on the team in goals, Brausen has been instrumental to Wis.-Stout's success. He has a total of 14 points.
Perhaps the most impressive thing about his performance this year is that he is only a freshman. He played junior hockey for the Swan Valley Stampeders and has had no trouble making his presence felt at the college level.
 
WIAC leaders: Patrick Moore of Wisconsin-Eau Claire has the most points in the WIAC, racking up 32, including a WIAC-best 20 assists. Three players share the league-lead in goals: Wisconsin-Superior's Daniel Litchke and Lawrence Cornellier and Jacob Barber of Wisconsin-Stevens Point all have 14 goals. Wis.-River Falls freshman Zach Quinn owns the best goals-against average in the WIAC at 1.79. He has recorded two shutouts this year.
Baldwin making his mark for Sabres
Marian came away with a split against Lake Forest this past weekend, but is still in second place in South Division of the NCHA standings.
The Sabres had their five-game win streak snapped in a 4-3 loss to the Foresters Saturday. They sit at 10-8-1 overall and are 8-6 in the conference.
Marian won the opener of the series by a 2-1 score and it marked the third consecutive game in which Baldwin allowed just one goal.
Baldwin has won nine of the 16 games he has played in and has lost only five. He owns a 2.93 goals-against average and is well on his way to matching his win total (12) from a year ago. Baldwin has allowed a goal or less in four games this year and has lost only twice in his last 12 outings.
Leaders of the pack: Cory Dunn of Adrian leads the NCHA in points, tallying 25. His total includes a league-best 20 assists. He has scored at least a point in all but six games. Lake Forest star Jake Lewis is the top goal scorer with 15 on the season. He has scored two more goals four times. T.J. Black of St. Norbert leads the NCHA in winning percentage (.955), fashioning a 10-0-1 mark. His goals-against average of 0.99 is the best in the NCHA.