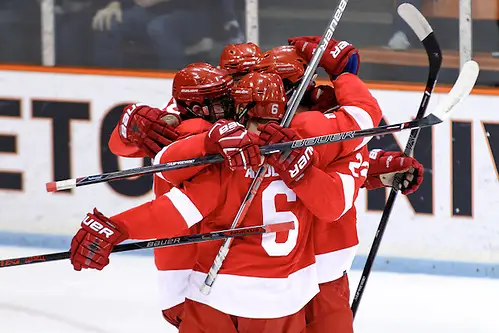 On a night where the school honored its 1967 NCAA championship team, Cornell had arguably one of its more frustrating games of the year.
The Big Red led Dartmouth 2-0 after the first period on Saturday, but the Big Green scored four unanswered goals on its way to a 4-2 win at Lynah Rink.
It was the first time since Nov. 7, 2015, that the Big Red had lost a game in which it held a two-goal lead. It was also the second straight game that Cornell relinquished an early lead. It led Harvard 1-0 heading into the third period of Friday's game before the Crimson rallied for a 4-1 win.
On the surface, it might look like Harvard and Dartmouth, two teams that like to play with speed, simply outskated the Big Red. But Cornell was also the victim of some tough breaks each night.
"We've had enough bad bounces the last two nights to last us an entire year," said Big Red coach Mike Schafer. "Hopefully, those things turn and go the other way for us."
It was an unusual weekend in other regards as well.
Cornell was swept at home despite entering Friday's game with a 4-1-1 home record and it entered Saturday's game with the nation's third-ranked penalty kill before allowing three power-play goals to Dartmouth.
Even with the losses, Cornell is still in a good spot for a first-round bye entering the final month of the regular season. It currently has the fourth-highest winning percentage in conference play despite being tied with travel partner Colgate for the fewest number of league games played.
"There are certain things in the sport that you can't control," Schafer said. "You can't control the officials. That's one thing that you'd like to, but you just can't. You can't control when pucks hit your guys and go in."
The Big Red will look to bounce back on the road this weekend.
"But what we can control is how we respond to this tough weekend, going on the road against Union and RPI, and how we're going to bounce back from this," Schafer said. "That's what we can control."
Saints Continue to Roll
As the calendar turns to February, St. Lawrence is continuing to pick up key league points. And now the Saints are starting to get healthy.
Senior defenseman Gavin Bayreuther returned to action Saturday against Union for the first time since Jan. 1. St. Lawrence coach Mark Morris initially said Bayreuther might be out up to six weeks.
But the Saints will no doubt welcome the return of their top defender and leading scorer. Bayreuther had an immediate impact in his return, scoring a goal in St. Lawrence's 4-3 win over the Dutchmen.
"Having him back tonight was huge; in the dressing room, the morale is a lot greater with him, and for him to get a goal like that and get us back into it after we got a little deflated was huge," said St. Lawrence forward Alex Gilmour, who scored twice Saturday.
Those two goals by Gilmour continued an impressive run for the freshman, who joined the Saints from junior hockey after the winter break. He now has six goals and eight points in his first nine collegiate games, and Morris has raved about his makeup and maturity.
The win put the Saints two points ahead of Union for first place in the conference, although the Dutchmen have two games in hand and have a higher winning percentage in league play. That didn't damper the atmosphere in Canton in a Saturday night matchup of the two top teams in the league.
"That was one of the most fun games I've ever played here," said Bayreuther.
St. Lawrence has only one game on each of the next two weekends. The Saints are at Clarkson this Saturday and travel to Princeton on Friday, Feb. 10.
League Alumni Honored
Adam Oates (Rensselaer) and Ken Dryden (Cornell) were among those honored as the 100 greatest players to ever play in the NHL. Oates, who played at RPI from 1982 to 1985, had 216 points in 98 collegiate games and 1,420 across 19 seasons in the NHL. He also served as the head coach of the Washington Capitals from 2012 to 2014.
Dryden, who was honored Saturday at Lynah Rink as a member of Cornell's 1967 NCAA championship team, played 397 games in goal for Montreal during the 1970s, winning 258 of them. He won six Stanley Cups with the Canadiens.
Around the League
• Dartmouth's win at Cornell Saturday pushed the Big Green's unbeaten streak at Lynah Rink to five. Dartmouth has been 0-10 this season when trailing after two periods.
• Princeton got its first win of 2017 in a big way, beating then No. 4 Penn State 5-4 before a crowd of 15,000 at the Wells Fargo Center Saturday. It was the fifth win of the season for the Tigers over a top-ten team. Ben Foster scored the game-winning goal at 18:34 in the third for Princeton, who trailed 4-2 after two periods.
• The fan voting of the Hobey Baker Award has opened. Fans can vote here.
• Former Harvard goalie Wade Lau was inducted into the Beanpot Hall of Fame Monday. He was in goal for the Crimson's 2-0 win over Boston College in the 1981 championship game. Harvard faces Northeastern in the opening game of the tournament next Monday at the TD Garden in Boston.
• Dartmouth's Alex Jasiek (player), St. Lawrence's Alex Gilmour (rookie) and Kyle Hayton (goalie) were each honored as the league's weekly award winners. Jasiek had the tying and game-winning goals against Cornell Saturday, while Gilmour had three goals on the weekend. Hayton had a .947 save percentage in a pair of Saints' wins.
USCHO.com Correspondent Jack Lyons contributed to this report.