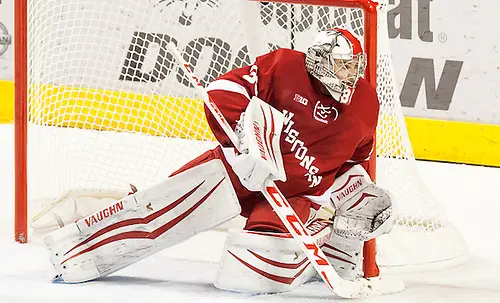 In this space two weeks ago, I was writing about a No. 1 Penn State team and the challenges it might face against a ranked Ohio State team.
The Buckeyes took five points from the Nittany Lions in Pennsylvania and everything seemed to change for Big Ten hockey in a single weekend.
Two weeks later, that same ranked Ohio State team dropped two games to an unranked Wisconsin team – a 3-1 game last Thursday in Columbus and a 3-2 overtime game in Madison Square Garden on Saturday – and now the entire landscape of B1G hockey looks very, very different.
Most surprising – and most welcome for Badgers fans – is that Wisconsin is now tied with Minnesota for first place in the Big Ten, is ranked among the top 20 teams for the first time since October 2014 and is No. 18 in the PairWise Rankings.
And this is how first-year coach Tony Granato characterized the situation after his Badgers had completed their second sweep of a B1G opponent on Saturday night:
"You've got to look at it and not get too excited about where you are in the standings. You just focus [on] your next challenge, and that's what our team's done all year. The challenge that comes in front of us, we look at it, we figure out how to approach it the right way, we work in practices to be ready for our opportunities, and that's really what you have to do and hopefully we can continue to get better each and every weekend."
For a team that finished last in the Big Ten in 2015-2016 with a record of 3-13-4-2, the turnaround is dramatic. There's been a big improvement on the offensive side of things and modest improvement on defense. Last year, the Badgers were 31st offensively in the natio, scoring 2.66 goals per game, compared to sixth (3.59) this season. On defense, Wisconsin has improved from allowing 3.63 goals per game (55th) to 3.14 (43rd). The Wisconsin power play has gone from 23rd (18.6) to 10th (21.8), the penalty kill from 29th (82.4) to seventh (86.7).
More importantly, a team that Granato described in preseason as "fragile" has gained tremendous confidence.
In Saturday's overtime win, the Buckeyes scored two goals within the final two minutes of regulation, a feat that would usually give a team big momentum heading into overtime. Ohio State was stymied in OT, however, by a determined Wisconsin team that didn't allow a single Buckeye shot on goal and worked relentlessly until junior Cameron Hughes netted the game winner at 2:58.
In all, the Badgers held the Buckeyes to three goals in the series. Ohio State has the No. 2 offense in the nation and was averaging more than four goals per game until running into this Wisconsin team.
"They scored two late. Who cares?" said Hughes. "We just get back at it and do the things we do. Things are going to happen in a game – you're going to get bounces, you're not going to get bounces – you just sit through it and stick to the plan that coaches put in place and if you execute it you're going to have success."
Sophomore goaltender Matt Jurusik, who missed more than a month because of an injury in late November, said that the weekend sweep was a boost.
"It lets us know that we're able to do this," said Jurusik. "End up beating a top-ten team that's just giving us more confidence to go into every building, every night knowing we can beat these games. If we play our game for sixty minutes, there isn't a team out there that we can't compete with. Fifty-eight minutes."
That last remark – "fifty-eight minutes" – was said with a smile. The very fact that the Badgers could win in overtime after allowing two goals in the final two minutes of regulation and then joke about it tells you exactly how far this team has come.
"We're starting to have our own identity on how we play," said Granato, who said that it comes from the leadership of the team itself. "I think they're pushing each other, that they believe in each other more so now than in the past. To feel good about your teammates, you need to have some sort of success and now we're starting to put some back-to-back games together, starting to put some back-to-back weekends together and that's how you gain confidence in each other. That's how you really gain confidence in yourself."
The sweep gives the Badgers a three-game win streak to take to East Lansing this weekend when they face Michigan State. Wisconsin went 5-1-0 in January, the only loss in overtime to Minnesota.
The Badgers achieve success completely by committee.
With 15 goals, sophomore Luke Kunin is the only Badger to have reached the 10-goal mark. With Jurusik out, freshman Jack Berry had to handle all of the netminding duties. Berry had the win over Ohio State in Columbus, Jurusik in New York, and Granato likes what this may do for his team down the stretch.
"[Jurusik] didn't get in a rhythm before his injury, then he gets injured and his partner comes in and plays really well for us and kind of takes over and is the starter, [but] when [Jurusik] is out and he's worked extremely hard to get back healthy and to be ready when he did get his opportunity," said Granato.
In his three games back, Jurusik has allowed a total of six goals.
"I think they have a great relationship going as partners," said Granato of the goaltending duo. "They like the challenge of being a tandem. As a goalie, you're competitive. You want the net. When you have a partner going well and you're going well and we've got a nice rhythm going with those two. It's a pretty nice thing to have as a coach."
Now everyone but Minnesota is trying to catch Wisconsin in the Big Ten standings. Everyone's played eight games, and the Golden Gophers and Badgers each have 18 points. Penn State has 16 points, Ohio State 11, Michigan five and Michigan State four. Granato is taking nothing for granted.
"We feel good about ourselves," said Granato. "It's a confidence booster, being able to beat Ohio State in back-to-back games, but we need to focus and continue to improve. We know that there are other challenges out there. That Penn State team is playing unbelievable. Michigan State is playing a lot better than people give them credit for. Lots of challenges in front of us.
"It's going to be a dogfight. The Big Ten's a heck of a league."
No. 18 Wisconsin (13-8-1, 6-2-0-0 B1G) travels to Michigan State (5-15-2, 1-6-1-0 B1G) this Friday and Saturday. Games in Munn Ice Arena begin at 7:05 p.m. EDT each night and will be carried by a Fox Sports West affiliate.
It is a heck of a league
On paper, B1G hockey looks good. This week, two-thirds of the conference is ranked in the USCHO.com Poll: No. 6 Minnesota, No. 7 Penn State, No. 11 Ohio State and No. 18 Wisconsin.
Two teams are still among the top 10 in the PairWise Rankings: Penn State (fifth) and Minnesota (seventh). Less solid is Ohio State, which has dropped to 15th while Wisconsin climbed to 18th.
All four of those ranked teams are among the top 10 teams nationally in offense as well. It remains troubling, though, that the league can't play defense. Penn State is 14th nationally, allowing 2.36 goals per game – and the Nittany Lions have the best defense in the league. Next is Minnesota at 28th (2.75).
It should make for some good conference hockey, at least, for the next six weeks.
It was a heck of a night in New York
The game in Madison Square Garden was part of the Big Ten's Super Saturday, which featured an afternoon basketball game between Wisconsin and Rutgers before the hockey nightcap. The official attendance for the hockey game was a little over 5,000, but the crowd was an enthusiastic sea of red, which makes sense given the two schools participating. Without being able to offer empirical evidence, it looked like there were many more Wisconsin fans than Ohio State fans.
Madison Square Garden is an amazing venue, a storied hockey cathedral that has been renovated to perfection – absolutely beautiful place. That it's right smack dab in the thick of the action in midtown Manhattan is a glorious plus for anyone who enjoys spectacle.
It was clear that at least the players from both teams enjoyed themselves.
Cameron Hughes called the game-winning goal "pretty high" on his list of hockey achievements particularly because of the venue. "Overtime, my parents were here and a family friend. I know my family's watching back home so it was pretty cool. It was sweet to spend some time in New York. The list goes on and on. It was pretty fun."
Hughes said that there were "eight or nine" Badgers who hadn't been to New York before. "We got the whole experience," he said.
"It was awesome," said Ohio State sophomore forward Mason Jobst. "That's why you come to a school like Ohio State and play in the Big Ten. You get opportunities like this. It's something special."
Granato said that the whole experience was a really big deal for his players.
"We got to practice at the United Center in Chicago a couple weeks back," said Granato. "They want to play in the NHL. They've watched a ton of games here. They know Mike Richter played here, and Eddie Giacomin and all the superstars that have come through this arena and all the big events that have happened here. To walk into it and actually participate in a game, in a meaningful game, is a special moment for them and I'm just happy to be here with them."
For Granato, who played his first two seasons (1988-90) of NHL hockey in Madison Square Garden with the New York Rangers, the event was a homecoming. "This building's meant a lot to me. First crack in the NHL with an Original Six team and you get to play in New York in front of these fans in this community in this building, I was pretty lucky. To come back here a long time after I was here, it's special any time coming back."
The Big Ten has announced that it will continue the Super Saturday in late January through 2019. On Jan. 20, 2018, Michigan State will play host to Minnesota in the evening hockey game. The date for and participants in the 2019 game have yet to be announced, and by then all six current B1G hockey teams will have participated in the event. Notre Dame will begin playing in the Big Ten at the start of the 2017-2018 season.
Rutgers with a solid assist
Somehow last Saturday night, the Ohio State pep band found itself without a bass drum for the hockey game. The Rutgers band came through, letting the Buckeyes borrow the bass for the evening game.
And there was a game in Philadelphia
Another B1G team played in another NHL rink Saturday night, an event that drew better than the game in Madison Square Garden. Penn State lost to Princeton, 5-4, in the Wells Fargo Center, home of the Philadelphia Flyers. The Nittany Lions led 4-2 going into the third before losing to the Tigers in front of 15,127 fans.
"Aside from the result," said coach Guy Gadowsky, "it was just a fantastic night. Great alumni from Penn State. They were phenomenal. There were a lot of alumni from Princeton as well. Fifteen-thousand plus is fun to play in front of."
The No. 6 Nittany Lions (16-4-2, 5-2-1-0 B1G) travel to No. 7 Minnesota (15-7-2, 6-2-0-0) for two games in Mariucci Arena this weekend. Friday's game will be televised by Fox Sports North Plus and Saturday's by the Big Ten Network. Both games begin at 7:00 p.m.
And speaking of the Gophers …
After dropping a 3-2 game to then-No. 2 Minnesota-Duluth in the North Star College Cup Friday, the Gophers beat Bemidji State 4-0 Saturday.
"It's good for us," said coach Don Lucia. "We needed the win. You lose against a really good team like UMD, you've got to be able to bounce back. It took us a while maybe emotionally to get checked in but we were able to do it. I thought that that was a really important win."
Three stars of the week
It's all guys from former WCHA teams.
First star – Wisconsin junior forward Cameron Hughes
Hughes (Edmonton, Alberta) had three points in the Badgers' sweep of Ohio State, including the game-winning goal in Madison Square Garden and the lone assist on Thursday's game-winner. In 22 games this season, Hughes has equaled his career-high for goals in a season (five) from a year ago. This is his second career weekly Big Ten award and his first of the season.
Second star – Wisconsin sophomore forward Matthew Freytag
Freytag (Wayzata, Minn.) had the game-winning goal in Thursday night's Wisconsin win over Ohio State and another goal on Saturday, bringing his season total to three goals; Freytag had eight goals in 31 games last season. This is his first weekly Big Ten award.
Third star – Minnesota sophomore goaltender Eric Schierhorn
Schierhorn (Anchorage, Alaska) recorded his fourth shutout in the Gophers' 4-0 win over Bemidji State Saturday. For the weekend, he had a .944 save percentage and a 1.52 GAA. This is his fifth career weekly Big Ten award and his second of the season.
My ballot
1. Minnesota-Duluth
2. Denver
3. Boston University
4. Union
5. Penn State
6. Harvard
7. Minnesota
8. Boston College
9. Western Michigan
10. North Dakota
11. Ohio State
12. Cornell
13. Mass.-Lowell
14. St. Lawrence
15. Providence
15. Vermont
16. Notre Dame
17. Wisconsin
18. Michigan Tech
19. Air Force
20. Robert Morris