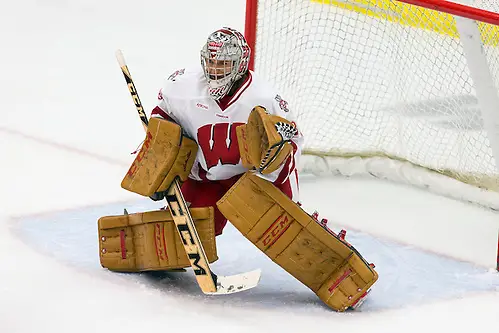 Let's get it all out of the way.
Ann-Renée Desbiens was a 2016 All-American. She was named 2015-16 USCHO Player of the Year and was a Patty Kazmaier top-three finalist. She continues to set the NCAA record for most career shutouts by any goalie of either gender (she currently has 48). In 2015-16, she set NCAA single-season records for shutouts (21), save percentage (.960), and goals-against average (0.76), as well as the longest consecutive stretch of shutout minutes at 543:53.
She really couldn't care less.
That's not fair or completely true, but she is incredibly sick of talking about all of her accomplishments.
Not only does she point out that few, if any, of her awards would be possible without the help of the incredibly talented teammates in front of her, but there's only so much one can say about breaking records game after game without sounding blasé.
On the ice, Desbiens is quick and inventive. She's an active goalie and looks for opportunities to leave her crease and come out of the net. She almost vibrates with energy and never seems to be totally still. When the puck is in play, however, she has a laser-focus. At 5-foot-9 without her skates and gear, she's even more intimidating with it.
When play is stopped, she's scanning the crowd, waving at fans and laughing with teammates or an official.
Combine the specter of her records with her unease when talking about them and what some call her "on-ice antics" and it's possible to understand why opposing fans think of her as cocky.
—
Desbiens is from La Malbaie, Quebec, a resort town of about 9,000 people that lies about 100 miles up the St. Lawrence River from Quebec City and about 250 miles from Montreal. She and her family speak French at home and the English she had when she first enrolled at Wisconsin was minimal, at best.
Her path to the NCAA was an unusual one. She wasn't looking into college in the United States. She'd planned to stay in Canada and try to play in the Canadian Hockey League.
She had been playing on and off with Hockey Canada's Development Program, including a silver medal with their U-18 squad in the 2011 Women's World Championships. She was attending a U-22 camp with the national team program when Wisconsin women's assistant coach Jackie Crum asked her what her collegiate plans were. It was the first time Desbiens had thought about playing in the NCAA.
"(She was) a goaltender with great athletic ability, as well as size," said Crum. "She tracks the puck very well and it was easy to see how good of a goaltender she would be at an early age. I was excited to learn Ann had not committed to another NCAA school."
—
The challenges were many when Desbiens decided to enroll at Wisconsin. Off the ice, she couldn't speak the language and would be 1,200 miles from home.
On the ice, she had to transition to the pace of the women's game while attempting to continue the goaltending legacy left behind by Jessie Vetter and Alex Rigsby. In fact, one of the reasons Desbiens was recruited was to ensure the Badgers had a solid goalie for the 2013-14 season, as everyone, including coach Mark Johnson, expected Rigsby to be centralized with the U.S. Women's National Team as part of pre-Sochi camps.
Rigsby's invite never came, but by that point Desbiens was a Badger.
"I had no clue what I was getting myself into (joining the women's game); I had no clue about women's hockey," she said. "I didn't know what to expect playing on a women's team for a long time. The most I'd ever played with girls was two weeks at a time with Team Canada when I was a U-18 or U-22."
One way Desbiens adjusted her game to play against physically larger men was to become more active in her crease. She's used to moving away from the goal to cut angles and give herself an advantage. When she transitioned to the women's game, she sometimes found it difficult to concentrate. She was used to more action and harder shots. One way she tried to combat that ennui was to come out of the net. Especially early in her collegiate career, she balanced the line between reckless and active. More playing time, ease with the women's game, and maturity have helped her find a balance.
"On the ice, she has become more patient in the net and is not over-moving like she did as a young goalie," said Crum. "She would get bored in net when shots didn't come her way and when they did, she would have to overcompensate to make saves. Now she is steady, making simple saves and using her size/athletic ability to her advantage."
—
Postgame, Desbiens is more likely to be excited about the flowers or picture a young fan brought her than any record she may have broken. She and many of the young fans at LaBahn have formed a special bond. She knows where they sit and she looks for them before and after games and even during stoppages of play.
"My freshman year, I didn't realize the impact you can have on someone until I waved at just one kid in the corner. I received a message from his mom saying that it was the best thing and I made his day and I was like 'Oh, really?' For me, it was a half-second of my time. I just realized how nice it is for them and how much they look forward to this little wave or this little smile," she said.
It's turned out to be a bit of symbiotic relationship. The kids are thrilled by their bond to their hero, but in return, Desbiens has found taking a moment to find the kids in the crowd during a stoppage in play helps her concentrate while the puck is in play.
"A game lasts more than two hours; for me to be able to focus while the puck is on the ice during the actual 60 minutes of game play, I have to take my mind off things," she said. "I've found that's one way I'm able to shift my focus and then bring it back when the puck drops. It gives me something to look forward to."
The excitement and passion the kids show also helps remind Desbiens how lucky she is to be in this position. The kids make her humble as well as help her look at the bigger picture. That lesson from her freshman year has stuck with her.
"How many lives we can change without even realizing it? What I do on the ice gives me that opportunity," she said. "I know that if I come to a game in the future, I'll still see the same kid smiling in the same seat they were when I was on the ice. They've become lifelong fans. It's pretty awesome to look around and see that I shared my passion with someone else."
So while she can see why it might appear to opposing teams and fans that she's not taking the game seriously or is getting too comfortable in her net, for Desbiens, it's a small price to pay for the joy the fan interactions bring on both sides of the glass. And no, she doesn't think making a kids' day is cocky.
—
Multiple years as a starter for the Badgers have helped Desbiens become more comfortable in the game, but so has spending time with the Canadian senior national team.
"Any opportunity I get to wear that jersey is special and as exciting as it was the first time I put it on; going to the Olympics was always my dream and now it's my goal," she said. "My focus is on the Badgers right now. The team here is what's going to take me to my other dream."
It's been an up and down process for her. She started the gold medal game of the 2015 IIHF Women's World Championships against Team USA, but was pulled from the game partway through. (So was former Badger Jessie Vetter on the American side.) The final score was 7-5 and didn't speak well of either team's defense. She was not on the roster for the 2016 Women's Worlds.
She returned to the fold and started in goal for the December series against the U.S. that was played December 17 in Plymouth, Michigan. Her return was cut short on an awkward noncontact play that appeared to injure her left leg.
The injury was less serious than originally feared and she returned to the ice for the Badgers just one day shy of four weeks later. She said the original timeline she'd been given was much longer, but was then amended to the announced 4-6 weeks.
Since returning to the ice for the Badgers (she missed just one game), she's posted a 4-0 record with two shutouts and three goals allowed.
Though she missed out on the game play, Desbiens said the most important part of that experience was the week of practicing and training with Hockey Canada leading up to the game.
"I definitely wanted to play that game; it had been too long since I'd played for them," she said. "It was a big game on TV and I had a chance to wear that jersey again. At the same time, I was lucky because I was able to go through the whole week with them and practice with them. I was able to showcase what I can do. I was happy to go through the entire process. I wish I could have finished the entire game and I was excited to play against Rigs, too, but things happen and I survived."
Playing with Hockey Canada's senior team is a challenge, she said, and keeps her from getting too comfortable.
One major thing she continues to learn in international play is to be a better communicator, both on and off the ice. From learning better habits and discipline to learning to ask for the help she needs, even when she's nervous or shy, she said the time she spends with her national team has taught her so much as a person.
"They help me learn more about myself. They help me be a better goalie and be a better individual, too."
—-
It's been a taxing year for Desbiens. Two separate injuries have kept her sidelined and threatened to prematurely end her career, but the ever-optimistic Desbiens said they just taught her how to be patient.
"It's taught me to stay in the moment, take a deep breath, enjoy things a little more," she said. "You can't take things for granted. You just realize that you have to enjoy the moment because you never know what's going to happen next — the next game or the next shot. So it just taught me to be patient. I can get frustrated, but there are things I can't control."
As the Badgers head into the final weeks of the regular season, they've been ranked no. 1 the entire year. No one on this current team has played in a national championship game — they've lost to Minnesota in a semifinal each of the last three seasons.
Until last season, the Badgers had struggled to beat Minnesota at all. Now, with a few more wins against their rival under their belt, Wisconsin is as confident as ever and poised to bring a national championship back home to Madison.
A few months ago, Desbiens might have reacted differently to the pressure and expectations down this final stretch. Now, her newly learned patience has her focusing on her own work ethic and not allowing outside distractions to sidetrack her.
"I cannot control the outcome of my last game (as a Badger) — whether it's a win or loss. I just need to make sure I did everything I could as an athlete. That's what I'm focusing on," Desbiens said.
Whether the future holds an NCAA title or an Olympic roster spot, she doesn't know, so she's keeping her options open.
She's already been accepted to the Integrated Masters of Accounting program at Wisconsin and she has an internship lined up with Deloitte, but she's also planned all of that so that it can be arranged to accommodate centralization and a trip to South Korea in early 2018 if the opportunity arises.
"Growing up, my dad always told me to play the game that I love and if I stop loving it that I could always stop. On the ice I still do it because I still love it as much as I did when I was a little kid," said Desbiens. "There's still much I want to accomplish as an individual and as a team."