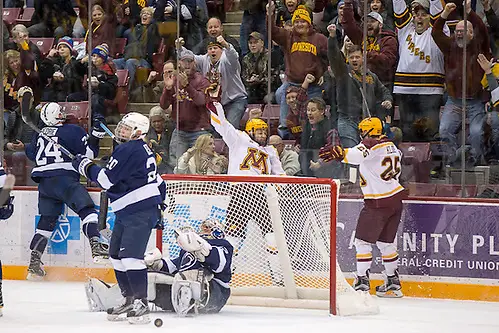 A lot can change in one year.
For the Big Ten, at least in terms of the performance of its six teams on the ice, the change has been for the better.
At this time last year, the Big Ten had two ranked teams; No. 6 Michigan and No. 16 Penn State. Eventual regular season champion Minnesota had a pedestrian 14-13-0 record. Wisconsin was 6-12-6.
This week there are currently four teams ranked in the top-20, according to this week's USCHO.com Division I Men's Poll. Those four schools, Minnesota, Penn State, Ohio State and Wisconsin, all have an overall winning percentage greater than 60 percent.
That is music to the Big Ten's ears, according to deputy commissioner Brad Traviolia.
"It's great to have records that are improved from a year ago," Traviolia said. "There are indicators throughout the season and a lot of them are positive, certainly specifically with some of our school and overall as a league. The trends are encouraging, and it's nice to see that."
I caught up with Traviolia last Friday. This article will be broken down into a number of topics that surround the Big Ten, both this season and beyond.
From ACHA to No. 1 in Division I in less than five years – what's going right at Penn State?
One of the most talked about teams in the conference this season has been Penn State. The Nittany Lions, the only team in the conference that only knows Big Ten hockey, used a 16-2-1 start to the season to rise to the top of the rankings on January 16th. It was the first top ranking in the program's history.
"Reaching the No. 1 ranking in any sport at any time of the year is a neat accomplishment," Traviolia said, adding that, of course, the ranking at the end of the year is the one that matters. "The recognition, it should be thought of as a nice honor if you will, even if it's short-lived and it's midseason."
Traviolia said that Penn State's rapid rise to prominence was "awesome, and it's exciting and well-deserved."
He spread the credit for the success that the young program has had out, from head coach Guy Gadowsky, to the university as a whole and the players themselves.
"You need to have all of those components to have a successful program to begin with," Traviolia said. "Certainly there's no way it could have been done this quickly without each of those being strong."
Since reaching the peak of the polls, the Nittany Lions have stubbed their toe. They are 0-4-1 since being ranked No. 1 and have fallen to No. 11 in the PairWise Rankings.
Badgers are back
Another Big Ten team that has grabbed headlines as of late is Wisconsin, thanks to the fact that the Badgers are 7-1 in 2017.
As it stands, the Badgers have a 15-8-1 record and are tied with Minnesota atop the Big Ten standings.
Traviolia called the increased attendance and excitement for Wisconsin a "huge bump" for the conference.
"We see this across all sports, your traditional powers, if you will, from a recognition point it's always great to have them doing well," he said before adding that while league-parity is the goal, it's nice to have Wisconsin doing well. "Wisconsin obviously had some down years, it's good for them to be able to turn that around and in a very short order be at the level they're at. It's extremely exciting to watch."
I want to be a part of it, New York, New York
A week and a half ago, the Big Ten wrapped up its second Super Saturday event with Wisconsin defeating Ohio State in overtime.
The event is a basketball and hockey doubleheader played at Madison Square Garden in New York City. The self-titled World's Most Famous Arena, located in the heart of Manhattan, was not randomly chosen.
"It's really a long-term commitment from the conference, that we want to be relevant in the New York City area," Traviolia. "We're bringing the Big Ten, which traditionally is a Midwest conference, to a new region of the country. If you're going to go out east, you want to be relevant in the New York City area."
Michigan and Penn State played in the inaugural event last season and drew more than 13,000 fans, which may have been aided by the fact that both basketball teams played beforehand. This year's game drew a little more than 5,000. Though the attendance was more than cut in half, Traviolia said that the conference doesn't expect to make any drastic changes.
"Attendance was down from year one [and] you can draw a lot of inferences from that," he said. "We're looking at the long-term success of making the Big Ten relevant in New York City as the overarching goal.
"A single year's attendance at one game doesn't make or break or have you significantly adjust that long-term goal. It may tweak how we do matchups in the future, it may tweak how we change a few small things here and there, but the overarching goal of bringing the best of what the Big Ten is to a new region of the country still remains the same."
Minnesota and Michigan State are scheduled to play at MSG next season. The Gophers men's basketball team will also play against Ohio State. The hockey matchup for 2019 hasn't been announced.
"With the first three years, we obviously are going to have all six of the current Big Ten hockey members in the building participating in the Super Saturday," Traviolia said. "The future matchups may be dependent on what we learn in years one, two and three, or it probably will be dependent on them."
Here come the Irish
The 2017-18 season will feature two large changes to Big Ten hockey.
The first is the addition of Notre Dame as an affiliate member. Adding the Fighting Irish will give the conference seven teams.
Traviolia said that the six schools in the conference felt that growing was important in terms of trying to boost their resumes when it came to the NCAA tournament selection. He added that having a larger schedule and "growing by quality" was important.
"When you talk about what does Notre Dame bring, they bring quality," he said. "It's a very good hockey program, they have a great following, there's some traditional rivals from the old CCHA that they bring and from a Big Ten perspective we think that the university itself and the reputation of Notre Dame and the rivalry that the university has with some of our members outside of hockey will make it very attractive on the hockey side."
Traviolia said he saw Notre Dame joining the conference as a win-win for both the school and conference.
"We're starting new rivalries, it takes time, but we think that Notre Dame will add to that mix and benefit us," he said. "On the flip side, I think Big Ten hockey will benefit them. We're in their neighborhood and they are familiar with our campuses and we're in the same time zone for the most part, it's something that they'll really benefit from as well."
Having seven teams puts the conference at an odd number, a position that most conferences don't strive to be at, but that doesn't mean that an eighth team is on the horizon.
"We were comfortable, as an all-sport conference, with 11 institutions for 20 years," Traviolia said. "So the fact that it's maybe a little funky on the scheduling side really doesn't influence tremendously how we operate.
"Going from seven to eight, from our mindset, just increasing to get to an even number, that's not the reason you expand. The reason you expand is can you as a conference get better."
Adding Notre Dame means that the conference is open to affiliate members, but aside from the Irish there aren't a lot of potential suitors. Arizona State, which is currently a Division I Independent, fits from a school-size perspective, but not on the travel side of things. There is always the possibility that a current Big Ten institution decides to field a team, but there has been nothing concrete on that front.
"We have to be able to check those boxes and really do the due diligence and feel that Big Ten hockey overall would be improved, the Big Ten conference would be improved, the affiliate institutions with hockey coming in it would benefit them so there's a long term relationship," Traviolia said. "Those are the kinds of things that we would want to consider and do due diligence on before going to eight from seven."
Back to campus
The Big Ten was made up of schools from the WCHA and CCHA, so naturally, the first four years of the new conference's tournament were scheduled to rotate between the two former homes of the previous conferences' tournaments: Xcel Energy Center and Joe Louis Arena.
"It was what I'd call a pretty straightforward and simple approach to, 'let's get our feet wet and play where you played before,'" Traviolia said. "We'll alternate, not favor one side over the other, and see how it responds."
It responded poorly. Simply put, not many fans showed up.
"What the WCHA and the CCHA built up over the years was special, they did a great job and they were respectively very successful events," Traviolia said. "But given the location of our schools and where the fan bases are going back to campuses and taking the tournament back to the home sites, we're going to have a better chance of filling up those venues than we are to get the fans to travel to a single neutral site."
Traviolia said that after the second year, the conference started strongly looking into moving the tournament to campus sites. It was announced before this season that the change would be made for next year. The tournament will be played over three weekends with three three-game series being played between everyone but the regular-season champion the first weekend, two single-game quarterfinals hosted by higher seeds the second weekend and a one-game championship game hosted by the highest remaining seed.
"We feel long term, one of the best things that there is about college hockey and what we feel about Big Ten hockey is the campus environment," Traviolia said. "A regular-season series between our schools bring out tremendous crowds, they're great environments and we think that we have a very good chance of replicating that in a tournament setting on campus."
Traviolia said creating an exciting atmosphere was the top priority. He thinks that playing in playoff games on campus will be exciting for both the home team and the away team. An example he cited was when Nebraska drew large crowds to the postseason baseball tournament held in Omaha on its run to the finals.
"Each team that they played and beat on their way to the finals, the coach in the press conference said that the atmosphere as outstanding," Traviolia said. "They would much rather come and face that hostile environment and have the excitement of the moment than to be in an environment that wasn't well-attended."
Ohio State and Wisconsin both play in shared buildings, but Traviolia said that flexibility will be built into the postseason schedule to accommodate for any conflicts. Nationwide Arena in Columbus and Alliant Energy Center in Madison are also fallback options for both teams.
"It's something, we know it's not ideal they don't have a hockey-dedicated facility but we're knowledgeable of that ahead of time and we're going to manage it to a point where hopefully, it will be a nonissue where we can work around those scheduling challenges," Traviolia said.
WCHA commissioner Bill Robertson said last March that there was a possibility of the WCHA, Big Ten and NCHC combining to create a college hockey festival of sorts with their respective postseason tournaments being at the same time and in the same area, more than likely the Twin Cities. Traviolia said that he would call the discussion that took place "very early conversations" and that campus sites ended up being the preferred option.
"On one hand, that could have worked as a festival atmosphere, but I also think that the conferences liked having their respective identities and liked building towards those," he said. "The campus sites for us, that was priority one and we're going to run with it."
Three stars of the week
First star — Minnesota sophomore goaltender Eric Shierhorn: Shierhorn held Penn State to three goals on 69 shots last weekend. This is his sixth career Big Ten weekly award.
Second star — Ohio State senior forward Nick Schilkey: Schilkey had six points in the Buckeyes' split with Michigan. He scored the game-winning goal with 30 seconds left in the third period on Saturday. This is his seventh career Big Ten weekly award.
Third star — Michigan sophomore forward Cooper Marody: Marody also had six points, including four goals, last weekend. He recorded his first career hat trick on Friday. This is his first career Big Ten weekly award.
B1G in the poll
No. 5 Minnesota, No. 10 Penn State, No. 12 Ohio State and No. 17 Wisconsin represent the Big Ten in this week's USCHO.com Division I Men's Poll
My ballot
1. Minnesota-Duluth
2. Denver
3. Boston University
4. Harvard
5. Minnesota
6. Union
7. Western Michigan
8. Boston College
9. Massachusetts-Lowell
10. Penn State
11. Ohio State
12. Vermont
13. Wisconsin
14. North Dakota
15. Providence
16. Cornell
17. Notre Dame
18. St. Lawrence
19. Quinnipiac
20. Air Force
This week's matchups
Michigan at Michigan State (Friday at Joe Louis Arena, Saturday at Yost Ice Arena)
Minnesota at Ohio State (Friday and Saturday, Value City Arena)
Penn State at Wisconsin (Friday and Saturday, Kohl Center)