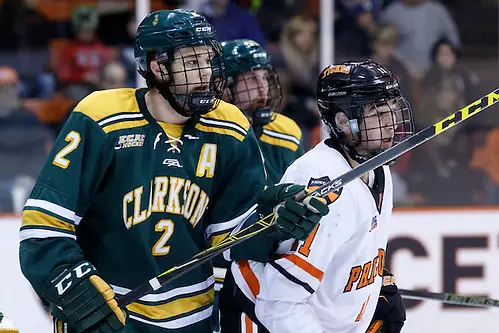 Coming into the game against St. Lawrence last Saturday, Clarkson had lost three straight.
Clarkson coach Casey Jones was hoping the Golden Knights would get back get back to playing a full 60 minutes against their rivals.
And that's just what happened as Clarkson defeated St. Lawrence 3-1.
"I thought we had a good week of practice leading up to the weekend," Jones said. "We had some games where we didn't have the urgency was as high as we needed it to be for the full 60 minutes. We had some spurts where we have playing well, but some teams capitalized on us not being able to prepare to execute. Having that sense of urgency, that's what we need to do. There's a small margin of error in college hockey right now. You better be ready to put it on the line for 60 minutes every night."
The Golden Knights got out to a 1-0 lead Rensselaer on Jan. 28 before falling 2-1. After Jordan Boucher scored in the first period and the Golden Knights put up eight shots in the opening period, they only had seven more shots the entire game.
The week before, Clarkson had a 2-1 lead over Colgate heading into the third period before dropping a 3-2 decision. On the season, Clarkson is 5-7-2 when scoring first and 7-3-1 on the season when they have a lead after the first period.
"For us, maintaining leads has been our biggest problem and holding onto them," Jones said. "Understanding enough is enough, play the game the right way. When you do that, you have the opportunity to limit other team's chances. We've been thinking we've been taking a good step here, even though we have had trouble scoring 5-on-5, but we've been generating chances. But for us, it's being better at limiting teams on what they are getting. There's some teams that it doesn't seem they have to work as hard to score a goal against us."
Jones said that was the message going into the game against St. Lawrence and he also said they competed at a higher rate for pucks.
Clarkson was able to stick to the game plan on Saturday.
"That's what I have found that's our biggest issue," Jones added. "Hey, there's a way to play the game the right way and deviate away from that at times. The last couple of weekends, sometimes it doesn't catch [you]. It caught us and it cost us some games we would really like to have back. I thought Saturday night when we got the lead on St. Lawrence, I thought we limited what they got. I thought it was one of our better games to stay within the game plan until the final buzzer."
The win also was their only fifth win at home this season. After being one of the best home teams in the country in 2015-16 at 15-2-2, Jones hopes his team can regain that home-ice advantage with two games remaining at Cheel Arena in the regular season heading into the ECAC tournament.
In this final three weeks of the regular season, Jones wants the upperclassmen to step up to provide consistency with the postseason nearing.
"We have a big freshman class and once the second half of the year rolls around, they aren't freshmen anymore because you had them in a lot of situations since the start of the year," Jones said. "It's one of those situations where it's a mindset for us – we have to get a pull from our upperclassmen to make sure we are consistent. For us, it has to be our drive from our senior class because it will be our pulling force down the stretch."
He also said Clarkson is at their best when the freshmen are chipping in offensively. Nico Sturm has 19 points to lead all freshmen on the team, while Sheldon Rempal and Devin Brosseau each have 18 points. Those three are third and tied for fourth in team scoring, respectively.
Harvard entering playoff mode
The Crimson are in a middle of a three-game stretch that could be considered a mini national tournament as they defeated Northeastern 4-3 on Monday in the opening round of the Beanpot tournament.
On Friday, Harvard hosts Union in a key ECAC contest before facing Boston University on Monday in the Beanpot championship game.
If you ask them directly, here on out, it's all playoff games.
"Yeah, this is a really critical three-game stretch for us, but I would go even further and say the rest of the season is a critical stretch for us," Harvard forward Alexander Kerfoot said after the win against Northeastern. "I think we really have high expectations for ourselves in the group. Everything we want to accomplish is still in line for until the end of the season. We can't afford to take any nights off and obviously, the Beanpot is a huge goal of ours. The ECAC (championship) is another goal of ours."
It will be the fist time Harvard will compete for the Beanpot title since 2008. They haven't won the title since 1993.
"I think it's great, like (Alexander Kerfoot and Luke Esposito) said, this senior class has some really good hockey players and are great kids," Harvard coach Ted Donato said. "But they really haven't had the chance. I don't think until you play in that second game – whether it's the first night or the second night – the way it has worked out for us, it has been the early game for this group. I don't you really experience the Beanpot until you play in the finals. I think it's an important step for our group and I know our senior leadership was on display, it has been on display all year. I am happy for them and I think I know they aren't certainly satisfied. I think they are excited to play one of the great teams that will play later tonight."
Weekly award winners
• Union's Mike Vecchione won the player of the week honors as he had three goals and an assist over the weekend. He had two goals in a loss to Cornell on Friday before adding a goal and an assist in a 3-1 win over Colgate. He leads the country in scoring with 22 goals and 26 assists for 48 points. In ECAC play, he has 13 goals and 17 assists.
• Cornell's Yanni Kaldis won rookie of the week honors as he had an assist in the 5-3 victory over Union on Friday and his first collegiate goal and a helper in a 4-3 victory over RPI on Saturday. The Montreal native has ten points in his freshmen campaign.
• Princeton's Colton Phinney took home goaltender of the week honors with a 4-2 victory over Yale on Friday night and a 3-3 tie with Brown on Saturday. On the year, he has an 8-11-3 record with a 3.43 GAA and a .900 save percentage.
Five ECAC players named Walter Brown semifinalists
The Gridiron Club of Greater Boston announced 23 semifinalist on Monday for the 65th annual Walter Brown Award for the best American born player in New England. Five players hail from ECAC schools.
Harvard leads the way with three players that matches Boston College, Boston University and UMass Lowell with the most. The three players are Sean Malone, who has 13 goals and 14 assists for 27 points, which is second on the team. Adam Fox has a two goals and 23 assists. Goaltender Merrick Madsen has a 16-5-2 record with a 2.23 GAA and a .917 save percentage.
Yale and Brown each have a player represented as John Hayden is the Bulldogs nominee with 16 goals and 12 assists, which is second on the team. The Bears' leading scorer, Sam Lafferty, is Brown's representative as he has eight goals and 20 assists this season.