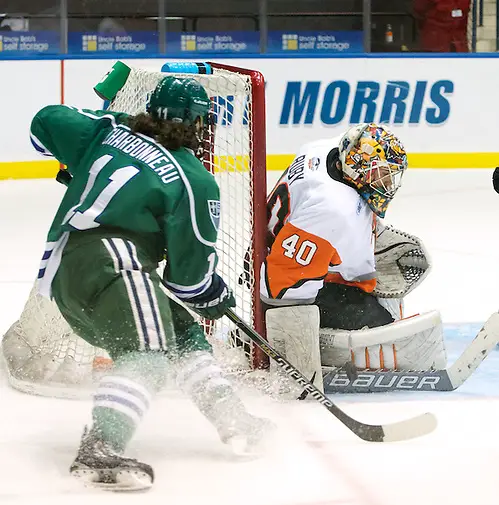 It's been an up-and-down year for the Mercyhurst Lakers, who sit in a three-way tie for fourth place in the Atlantic Hockey standings at 10-10-4 in league play.
The Lakers have spent most of the season straddling the .500 mark, winning consecutive games only twice, but never dropping more than three contests in a row.
Rick Gotkin's team began to pick up steam four weeks ago, and put together a five game unbeaten streak that was snapped last Saturday in an overtime loss to Sacred Heart.
When asked about the unpredictability of the season, his 29th behind the Lakers' bench, Gotkin said: "It's because our league is really good. Every game is a challenge.
"I like the way our team has played. We've been pretty steady. Six of our 10 losses have been one goal games. In some of those, I think we've deserved better, but the bounces don't always go your way."
Steady play has been a hallmark of Mercyhurst hockey. In its 13 seasons of Atlantic Hockey play, Gotkin and his team have finished below .500 only twice, and failed to win 15 games only once. The Lakers have reached the 20 win plateau five times.
The constant has been Gotkin, who has won 521 games so far.
"I don't think it's me," said Gotkin. "Twenty-nine years is a long time, but it doesn't seem like a long time. Obviously our success has been because of great student athletes, resulting in a good reputation as far as recruiting goes. Credit goes to the assistant coaches that have brought these players to campus."
Players like junior forward Jonathan Charbonneau, who has 13 goals so far.
"He's scored goals since he's been here" said Gotkin of Charbonneau, who has 36 career tallies. "He's been great for us."
A pair of sophomores are also leading the way offensively. Derek Barach leads the team in points per game (.897), thanks to 22 assists. Classmate Taylor Best has 13 points, including eight goals, in 16 games after missing the first part of the season due to injury.
In net, junior Brandon Wildgun has seen the majority of playing time recently, but rookie Colin DeAugustine has appeared in 13 contests, posting a .918 save percentage.
"They've both been great for us," said Gotkin. "Brandon Wildung, a junior, everyone knows what he can do. Colin, we weren't sure how much he was going to play for us — he was brought in to be our third goalie but then Adam Carlson left early for a professional opportunity with the Washington Capitals.
"Colin's made the most of the opportunity. "
Eleven teams In Atlantic Hockey means some scheduling quirks, and the Lakers will finish with an unorthodox stretch of games. Mercyhurst will play just once this weekend, a nonconference tilt at Bowling Green. Then after a home-and-home series with Robert Morris, Gotkins team finishes with Thursday and Saturday contests with longtime rivals Canisius and RIT.
"Everybody gets that bye," said Gotkin of of Laker's upcoming weekend without a conference game. "Last year, we had ours in October and that was worse.
"We have a great opportunity at this point in the season to go on the road to play a great opponent that will help us prepare for the stretch run."
The goal remains the same: get to Rochester and play for a championship. In the 10 years that Blue Cross Arena has hosted the Atlantic Hockey championships, the Lakers have made it there five times, including four appearances in the title game.
But it's been 12 years since Mercyhurst has won a playoff championship.
Will this be the year? Gotkin says that once the playoffs start, anything can happen.
"The four teams that make it to Rochester are going to be four teams that have had really good years," he said. "It's wide open. Our goal is to finish in the top five and then win a quarterfinal series to get to Rochester, and ultimately, to win a championship.
"The way our league is, I wouldn't be surprised to see an eighth or ninth or tenth place team make it to Rochester. We have great players and great coaches in this league, so it's wide open."
Where things stand
With three weekends left in the regular season, there is still much to be decided. But a couple of teams have been able to build some daylight between themselves and the rest of the pack.
Here's what we know going into this weekend:
Canisius
Possibilities:The Golden Griffins, who are riding a 10-game unbeaten streak, longest in the nation, have clinched a first-round bye and can finish anywhere from first to fifth. Canisius has the easiest remaining schedule.
Remaining games: at Sacred Heart (2), Niagara, at Niagara, Mercyhurst
Remaining opponents' conference winning percentage: .337
Air Force
Possibilities: The Falcons are very close to wrapping up a bye. They can finish anywhere from first to sixth. Air Force can clinch a bye with an RIT tie or loss.
Remaining games: American International (2), at RIT (2), Sacred Heart (2).
Remaining opponents' conference winning percentage: .413
Robert Morris
Possibilities: Robert Morris can finish anywhere from first to ninth, a wide gap shared by teams currently in positions three through nine.
Remaining games: Bentley (2), at Mercyhurst, Mercyhurst, at Niagara (2)
Remaining opponents' conference winning percentage: .379
Army West Point
Possibilities: The Black Knights can still finish first. They can also finish 10th.
Remaining games: Niagara (2), at Holy Cross, Holy Cross, at American International, American International
Remaining opponents' conference winning percentage: .360
Holy Cross
Possibilities: The Crusaders can also end the season anywhere from first to tenth.
Remaining games: at RIT (2), Army West Point, at Army West Point, at Bentley (2)
Remaining opponents' conference winning percentage: .493
Mercyhurst
Possibilities: Mercyhurst is currently in a three-way tie with Army West Point and Holy Cross for fourth place, but because the Lakers have played two more games to date, their outlook doesn't include a regular season title. Mercyhurst will finish between third and 10th.
Remaining games: Bowling Green (non-conference), Robert Morris, at Robert Morris, at Canisius, RIT
Remaining opponents' conference winning percentage: .594
RIT
Possibilities: The Tigers have a similar outlook to Mercyhurst, but because they hold a game in hand on the Lakers, a second place finish is possible. So is a 10th place finish.
Remaining games: Holy Cross (2), Air Force (2), at Mercyhurst
Remaining opponents' conference winning percentage: .608
Bentley
Possibilities: Bentley can end the season anywhere from third place to 11th.
Remaining games: at Robert Morris (2), Sacred Heart, at Sacred Heart, Holy Cross (2)
Remaining opponents' conference winning percentage: .557
Sacred Heart
Possibilities: Ditto for the Pioneers. Third through 11th.
Remaining games: Canisius (2), at Bentley, Bentley, at Air Force (2)
Remaining opponents' conference winning percentage: .633
American International
Possibilities: The Yellow Jackets still have a remote chance at a first round bye, but could also finish last. They have the most difficult remaining schedule.
Remaining games: at Air Force (2), Army West Point, at Army West Point
Remaining opponents' conference winning percentage: .636
Niagara
Possibilities: Niagara has the narrowest of options. The Purple Eagles will be on the road for a first-round playoff series, and can finish somewhere between ninth and 11th.
Remaining games: at Army West Point (2), at Canisius, Canisius, Robert Morris (2)
Remaining opponents' conference winning percentage: .617
The envelope please, Part II
In my last column, I reviewed some of the post-season national awards that Atlantic Hockey players have received nominations.
There are two more worth mentioning:
Walter Brown Award
The Walter Brown is presented to the top American-born player in New England. In the 65 year history of the award, it's gone to an AHC player only once: Bentley's Brett Gensler in 2012.
This year's nominees were announced this week, and a pair of Atlantic Hockey players are on the list:
Danny Lopez (Holy Cross)
Kyle Schmidt (Bentley)
The winner will be announced just prior to the start of this year's NCAA tournament.
Derek Hines Unsung Hero Award
This award, first given out in 2007, is named in honor of Hines, a former Army West Point player who was killed serving in Afghanistan in 2005.
It's presented to a player that "displays exemplary sportsmanship, is supremely competitive, intelligent and extraordinarily conditioned with an unmatched work ethic. The contributions of this individual, on and off the ice, cannot be measured by statistics alone."
Each of the six Division I conferences nominates a player, and the league commissioners vote to select the winner.
Past recipients include Matt Vidal from Holy Cross who was honored last season.
The nominees and winner will be announced at the Frozen Four in Chicago. Last season, the Derek Hines Unsung Hero award was included for the first time in the ceremony announcing the Hobey Baker and Hockey Humanitarian award, giving this honor additional well-deserved recognition.
Hobey update
And finally, the Hobey Baker Award is currently in its fan balloting phase. Note that the Division I coaches, who pick the ten finalists, and the Hobey Baker committee, which selects the winner, are not involved in this phase.
Among the 66 players eligible for the fan vote are:
Brady Ferguson (Robert Morris)
Max French (Bentley)
Parker Gahagen (Army West Point)
Daniel Leavens (Robert Morris)
TJ Moore (Holy Cross)
Mitch Nylen (Sacred Heart)
Charles Williams (Canisius)
Weekly awards
From the home office in Winthrop, Mass.:
Player of the Week
Danny Lopez, Holy Cross: The junior forward racked up three goals and an assist to help the Crusaders to a sweep against American International. The three goals came on Friday, Lopez' first career hat trick. He has 17 goals this season including 12 on the power play, tops in the nation.
Defensive Player of the Week
Liam Clare, Sacred Heart: Clare had three assists in a win and tie against Mercyhurst. He set up the game-tying goal with 2:35 to in Friday's 2-2 draw, and assisted on a pair of goals in Saturday's 4-3 overtime win.
Goalie of the Week
Shane Starrett, Air Force: The sophomore made 51 saves on 53 shots in a road sweep of Bentley. He's currently tied for 14th nationally in save percentage (.921) and 15th in GAA (2.20).
Rookie of the Week
Brady Tomlak, Air Force: Tomlak had a goal and a pair of assists to help Air Force to a four-point weekend against Bentley.