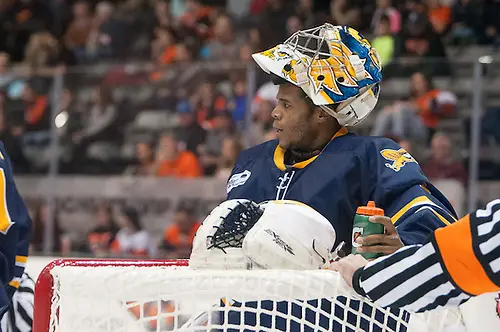 Canisius goaltender Charles Williams hasn't taken a conventional path to where he is today, but his college hockey career started out the way they typically do for a Division I player.
The Canton, Mich., native posted impressive numbers in the USHL, going 20-4-3 for the Lincoln Stars in his last year of juniors.
He landed at Ferris State, where he played in nine games his first two seasons, backing up Hobey Baker finalist CJ Motte.
He was injured his entire junior season, rejoining the team for his senior campaign and earning his degree while seeing action in 11 games.
Granted a medical redshirt, Williams decided he wasn't done with college hockey, and was looking to take advantage of his remaining season of eligibility.
"I was at Ferris for four years," said Williams. "I redshirted a year. Graduating from Ferris, I was looking for a fresh start school-wise and on the hockey side, I was looking for an opportunity. Talking with the coaching staff (at Ferris State), it didn't seem like the opportunity was going to be there."
Enter Canisius assistant coach Trevor Large.
They say that job hunting is all about networking and Large, a Ferris State alum, was the link for Williams between the two schools.
"Trevor Large got in touch and asked if I'd like to talk," said Williams, who is enrolled as a graduate student in Canisius' Sports Management program. "It was a really good fit from both a school and hockey standpoint."
Williams started the season competing for time with three other goalies, but quickly won the starting role and has been outstanding in net – his .944 save percentage is tops in the nation and his GAA is 1.95, eighth best in Division I.
He's been named Atlantic Hockey goalie of the week five times so far, including the last two weeks, allowing a total of 5 goals on 154 shots in a sweep of Rochester Institute of Technology and a win and a tie at Air Force.
"There are four (goalies) and anyone could be the guy," said Williams. "I've been putting in the work over the summer and with (goaltending coach) Mike Nepsa so I could have a good chance to be the guy. We got off to a good start in conference play and just took it from there."
Williams said his teammates made it easy for him to fit in despite knowing that this would be his one and only season at Canisius.
"It was great," he said. "I was accepted right away and they're great guys, great teammates. They took me in knowing that I had some experience. The other two seniors, Geoff Fortman and Josh Kielich, have been awesome. We joke around. It's been fun going to the rink every day."
The times I have seen him play, Williams was unflappable in net, very patient and able to see the puck well though screens and traffic in front of him.
"It's what I hope to bring to our team," he said. "When things get hectic, just to let them know that I've got their backs. The guys in front of me do a great job. We have a lot of confidence in our team defense."
Williams said it was especially important to stay focused because play in Atlantic Hockey is so tight, with every game up for grabs.
"Teams are so even in this league," he said. "Every game I have to be dialed in to give us a chance to win."
Canisius has relied on Williams heavily at times, struggling to score goals. Against RIT earlier this season, the Golden Griffins won 2-1 and 1-0. They've also lost a game 1-0 and another 2-1.
But on Saturday, Canisius opened a 3-0 early lead on RIT and cruised to a 6-1 win.
"That was great," Williams said. "I was so happy for my teammates who work really hard, to get rewarded and see it pay off on the scoresheet. Mike Sabatini, coming back from injury and getting two goals."
When asked about future plans, Williams said that he's not looking beyond this season.
"For now, I'm enjoying my last year of college and focused on winning here," he said. "I'm taking things game by game. Coach (Dave Smith) talks about how every college game has a different story."
And Williams still has some stories to tell.
Envelope, please
With the second half of the season in full swing, attention turns to possible candidates for the major awards that will be handed out in March and April.
Atlantic Hockey has several players in the mix for postseason accolades.
Mike Richter Award
Given annually to the most outstanding goaltender in Division I, the following players were announced in October as being on the "Watch List":
* Paul Berrafato, Holy Cross – 2.69 GAA; .900 save percentage
* Parker Gahagen, Army West Point – 1.77 GAA; .938 save percentage
* Shane Starrett, Air Force – 2.39 GAA; .917 save percentage
Note that this isn't a list of finalists. It's put together at the start of the season, so freshmen aren't included. It's therefore possible for a goaltender not on the Watch List to be nominated. I would put two other AHC goalies in the mix:
* Francis Marotte, Robert Morris – 1.81 GAA; .943 save percentage
* Charles Williams, Canisius – 1.95 GAA; .944 save percentage
The official nominees will be named at the end of February, with the winner announced at the Frozen Four in Chicago.
Senior CLASS Award
Presented to a senior who excels in four areas of excellence: community, classroom, character and competition. Of the 15 nominees, three are from Atlantic Hockey:
* Max French, Bentley
* Parker Gahagen, Army West Point
* Johnny Hrabovsky, Air Force
This award will also be presented at the Frozen Four. Atlantic Hockey has had two previous winners in the 10 year history of the award: Jacques Lamoureux (Air Force) in 2011 and Cheyne Rocha (Army West Point) in 2013.
Hockey Humanitarian Award
The award, given annually to "college hockey's finest citizen", is open to all NCAA hockey players, men's and women's, in Divisions I, II and III.
Among the 15 nominees for this years award are two AHC players:
* Geoff Fortman (Canisius)
* Todd Skirving (Rochester Institute of Technology)
Atlantic Hockey players have won the award twice in the past three seasons, with Jeffrey Reppucci (Holy Cross) honored in 2014, and Chris Dylewski (Air Force) taking home the trophy last season.
Hobey Baker Memorial Award
The big one. Given to the top player in men's college hockey, Atlantic Hockey has never had a winner. The closest to the prize was Air Force's Eric Ehn, who was a top three finalist (the "Hobey Hat-Trick") in 2007.
AHC players have been (top ten) finalists in nine of the past 13 seasons, including two in 2015.
Will the league be represented this season? Here are the leading candidates:
* Forwards – Robert Morris senior Brady Ferguson is the top scorer in the league and sixth best in the country with 14 goals and 22 assists for 36 total points.
* Defense – Colonials defenseman Eric Israel is fourth in Division I in points per game (0.92).
* Goalies – The top two netminders in the nation in terms of save percentage are Canisius' Charles Williams (.944) and RMU's Francis Marotte (.943). Army West Point's Parker Gahagen is also among the leaders, with the fifth best GAA in Division I (1.77). He also leads the nation in shutouts with five.
There's still plenty of hockey to play before the nominations are in, but I would be surprised to see anyone else's name mentioned besides these players.
Five to go
Looking ahead to the final five weekends of the regular season, here are some observations on what's been prologue and what lies ahead:
* AHC teams play 28 league games. Schools play four opponents four times, and six opponents twice. Mercyhurst, AIC and Sacred Heart have only eight conference games left, while Canisius has 11. RIT has nine; the rest have 10.
* Canisius took all four meetings with RIT, accounting for almost half of the Griffs' conference wins to date (9-4-4), and almost half of the Tigers' losses (10-9).
* Likewise, Robert Morris (10-6-2) swept Sacred Heart (7-12-1) twice this season, going 4-0 against the Pioneers. None of the other four-game season series to date have resulted in a sweep.
* Archrivals Niagara (3-13-2) and Canisius have yet to play this season, but will meet four times in their final 10 and 11 games, respectively.
* Mercyhurst (8-9-3) is the only team to have already played all 10 AHC opponents.
* Bay State rivals Holy Cross (6-6-6) and Bentley (6-8-4) won't meet until the final weekend of the regular season.
Weekly awards
From the home office in Winthrop, Mass.:
Players of the Week
Jackson Dudley, American International and Kyle Schmidt, Bentley: Dudley scored his first two goals of the season and racked up six total points in a road sweep of Niagara.
Schmidt had four goals, two each night, in a split with Sacred Heart. He has seven goals in his last five games.
Defensive Player of the Week
Andrew DeBrincat, American International: The junior had four assists and was a plus-3 last weekend in a pair of wins at Niagara.He's tied for the team lead in assists with 11.
Goalie of the Week
Charles Williams, Canisius: Williams earns this distinction for the second week in a row and fifth time this season. This time out he stopped 65 of 67 shots to lead Canisius to a sweep of RIT.
Rookie of the Week
Dominik Florian, American International: Florian had three goals and an assist in a sweep of Niagara. His 10 goals lead the team.