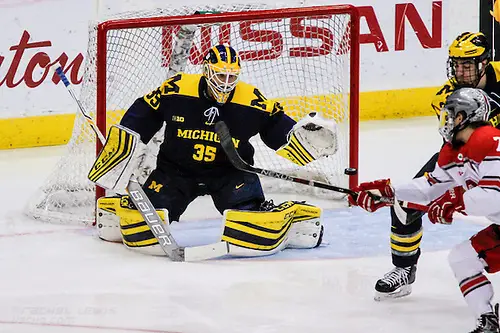 Finally, we've reached the Big Ten tournament – and by "we," I mean every team in the league.
After watching other conference playoff series these last few weeks, I've felt a little cheated out of the excitement and drama of best-of-three series and home-ice advantage. Given that Big Ten league play doesn't start until just before the first half of the season ends and the entire second half is watching the same six teams beat each other up, by the time mid-March arrives, it seems as though the season has gone on forever and that the impending conference championship is anticlimactic.
Unless, of course, you're Tom Anastos.
"It's been a real fun group to work with. I've really enjoyed it, in spite of the challenges of the season." This is how Anastos described the 7-23-4 Michigan State Spartans.
And he meant it.
On the coaches' conference call Tuesday afternoon, everyone was optimistic about the Big Ten Championship Tournament. It's a one-and-done tourney, everyone gets to play, and there's an NCAA auto-bid on the line, so there's no shortage enthusiasm during the week leading up to the weekend in Detroit. But Anastos, especially, was eager for people to understand how much he and his coaching staff have enjoyed a season that hasn't afforded them much success on paper.
"Very hard-working group, very committed group, terrific chemistry on the team, good leadership amongst the group," said Anastos of his team. This does not surprise me. As someone who lives close enough to East Lansing to have covered a decent amount of Michigan State hockey, the one thing I've come away from Munn Arena all season is that this Michigan State team is a unit, and a good-natured one at that.
"If you look at somebody's season like we've had you say, 'Gosh, it's been a long season,' but it hasn't," said Anastos. "It's actually gone fast. It's a new season. We're looking at it as a fresh start."
I'm not sure that Michigan State can sustain a three-game run to a playoff championship, but if results in recent weeks serve as prelude, it's clear that this tournament is wide open.
Take, for example, last-place Michigan State. The Spartans were 1-2-1-1 in B1G play to close the season – not over-the-top successful, but with a solid win over Ohio State and tie with shootout point against Minnesota, and all on the road.
Fifth-place Michigan has six total Big Ten wins this season, and the Wolverines are 4-2-0 in their last six total games. Two of those wins were shutouts against Ohio State and Penn State, two of the top three offenses in the country.
Fourth-place Penn State, once the top-ranked team in the country and No. 1 in the PairWise Rankings, is 3-3-0 in its last six games – and four of those games (2-2) were against the teams that finished in the bottom two spots in the standings.
Third-place Ohio State is 7-3-0 in the last ten games and closed the season with a road sweep of Wisconsin, the team ahead of the Buckeyes in the standings.
Second-place Wisconsin is 4-6-0 in the last ten games and still played well enough to remain in second place – and to challenge first-place Minnesota for the regular-season championship up until the last weekend of conference play.
And Minnesota? The Golden Gophers won their fourth straight Big Ten regular-season conference championship and their sixth league championship in a row, having captured the WCHA title their final two years of play in that conference. That's an NCAA record. And they still tied Michigan State at home and lost that shutout point in their final game of the season. The Gophers went 6-3-1 in their last ten regular-season games.
"As anybody can attest," said Ohio State coach Steve Rohlik, "I think all six teams actually have a legitimate chance to go up there and win this thing."
He may be right.
No. 6 Michigan State plays No. 3 Ohio State at 4:30 p.m. Thursday. At 8 p.m., No. 5 Michigan plays No. 4 Penn State. No. 2 Wisconsin plays the Ohio State-Michigan State winner on Friday, before No. 1 Minnesota plays the Penn State-Michigan winner.
The key to this tournament may be goaltending. It's no secret that it's been a down year for goaltending in the Big Ten. There are no B1G goalies among the top 10 nationally for save percentage and the goalie with the best overall goals-against average in the Big Ten is Ohio State's Matt Tomkins (2.48 GAA) – and he's 26th nationally. He also splits time in net with Christian Frey (3.07, 60th). Minnesota's Eric Schierhorn – who has played all but 26 minutes this season for the Gophers – is 30th in goals-against (2.60) with a .906 overall save percentage, tying him for 46th in the nation.
If we hadn't seen the way Big Ten teams scored in the first half of the season in mostly nonconference play, I'd say it wasn't a coincidence that four of the six B1G teams are among the top 10 teams in the country in offense: Penn State (4.03 goals per game, second), Ohio State (4.00, third), Minnesota (3.78, fifth) and Wisconsin (3.50, eighth). These teams can score, legitimately.
It's no surprise, then, that every coach in the league addressed goaltending and defense when asked about what's important this weekend. Every coach.
Here's a little bit of what each coach is thinking before the last-ever college hockey tournament at Detroit's Joe Louis Arena.
Minnesota
In winning the regular-season championship, the Golden Gophers accomplished something they set out to do at the start of the season.
"I've always been a big proponent of the regular-season championship and never minimize it," said coach Don Lucia. "You know it's hard to win a national championship. I'm not sure you should begin the year by saying, 'We've got to win a national title.' I think we begin the year and say, 'You know what? We want to do well in our league,' and if you do well in your league it's going to take care of itself."
To repeat that feat six years in a row – while changing conferences and with an ever-changing roster – is something Lucia attributes to the steadiness of his team.
"Obviously, we've had good players," said Lucia. "We've had good leadership. I think guys come in and understand the expectations and how things operate around here.
"And sometimes you have to be a little fortunate, you have to stay healthy. This year, maybe that didn't happen so much for us, but we found a way to win some really important games and maybe get lucky in a couple, winning those games away."
Lucia said that Minnesota is focusing on what's basic and what works.
"I think the most important things when you get to this time of the year, you've got take care of the puck, you've got to be good defensively," said Lucia.
He has a lot of confidence in sophomore Eric Schierhorn, who is a first-team All-Big Ten honoree and the league's Goaltender of the Year. "I like the way Eric's playing," said Lucia. "I think Schierhorn's playing his best hockey of the year. Certainly, he's gotten a lot better in the second half. He's got a lot more comfortable and consistent."
In addressing the defensive side of things, Lucia said, "Your goaltender has to be good this time of the year, you have to be good on specialty teams this time of the year, and you don't give up but two goals a night. You start giving up more than two it's really difficult to win this time of year."
Wisconsin
At the beginning of the season, Tony Granato described his Wisconsin players as "fragile." This has stuck with me all year, in large part because I thought it was a refreshingly honest and accurate assessment of a team that had seen two pretty bad seasons previous to Granato's tenure.
During the conference call, I asked Granato how he'd describe his team now – and I think he took the question as though I was challenging him about what he said at the start of the season.
"We're happy with where we're at," said Granato, who was named the Big Ten Coach of the Year. "I agree that 'fragile' might not have been the right word at the time."
Seriously, I still think it was the perfect word. I also think the Badgers should be ecstatic with how far they've come this season.
"I think it was a learning curve in really trying to find our identity, trying to work through some things to battle in some pressure situations," said Granato. "I think we've made great strides."
One of the most difficult things for a group unaccustomed to success to do is to maintain that success, and in their sweep at the hands of the visiting Buckeyes last weekend, the Badgers learned a bit of a lesson.
"I think last week against Ohio State we were a little bit on our heels, maybe for the first time in a couple months where we had the opportunity to have a good weekend and probably solidify a position in the [NCAA] tournament, and we stood around and watched a little bit before we got going," said Granato.
"We're still on the learning process, but I think we've come a long, long way. Obviously, to finish in the number two slot in this conference is a great accomplishment and we're real proud of that. I think we've got some good hockey in us."
Penn State
One thing on the collective minds of the Nittany Lions heading into Detroit this weekend is how they'll head to Detroit, quite literally. With the winter storm that hit the Northeastern United States early this week, travel may be a bit of an issue for Penn State.
Or not.
Coach Guy Gadowsky said that he doesn't want his staff or team thinking about things that they can't control.
"One of those examples is weather right now, so we've got a couple of backup plans in terms of getting to Detroit," Gadowsky said.
Another is the possibility of Penn State playing its way to the program's first appearance in the NCAA tournament. After losing two road games to Michigan last weekend, the Nittany Lions dropped to a tie with Providence for 12th in the PairWise Rankings.
"It's a lot of things that we don't want to worry about that are out of our control," said Gadowsky, "PairWise being another example of that."
One thing that the Nittany Lions aren't concerned with is goaltending. Freshman Peyton Jones (.899 SV%, 2.68 GAA) has been a pleasant surprise for Penn State this season.
"I think his biggest strength has been his mental demeanor," said Gadowsky. "He's been extremely calm."
Gadowsky said that Jones has adapted to "the ups and downs of Big Ten play, whether it's bounces or calls or what have you. In that sense, his strength is his mental demeanor and his calmness."
Ohio State
Steve Rohlik's is another coach with a lot of confidence in his netminders.
Seniors Matt Tomkins (.909 GAA, 2.48 SV%) and Christian Frey (9.10, 3.07) have split time in the Ohio State net, but not originally by design. Tomkins stepped in for an injured Frey in the first half, and now the Buckeyes think they have to goalies to carry them forward.
"I think they're both very capable," said Rohlik. "Frey, he obviously started out very well this season and he got injured and was out five weeks. Matty Tomkins went on a really good run there in the first half. They both have played minutes here in the second half. They both have won big games, and I feel comfortable with putting either one in the net right now to be honest."
The Buckeyes are known for their offense and their killer power play, which at an impressive 31.5 percent leads the country. Rohlik said, though, that the strength of Ohio State's offense often begins at the other end of the ice – a lot of times, but not always.
"Our offense will start from our defensive end if our guys buy in," said Rohlik. "I thought we did a pretty good job of time and space against Wisconsin and also I thought our guys are sacrificing themselves all over, blocked a lot of shots. If you think about it, if you can play good solid defense, that'll lead to good offense and that's kind of been our focus."
Even though at No. 14 the Buckeyes are another PairWise bubble team, Ohio State isn't looking beyond Thursday's game against Michigan State. The teams split a pair of games in Columbus the first weekend in March.
"The biggest thing for us is that we've got to continue to get better in a lot of areas, in our systems and whatnot," said Rohlik. "We respect them and we understand that they play hard. They scored four goals in the first period on Friday when they came down here, so they're very capable of putting you in your place. We're just trying to stay focused on what we need to do. We're trying to get better at everything and we're trying to peak at the right time."
Michigan
The Michigan Wolverines are the most enigmatic team in this field. They may be the most enigmatic team in the entire country.
After starting the season with solid defense, the Wolverines took a step backward and floundered through much of the season. In the last three weeks, though, Michigan looks like a contender.
Coach Red Berenson said that his teams is simply playing better all the way around.
"I think we've got better goalkeeping, not that our goalkeeping was poor before, but it's been way above average in recent games and it's had to be because we've been outshot in every game," Berenson said. "Maybe our penalty killing was a little better and we were a little healthier now than we were a month ago."
Senior Zach Nagelvoort (.924 SV%, 2.77 GAA) has two shutouts in his last three starts, a 1-0 road win against Ohio State March 25 and a 4-0 game in which he turned away 46 shots against Penn State last Saturday. He also stopped 35 against Minnesota March 3.
He's splitting time in net with freshman Hayden Lavigne (.912, 2.92), who is 2-2-1 in his last four games, with wins over Ohio State (Feb. 3) and Penn State (March 10).
Michigan's defense has improved lately, but Berenson said that the Wolverines haven't made any great changes to the blue line.
"We're always trying to get better defensively," said Berenson. "We've been one of the worst teams defensively in the Big Ten all year and that's been a challenge. It's not been our goalies. I think our goalies are playing way above average right now and giving us a chance, even though we've been giving up as many as forty-six shots in our last performance. It's not the defensive structure but the whole team has to play better defensively if we're going to move past Thursday's game."
After sweeping the Nittany Lions at home last weekend, the Wolverines know exactly what they're facing Thursday night.
"We were playing at home," said Berenson. "We were playing with a little more desperation and we got goalkeeping that gave us a little more confidence, but I still thought that Penn State was the better team in both games and certainly we were lucky to win."
Michigan State
Tom Anastos and his hard-working Spartans have a weapon in their arsenal that they didn't have at the start of the season: experience.
"Some of the guys in particular, especially the younger guys, have gotten their feet under them, have an understanding of the expectation of not just what we're trying to accomplish but how you have to go about playing with a level of consistency to have success," said Anastos. "It's very difficult to do that."
It is, indeed. The Spartans are the 48th-best offense in the country (2.48 goals per game) and the 57th-best defense (3.76 goals allowed per game) and yet they play as hard as they can and have improved steadily as the season has progressed. It helps, said Anastos, that the Spartans are getting better goaltending from freshman John Lethemon (.870 SV%, 3.67 GAA) and junior Ed Minney (.888, 3.47)
"We've been inconsistent in that all season and I think we've had more consistency there of late – not so much against Ohio State but against Minnesota," said Anastos. "Our penalty kill stepped up and did a much better job. We really struggled with that at Ohio State and we did a much better job at Minnesota.
"I think, generally speaking, for a period of time, even strength we've been defending pretty well, but it's been giving up some easy goals at times and our special teams play [needs to improve], so if we can tighten those two areas, I think that improves our chances to have success."
It's not enough now, though, to see some improvement, said Anastos. "I think we see an improved level of consistency down the stretch, but right now we need high performance and high consistency across the board if we're going to extend our season."
Three stars of the week
Goaltenders are still a big part of the conversation.
First star – Michigan senior goaltender Zach Nagelvoort
Nagelvoort (Holland, Mich.) made 46 saves in Michigan's 4-0 shutout of Penn State Saturday night. It was Nagelvoort's 10th career shutout and his third this season. This is his eighth career weekly Big Ten award and his second this season.
Second star – Ohio State sophomore forward Mason Jobst
Jobst (Speedway, Ind.) led the Big Ten with four points last weekend, with a goal and an assist in each of Ohio State's road wins over Wisconsin. Jobst (18-33—51) now leads the Buckeyes in scoring and has six more goals this season than he had last year. Jobst earned a share of the Big Ten scoring title with 34 points, and is the first Buckeye to score more than 50 points since R.J. Umberger (2002-2003). This is his fourth career weekly Big Ten award and his third this season.
Third star – Minnesota sophomore goaltender Eric Schierhorn
Schierhorn (Anchorage, Alaska) allowed one goal on 51 shots in 125 minutes of play in Minnesota's win and tie against Michigan State. Friday's 4-0 win was his fifth shutout of the season and the eighth of his career. It was also his conference-leading 23rd win of the season. This is his seventh career weekly Big Ten award and his fourth of the season.
Big Ten awards
Congratulations to Minnesota sophomore forward Tyler Sheehy, the Big Ten Player of the Year.
The First Team All-Big Ten Team includes four Golden Gophers: Sheehy, forward Justin Kloos, defenseman Jake Bischoff and goaltender Eric Schierhorn. Ohio State forward Mason Jobst and Penn State defenseman Vince Pedrie round out the first-team ballot.
You can see all individual honorees and the rest of the All-Big Ten teams at our story here.
My ballot
For what it's worth, one last time this season.
1. Denver
2. Harvard
3. Minnesota-Duluth
4. Boston University
5. Mass-Lowell
6. Western Michigan
7. Minnesota
8. Union
9. Cornell
10. Notre Dame
11. North Dakota
12. Ohio State
13. Boston College
14. Canisius
15. Wisconsin
16. Penn State
17. Providence
18. Vermont
19. Air Force
20. Quinnipiac
And so long from this space for now
This week marks the end of this season's conference columns at USCHO. You know we'll be covering all conference tournaments, the NCAA regionals and the Frozen Four. I'll be at Joe Louis Arena for all three days this weekend. I wouldn't miss the end of college hockey in that arena for anything in this world.
In addition to the coverage that our team will provide from JLA this weekend, I'll likely be blogging about the arena itself. It's almost impossible for me to wrap my head around the fact that this is the last time I get the chance to cover college hockey in that venue. It was the first NHL arena in which I ever covered a college game. That was the 1996 CCHA tournament. It seems like a lifetime ago, and at the time I had no idea how much college hockey would shape my life.
I'll try not to get maudlin. I promise.
Because it's the last column of the season, I have to thank the people who make USCHO happen. Thanks to our publisher, Tim Brule; our executive editor, Todd Milewski; our managing editor, Matt Mackinder; and to our king of code, Ed Trefzger.
Thanks especially to my partner-in-writing, Drew Claussen.
And thanks to you all for hanging around with me this season just to talk about the sport we love so much.